Review of Expense Manager for BlackBerry: Installation, Main Features, and Final Verdict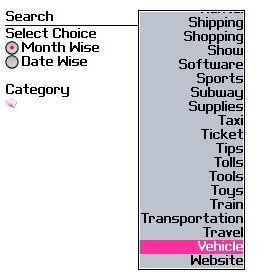 How It Works, Installation, and Main Features
Expense Manager for BlackBerry is a simple yet powerful tool that takes care of all your business or personal expenses while you are on the move by keeping track of all the transactions done by you. You just have to enter the data for the transactions you make into the application and leave the rest to Expense Manager. It generates its results in the form of a report that can be saved on your phone or to your PC.
These generated reports are initially saved in the form of a CSV file format that can be easily be converted to Microsoft Excel as both formats are closely integrated and compatible with each other. You can even send this report via an e-mail directly from your BlackBerry phone to your PC. This application is quite fast and easy to use, doing all the calculations quite speedily. You just have to fill in the entries for fields like date, description, payment method, currency in which you are making or receiving the payment, exchange rate for that currency, etc.
Expense Manager can be bought from the Total Wireless Solutions website for $15.50. You can also download the free trial version by going to the following link:
https://www.twistsoft.com/downloads.html
The setup file downloads quite easily, and you just have to follow some simple instructions to install the application on your BlackBerry. You can either use the BlackBerry Desktop Manager for installation or open the Blackberry browser and go to company's website to directly download and install the application.
Expense Manager can be used to categorize all your expenses using default categories or custom created tags. It supports twenty currencies worldwide and also has the capacity to sort out your expenditure/purchase list in ascending or descending order based on the date and amount of transaction made by you. In this way, it helps you to keep a record of all your expenses while you are on the move while also generating customized reports and saving these reports on your phone or desktop PC.
As I have told you before, these reports are generated in CSV format, which is compatible with Microsoft Excel and can easily be saved or sent via an e-mail. You can save these reports under different categories as the application comes with sixteen built-in categories, and, if you want, you can also create unlimited categories of your own.
Finally, this application is compatible with all BlackBerry models having operating system 4.0 or higher.
Final Verdict
After using Expense Manager for a week, I discovered that it was quite a useful application, taking care of all my expenses without any complication. Entering data into the application is extremely easy, and the reports generated can easily be saved or sent via e-mail directly from your BlackBerry. The user interface is easy to handle and calculations are fast. This application is highly recommended to all my readers who need an effective expense management system on their Blackberry phone.
SOURCE: Total Wireless Solutions