How to Replace the BlackBerry Curve 8320 Keyboard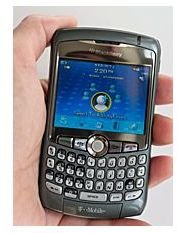 **
Over time, keyboards become worn, making the letters hard to see. Buttons may also stick, making it hard to use the keyboard to communicate properly. This leads many people to want to change their Blackberry keyboards. If you want to replace the keyboard on your Blackberry phone, follow these instructions.
Note: In case you missed it, if you follow the directions as presented in this tutorial, you are doing so at your own risk. We cannot guarantee this advice, and you will void your warranty. If your phone is under warranty, take it to a repair shop or talk to your mobile phone company. We recommend you do this if you are familiar with your phone and have the correct tools. If you do not have the correct tools, you should purchase them prior to taking the phone apart.
You will need:
a flat screw driver
a torque screw driver
a case removal tool
a replacement keyboard
To remove the keyboard from your Blackberry Curve 8320:
First remove the battery and battery cover.
Next, you'll need to remove the bottom cover with your fingernail or a small screwdriver.
Remove the two screws on the back of the phone with a torque screwdriver.
Use a special case removal tool, available online, to remove the front and back casing. Slide the tool along the edges. The front cover will come off and reveal the keypad. You will be able to then remove the keypad.
Remove the four screws around the keyboard to release the keyboard assembly from the back part of the phone.
Replace the keyboard accordingly, and reassemble the phone.
PDAParts.com offers a video demonstrating the entire disassembly of the Blackberry Curve 8320, along with special tools you will need to complete these steps. The video goes as far as showing screen replacement, but you do not need to go that far.
Photo Credit: Mobile Tech Review