Best 5 Paid BlackBerry Storm Apps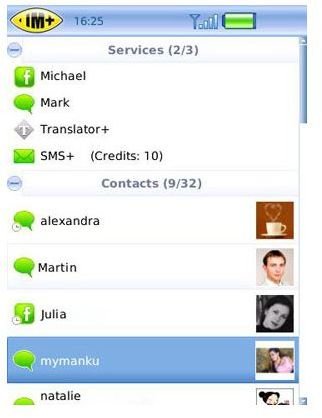 1. IM+ All-In-One Messenger
Whether you're using AIM, Yahoo, MSN Messenger, ICQ, Jabber or Google Talk you'll be just fine with IM+ All-In-One Messenger. Not only can users send messages to their favorite IM program they can also add new friends, delete friends, leave and check away messages and even send and receive files just as they would with their PC versions of Instant messaging programs. The newest version of IM+ also features a very cool feature called "IM Push" which sends their messages directly to their email account allowing battery life to be saved. IM+ is by far the best mobile app on the market and the Blackberry version is no exception.
Here's a screenshot, even the layout looks great!
2. Vlingo Plus For Blackberry
Quickly sending, receiving and composing emails using voice commands is simple on the BlackBerry Storm thanks to Vlingo. Not only can users control messaging they can also launch any third party application they choose even update their Facebook and Twitter status messages using voice commands directly from their Blackberry Storm devices. Vlingo even allows users to look up contacts using voice commands and even dial numbers using the application. Check out Vlingo and you'll quickly realize that the $17.99 app is well worth the download. We love this app when we're driving and we can't necessarily look down at our screens, just click a single button and say your command.
Here's a quick web search using Vlingo: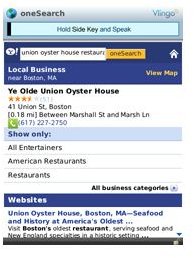 3. BerryWeather
This software app isn't only meant for BlackBerry Storm users but it does offer great Weather forecasting and deserved to be included since it does work with the Storm. The screens on BerryWeather are very sleek and users can receive up to 7 days of forecasts at a time with 24 hour weather reporting and access to 72,000 locations worldwide. This app also offers precipitation probabilities and access to weather radar maps plus customizable themes and the ability to receive updated weather warnings for your particular area. Definitely investigate this software because it's worth the very cheap $8.95 download price.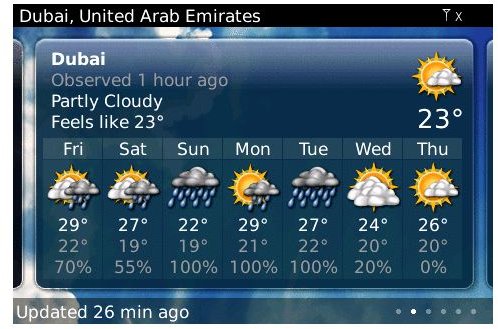 4. iBerry
If you want to customize your BlackBerry screens why not try an iPhone'esque look and feel. iBerry allows users to add any application they choose to the device's main screen for quick launch capabilities. As the name would suggest those applications then show up with the look of an iPhone launch screen. The premise is simple but what makes this app great is the ease of use that comes with it, simply choose an app and use the quick add screen to create your new icon. We love this app because its easy to use, oh yeah and because it only cost 6 bucks.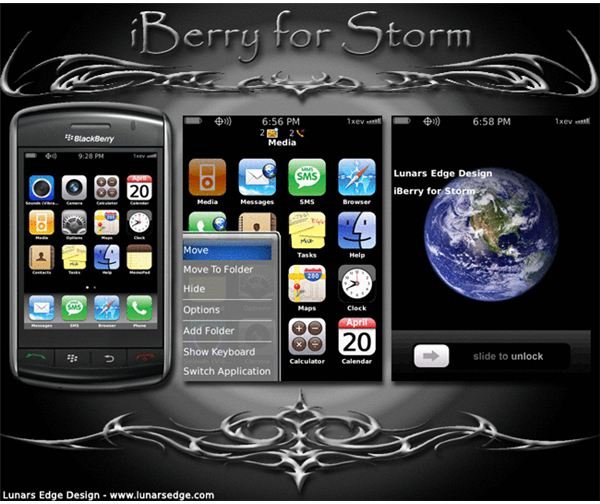 5. QuickLaunch
If you want to launch more than just apps from ANY Blackberry Storm screen then QuickLaunch is for you. Using QuickLaunch users can launch such offerings as: websites, the phone dialer, BlackBerry browser and even contact lists and the Storm's camera among other applications. Essentially users can launch whatever they want from any screen by simply pushing one button to open the shortcut menu they've created.
Here's an example of the shortcut page, as you can see launching new apps from any page is simple: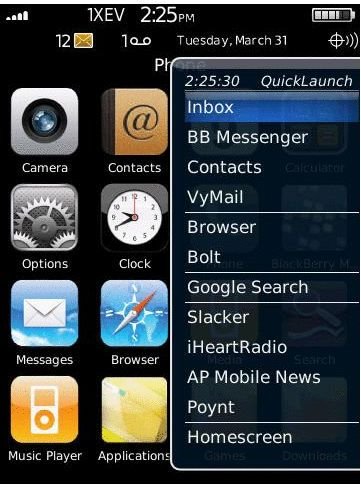 Conclusion
Whether you simply want to give your BlackBerry Storm a new look or you need new functionality the applications listed above are all available for purchase and use on your device. Check them out today by purchasing them or downloading their available trial period downloads, we promise you won't be disappointed.