A BlackBerry Media Sync Guide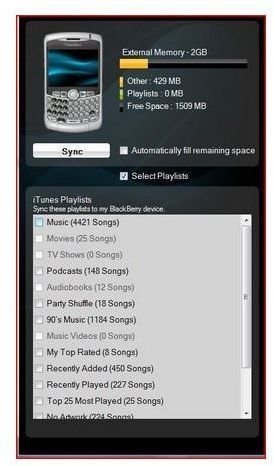 The Blackberry Media Sync program is extremely easy to use. First users need to visit the MediaSync Download Page and download the application. After the apps is installed you'll simple open your iTunes media player, launch the MediaSync app on your Blackberry device and connect your device to your PC or MAC, yes it works on both!
Once launched the Blackberry MusicSync program is very easy to use thanks to user intuitive screens. For instance in order to transfer music files users simply choose among their available iTunes Playlists. These lists will include the lists users have created on their own, for instance if I create a playlist in iTunes called "Driving Songs" and populate it with songs that playlist will show up on the homescreen of MusicSync. The program also offers iTunes generated lists such as "My Top Rated" and "Recently Added" among others. I personally like the "No Artwork" playlist since it will take up less memory on my device to transfer those songs to the Blackberry.
Here's a look at the Playlist screen, as you can see its very easy to navigate:
Once a user chooses one, two, three or all of their playlists the music is then transferred to the device by simply pressing the "Sync" button shown in the picture above.
After you music transfers to your device you simple launch your Blackberry Media player and your ready to go. However it doesn't end there, you can also update your playlists and the available songs by updating your iTunes player and simply resyncing, this will add or eliminate any songs you change in your playlists, this is a great way to micromanage your iTunes songs from your PC/MAC and then transfer them to your mobile device.
Finally as you'll notice in the screenshot on this page the program also shows the available amount of memory left on your memory card, if saving space is important to you for whatever reason you can easily manage that aspect as well, including the ability to choose only certain songs to save memory.
Blackberry Media Sync is a great application and in my opinion a requirement for iTune users looking to share their music files between devices, its easy to download and efficient, if you want to listen to iTune files on your Blackberry this one is a requirement in my opinion.