Best BlackBerry Weather Apps For Forecasts, Radar, and Warnings on the Go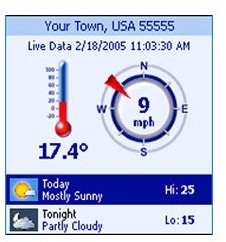 Weather Channel Mobile
The Weather Channel for BlackBerry is a one-stop-solution for all of your weather and travel needs. The application offers weather and travel alerts along with metro and airport delays with just one single click from your BlackBerry device. The weather conditions include local/national severe weather alerts, radar maps and layered weather maps. The application is also a location based service application: it works by using your device's built-in GPS to receive your location and offers all the information based on where you are. In addition, you can share all the information with the people in your address book. You can also add your favorite locations and access weather conditions at these places inside the program. The application is available at Handango for USD 34.99 via an annual subscription.
Weather Network
The Weather Network takes second place honors on our list of BlackBerry weather applications. The application is available from https://blackberry.theweathernetwork.com as an OTA install which means little work on your end to get it up and running. After the installation, with the first run, you select your language and then go with the network detection (BES/BIS). Then you add your city and configure language (I know we have selected it before but here it is once again), temperature unit (Celsius/Fahrenheit), home screen icon and the frequency of updates you wish to receive. In the home screen you can see weather conditions as an icon, which is a very nice and well laid out idea. Navigating within the program is also easy: just hit the trackball and you can select short term and long term outlooks. There is one con: If you want to track more than one city at once this application is probably not suitable for you.
WeatherBug
WeatherBug was installed on my BlackBerry when it was free (sometime in 2008), now it comes with a 3 month or 1 year subscription (this is why I switched to WeatherNetwork). WeatherBug has the same features as Weather Channel Mobile: you receive the present weather conditions, 7-day outlook, severe weather alerts/warnings, satellite maps (radar). In addition, WeatherBug has live camera views and a Photos section as well. I suggest that you compare the WeatherBug features with the Weather Channel Mobile and choose the one that suits your own needs the best.
YWeather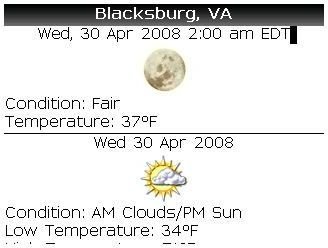 The YWeather name stands for Yahoo! Weather. This application is free and there is an OTA download at https://bbrtm.org/yweather/. The only issue I had with getting this application working was finding my Location ID, it is however conveniently explained on the application's webpage. The software basically watches the Yahoo! Weather's RSS link and displays it on your BlackBerry handset. If you like Yahoo!'s weather, then this may be the application for you.
Screenshot courtesy of https://blog.emerick.org.
World Weather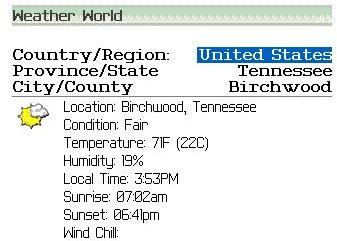 The final piece of software that makes our Top 5 Blackberry Weather Apps list is World Weather. There is only one subscription option, which is USD 9.98 every six-months. The World Weather program is also no different from the competitors, minus the fact that the developers added an option to watch weather conditions for multiple cities. I suggest you try the OTA download link for the trial version (https://www.microhill.com/product-ota-install.asp?id=10) and then you can decide to pay for it if it meets your needs.
Conclusion
That's my list of the Top Five Blackberry Weather Applications For Blackberry Devices. There are of course other Weather Apps you can try, however in my humble opinion the offerings listed above are the best currently available from my own testing. Enjoy the apps and as always make sure to try their free trials to see if they suit your own needs.