Poynt: Location Based Search Application for BlackBerry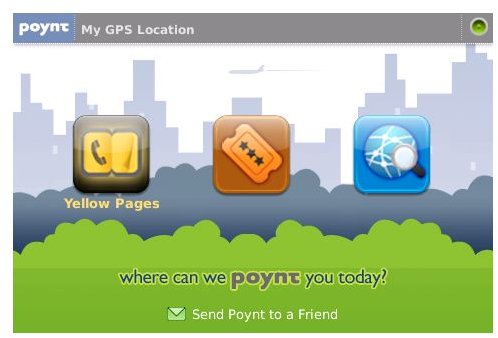 Getting the Poynt
As we have discussed before in my previous articles, location-based services are quickly increasing in number. In this article we will discuss Poynt, which packs the power of yellow pages, online maps and instant messaging.
Quick Note: This application is for American and Canadian areas only.
The developers applied a different logic towards using the Poynt program. You can download and use the program on your device or you can use the program with your Windows Live Messenger/AOL account. To add Poynt to WLM, add point~/at/~live.com to your contacts. For AOL, go to New Buddy -> Poynt. Or you can OTA download the application from https://m.mypoynt.com.
In this article, I will not be using the MSN or AOL service. There is an extensive explanation of MSN/AOL usage on the Poynt's website.
Using Poynt on your BlackBerry
When you download the application, you will see a location bar at the top. If your BlackBerry handset has built-in GPS, Poynt tries to connect automatically to the GPS satellites. If not, you always have the option to type in your location. You can define your location as broad as a large city such as New Jersey or you can enter your precise address. The latter will enable the system to receive more accurate results.
After you set the location, you can search Businesses, Movies, other locations or even get directions. For businesses, you can go from "pizza" to "plumbers". Your search will then return results from Superpages. In the results, you will also see that the distance of the search result from your location is displayed. Clicking on a result with your BlackBerry's menu key will pop up the options, there you can display the result(s) on a map or give a call directly to the business if available or go directly to the business' website. I especially liked the option to display all results on the map at the same time. What's more, if you have Google Maps installed, you can set the default display map as the Google Mobile Maps or BlackBerry maps. You can click the BlackBerry menu key and then go to the options choice to select which mapping application you prefer.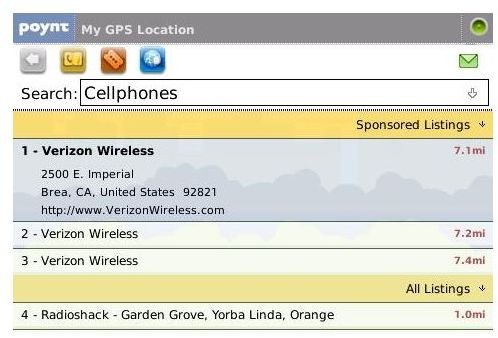 Next, using "Movies" you can search for the movie theaters in your immediate vicinity. My favorite feature in this section is the ability to set the genre for the type of movie you want to see in advance. For example, if you are out with your girl/boyfriend and want to see a comedy, you can select the "comedy" genre from the menu and let the application complete its search. The "Movies" section also includes search for "movies near me", "theaters near me", "Top 10", "Movie Genres", "Movie Title" and "Theater Name" which I believe will be enough to pinpoint your search as it was for me. As in the "Business" section, you can also map the movie theaters. As a sidenote: Movie searches are made courtesy of the Cinema Source website.
And finally we're left with the "Directions" option. This option pinpoints your current location on the map, at which point you can "find a location", make a "local search" or "get directions". The "Directions" option uses the BlackBerry Maps for the back-end. Your search inside the directions is pointed and then after setting the route settings (shortest/fastest etc.) you're ready to go. I believe Poynt would not be a complete application if it didn't include "Directions".
If you're a resident in United States or Canada, Poynt is an application that should be installed on your BlackBerry. It may not be an application that you'll use everyday but it will definitely come in handy when you need it.
Screenshots courtesy of BerryReporter.