Top 10 BlackBerry Games - Part 1 of 2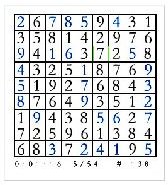 1. Sudoku
If you love puzzles you'll love Sudoku, in this fun game the object is simple, users are presented with a 9 x 9 board in which they must create lines of numbers from 1-9 without duplicating any of the numbers in the same lines. Its a very simple premise and it starts simple enough until you reach further levels, at which point the advanced board games are very challenging even for the more veteran users to handle. Sudoku offers 200 puzzles with 4 levels of difficulty which means hours upon hours of playing, and by the time you finish them all you can start over and probably not remember how to solve one puzzle from another.
Here's a screenshot:
Call Of Duty 4: Modern Warfare
I love action games and Call of Duty 4 is a great Blackberry Addition, in this gameusers can play as an SAS or US Marine. You must work together with your assigned team to destroy the enemy. There's plenty of obstacles to avoid such as rocket and gun fire, bombs, and much more. Luckily you have some advantages on your side such as a huge arsenal of weapons that include assault rifle, grenades, rocket launches, machine guns and much more.
Some missions require an all out shooting brawl with the enemy while others will test your "Covert" operation skills.
I couldn't find any cons with this game, the graphics are fine for a Mobile game, the gameplay is quick with intuitive controls, and it holds the same "Spirit" as the PC and Game Console versions of the same name. I'd definitely recommend Call of Duty 4: Modern Warfare to any action game enthusiast with a Blackberry.
Here's a screenshot from the developers website: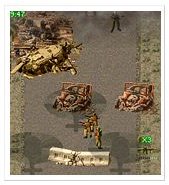 ;
Guitar Hero Backstage Pass
If you've played and love the console game version of Guitar Hero you're sure to love Backstage Pass. In this mobile version of the game you play an up and coming rockstar who's trying to land a record contract. In order to make your characters dreams come true you'll need to promote your band, rehearse for gigs and play some gigs. You'll earn money and build your bands popularity as you play.
Guitar Hero Backstage Pass not only offers 25 hours of mobile gameplay, it also features downloadable content and even a companion website that adds to the Blackberry Apps overall gameplay.
My one complaint is that the songs are in Midi format which means they won't sound like the full versions of the originals, rather they are extremely far from it.
Overlooking the sound quality the ability to customize the game via extra features and downloads and the use of a companion site makes this game worth the download.
Here's a Screenshot: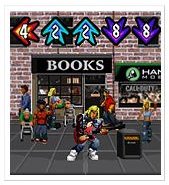 Frogger
Frogger for Blackberry mimics the original gameplay for the Atari, simply move a frog across several lanes of traffic without being hit by any vehicles. After you cross the traffic lanes the gameplay than progresses to the river section where you have to cross a section of floating logs and place your frogs in the open slots at the end of the level.
I personally like that the traffic displays by itself and then once completed the logs section is shown, this makes it much easier to display each part of the game without crowding smaller device screens.
If you've played the original, heck even if you haven't, I still recommend Frogger for Blackberry as a great addition to any mobile because its the type of game you can play for a minute or two when passing the time or sit down for hours and remember the good old days of Atari gameplay.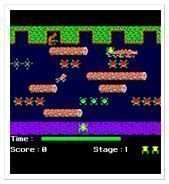 Texas Hold'em King 3
I've mentioned a few different Texas Hold'em games throughout my writings on Brighthub and Texas Hold'em King 3 definitely deserves to be part of those games. In this version of Texas Hold'em users have two options, single player mode and multi-player mode.
In single player mode you simply play against computer players just like you would against "real players" with one big advantage over multi-player mode the use of a "Turbo" play option, basically if you fold your hand the rest of the round is played through at super fast speed so you don't have to wait around for the next hand to begin.
Multi-player mode on the other hand is slower but more engaged, users connect to games against other real players via their cellular carriers networks or using their Blackberry WiFi connections. You can then upload your scores to see how well you compare to other players using Texas Hold'em King 3.
This is definitely a Texas Hold'Em game worth the download, just look at the nice graphics!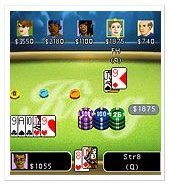 Part 1 Conclusion
Those are the first 5 Top Blackberry Games available. Whether you want to play a game of Hold'Em or shoot up bad guys there's something for everyone and considering each game is under $10 it will cost you next to nothing to play one or all of these games.