SameCell Local Search: Location-Based Information Searching For Blackberry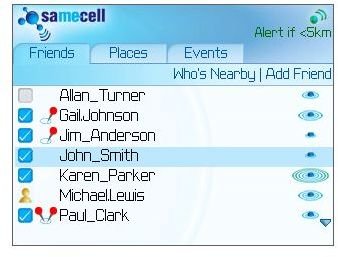 What are Location Based Services?
Before starting my review of SameCell I want to give a quick overview of what location-based services are. These services, as the name says, are rendered to the user depending on his/her location. To determine the location, the application first tries to pinpoint your location by measuring your distance from the nearby cell phone towers. When it locates you, it makes a search (whether on the Internet or its own database), finds places around you and displays them to you with their names, addresses and telephone numbers. The application can also go further and display directions to you. You can also find people around you using location-based applications, which are called "location-based social networking applications".
SameCell Local Search
In this article, I will review the SameCell application. The program can be OTA downloaded from its website for a simple install process. All you need to do is simply click on the "E-mail setup link" and choose which e-mail address you want the alerts to be sent to. Be careful though, the e-mail address you provide will also be your username.
After you download and install the program, you will make some basic configurations such as password, enabling GPS, allowing your phone to be tracked etc.. When you complete these, you will be taken to the program's main window, which has three tabs: Friends, Places and Events.
Under the "Friends" tab, you can see which of your friends are close to your location. Of course, for that your friends must be using the SameCell application. You can add friends using the "add friends" link on the page.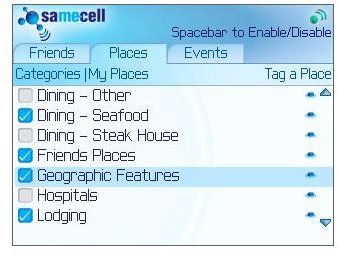 Under the "Places" tab, you will see multiple checkboxes: Bars/Clubs, Coffee Shops, Customer Locations, Dining – Family, Dining – Fast food, Dining – Other, Dining – Seafood, Friends Places, Geographic Features, Hospitals, Lodging, Meeting Places, Misc. Places, Movie Theatres, Places of Worship, Retail, Schools, Shopping Malls, Sports Venues, Tourist Attractions and Transportation. Exhaustive list, I know, but you can easily figure out why I have chosen this program for review. You can tick the ones that you are interested in and then just click "Nearby Places" to start your search. However before you start your search, the program prompts you to select under which heading you want to initiate the search – Coffee Shops, Bars/Clubs etc. To search everything, go for the "Freeform Search" option, and enter a keyword.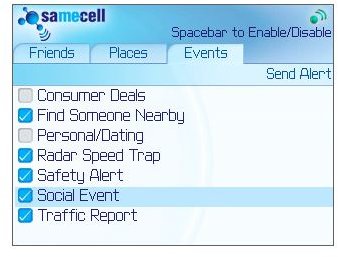 On the "Events" tab, there are these options: Consumer Deals, Find Someone Nearby, Personal/Dating, Radar Speed Trap (wow!), Safety Alert, Social Event and Traffic Report. With the same logic with the "Places", you just click on the checkbox, go to the "Nearby Events?" at the top and search for keywords. The beautiful part is that if you go to "Send Event Alert" and make the configuration, you can receive e-mail notification about these events when you are in the same cell.
Personally, I find this program to be fun and useful, especially considering its price: Free! The program, I believe, will be especially handy for the people living in the United States, where there is an increasing usage of location-based services.
Also on the plus side, GPS is not a requirement to use the software. It can track your location by the use of cell towers.
Images courtesy of SameCell.