Best BlackBerry Applications: Top 5 Free Apps Your BlackBerry Will Love

Why Are These The Best Apps?
While there are many apps for BlackBerry devices that users can obtain for free, I wanted to create a list that includes different types of applications – that is applications that offer different types of functions. There are options here to cover most tastes and all of these apps are highly rated.
Here's my rundown of the best BlackBerry applications that every user should download and use to get the information they want and need on their BlackBerry while they're on the go.
1. Viigo for BlackBerry
This is one of the best mobile RSS feed programs. Viigo comes equipped with a ton of RSS feeds from Technology to Science to Sports to Politics. Right out of the box it's easy to find any topic you could possibly want from the world of news. The new version of this app even includes Twitter and streaming podcasts.
Viigo also has an auto-configure option that allows users to type in their favorite websites and the program will automatically help find the site's RSS feed, making it easier than ever to stay connected to your favorite sites.
Preconfigured feeds also allow you to easily set up traffic alerts, stay up to date with flight information, and track packages from UPS, the U.S. Postal Service, FedEx and DHL.
The only downside to using this app it that it could do with a bit of an update in line with the BlackBerry OS6 release, as some pages running this operating system can be slow to load.
2. Bookmark.com for Web Browsing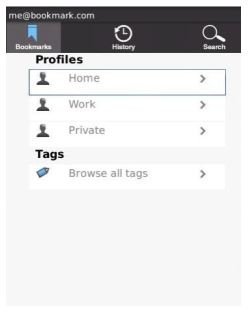 Not a pretty app, but a really useful one that no BlackBerry should be without. Using this app means that you can sync your browser history and bookmarks across devices, platforms, and the majority of browsers including Explorer, Safari, Firefox, whether you are a Mac lover or a Windows user.
So if you are out and about with your BlackBerry in tow, you can use this app to remotely access your info to edit, browse and search data on the move.
Simple, easy and convenient. Nothing special to look at, but a super useful BB Internet browsing tool.
3. Tweeker for Twitter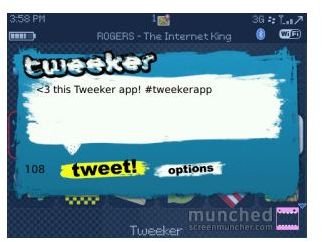 This excellent Blackberry Twitter app makes it easy to micro-blog with your Twitter account via your device. In all honesty the app is pretty basic but well worth your time, especially if you are a heavy Twitter user. It makes sure it's the quickest Twitter app out there by cutting back on all the fancy pants stuff, just leaving you with the box to get tweeting quick quick – Launch, Tweet, Done.
There's no friends list, no feeds and no searching option, which may not make this a great app for some, but if you are a super hot Twitter guy or gal you'll definitely benefit from the quick launch and super speedy tweeting.
4. BlackBerry Protect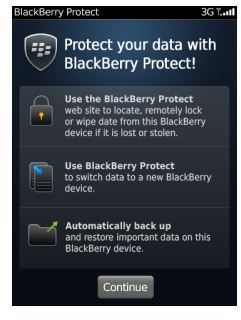 Your BlackBerry is precious to you in many ways, so it only makes sense to make sure it's protected. If you lose your phone or it gets stolen, BlackBerry protect will be your savior – it's the perfect app to locate your phone should the worst happen.
Once you've installed the app you can help to locate a missing device easily by using the BB Protect website. Not only can you locate its whereabouts you can lock it or even wipe the information on it should you suspect it is stolen. There are a few extra features that make this a winning app too, such as making your BlackBerry ring loudly to help find it, and display a message on the homescreen to the finder of your phone so you can tell them how to return it.
It's also a great app to use when you are switching devices as you can backup all your info wirelessly to then be transferred to your new phone. For free, there's not much to dislike about this app.
5. Vlingo Virtual Assistant Voice Recognition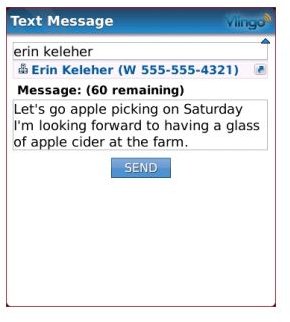 Vlingo takes the capabilities of BlackBerry Voice recognition to a whole new level. Not only can users dial a number by simply saying a name, but they can also perform web searches, such as saying "Find Movies In Chicago Illinois". You can also launch other apps with commands such as "Open Calendar", and compose entire emails and text messages by simply speaking into your device. Updating your Facebook status has never been so easy.
There is a paid-for version of this app that opens up more features too. To me, the ability to easily transcribe messages was also a big plus. I dictated a 2000 word memo and then pulled up the BlackBerry Spellcheck application and found only two mistakes, which probably resulted in less errors than typing the entire memo myself. Not to mention speaking 2000 words was much easier than typing 2000 words on the BlackBerry keyboard!
Haven't You Missed Some?
I'm pretty sure many readers are wondering why I didn't include the Google Mobile app, along with several others that may be widely regarded as among the best BlackBerry applications. Essentially I wanted to focus on possibly less known applications that serve unique purposes, I believe the top 5 apps I listed above accomplish that goal. BlackBerry is a robust system with thousands of apps, each offering their own unique twist on the mobile platform, hopefully the options I've given you in this article help make your BlackBerry experience more enjoyable.
References