Top Five Must-Have BlackBerry Apps for Parents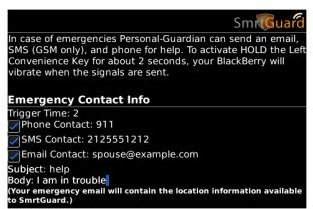 SmrtGuard Mobile Security
Although as parents you can appreciate the many advantages a smartphone has for the safety of your child, there's always that worry too. So why not use this to your advantage and get the SmrtGuard app. It gets my vote as the best app for parents as it covers so many bases, is free, and is of a very high quality.
With this app your child's security is maximized in many different ways. You get a call blocking option, so if they are getting bothered by a particular friend, ex, or bully at school then you can set up the number on a blacklist so the calls and texts won't even get through. You also get an anti-theft and phone recovery option, allowing you to track the phone's whereabouts – although useful if the phone does get lost or stolen it's also a good way of finding out where your child is. Another great area this app covers is that of a personal guardian. With just a single press of the button your child can send a distress email, SMS or phone call if they are in trouble.
There is a Pro version of this app that you can purchase, but it's pretty expensive and this free option is likely to cover all the things that you need it to.
For free, this app is really hard to beat. It gives so much peace of mind and is easy for anyone to use.
Road Trip Family Trivia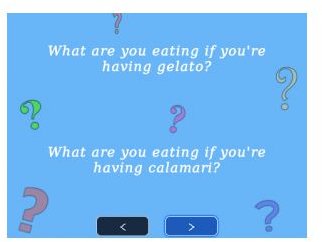 What's one of the worst things about family vacations? Yep, the traveling. If you are fed up of the "Are we nearly there yet?" question for the 100th time this trip, then get your BlackBerry armed with the Road Trip Family Trivia app. The idea is that it's a quiz everyone can enjoy, so for each kid's question there will be a parent's alternative question, so you can really battle it out – though if you want a peaceful trip I find letting them win the odd one is preferable.
The areas you are quizzed on are very varied from pop culture to history, animal kingdom to science and everything in between, so there really should be something for everyone. You get the kid's question at the top of the screen and the adult's question at the bottom of the screen – though if we're being honest some of the adult questions seem like a kid could answer them anyway. As an example, a kid's question might be What is the art of Japanese paper folding called?, and the related adults question is What material did the ancient Egyptians used to write on?
It really is fun for everyone, only costs $2.99, and definitely has an education element to it too which is always a bonus.
Notif-i
Now don't get me wrong, I'm pretty bad at remembering to charge up my device (usually apparent when my car breaks down), but teens are likely to forget this more than anyone. Of course it can often be used as an excuse as to why they couldn't call you, but if you get this Notif-i app installed they won't have any excuse whatsoever.
When your phone is about to run out of juice, this app kicks in, offering to send a customized message to a group of people you select to let them know what's happening. So although you may not be able to contact your kids back, at least you'll know that everything is OK.
It's simple in its idea, but a really useful app to have. It takes up barely any room and could prove pretty useful in many situations time and again.
Think of Me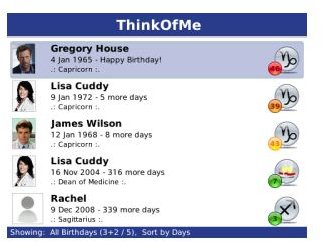 Even if you don't have a big family, it's really easy to forget important dates. After all it's not just family birthdays and anniversaries you have to remember but friends' birthdays, your kids' friends' birthdays, naming ceremonies, school plays, parties… you get the idea. I don't know how many times I find myself gasping, following this with "oh I completely forgot!". There's just so much to remember when you are a parent, so having a handy little virtual assistant that will remind you of such things is just what we all need – I'm assuming I'm not the only one!
The great thing about this app is that you can connect it with your address book, so can add someone's birthday to their contact info and get a reminder about it closer to the time. One touch I particularly like is that you'll get a second reminder if you don't take any action after the first reminder. There's also a handy feature of sending out a text to those you don't have birthday information for, to make sure you have all the relevant data. You can also add up to four different important dates for each person.
The only downside for me is that there's no way of adding data for those that aren't in your address book, but this is easy to get around with a dummy contact record.
Children's Hospital of Michigan Child Medical Guide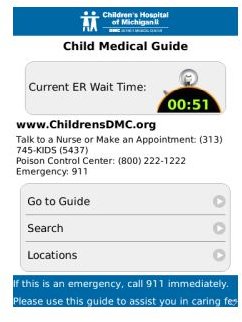 I love this Child Medical Guide for the fact that it's not one of those medical apps that immediately makes you worry your child has every illness going. It's very practical and gives no-nonsense information – it certainly saves you searching around on the Internet for something only guessing at the credentials of those giving the advice. This app comes straight from a Children's Hospital so the information is specific to kids too, which is another touch I appreciate.
It covers most things you are likely to encounter as a parent, and even looks at really small things like insect bites and offers advice about what you should do – the kind of stuff we probably should all know but don't. There are obviously bigger things that give us concerns like wheezing, choking or vomiting, but also advice on colds and earaches too.
It has very specific dos and don'ts for each ailment, and as the app is free, there's really nothing to dislike about it.
References