A Detailed BlackBerry Torch 9860 vs iPhone 4S Comparison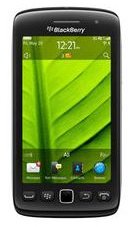 Design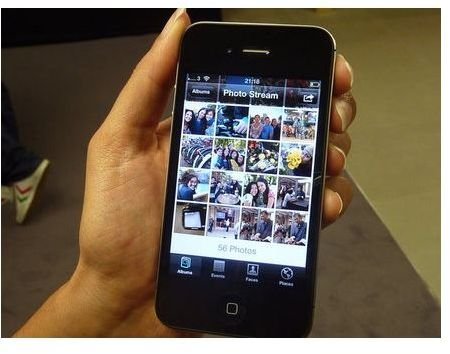 The Blackberry Torch 9860 versus the iPhone 4S can only first be compared in terms of their design. Both feature the typical touch-screen, candy bar design – large touch-screen display on a slim mobile frame.
The BlackBerry Torch's design is a completely fresh and new design format for the RIM brand. It is most likened to the Samsung Galaxy S2. It features slightly rounded edges and a sleek build, unlike other BlackBerry models. It measures 4.72 x 2.44 x 0.45 inches (120 x 62 x 11.5mm) by height, width and depth respectively and weighs approximately 4.76 oz (135 grams). It features a TFT capacitive 3.7 inch touch screen with support for 16M colors and a resolution of 480 x 800 pixels.
The iPhone 4S is almost identical to its previous model. However, the iPhone 4S is still a visually captivating device. It measures 4.54 x 2.31 x 0.37 inches (115.2 x 58.6 x 9.3mm) in height, width and thickness, respectively and weighs 4.94 oz (137 grams). It also features a 3.5 inch TFT capacitive display with a resolution of 640 x 960 pixels and displays 16M colors.
When these specifications are compared the iPhone 4S is smaller than the BlackBerry Torch 9860 in terms of build and screen size but features a brighter and more vivid screen and colors. The iPhone 4S stands above the Torch due to its sleek and fashionable styling and color capabilities.
Interface and Operation System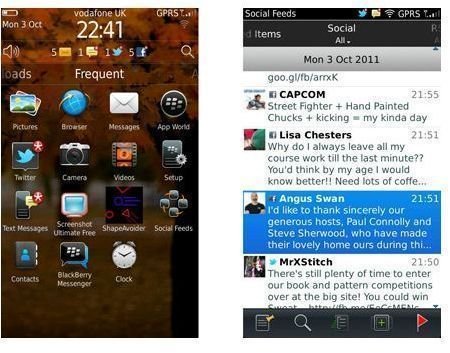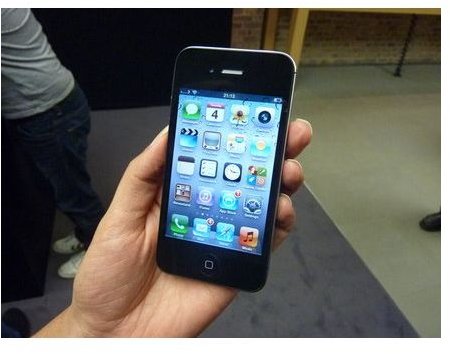 With RIM's dive into a new BlackBerry OS 7 and interface there are many similarities between it and the iPhone interface. The BlackBerry Torch 9860 offers a more vibrant and user friendly interface than previous BlackBerry devices. Icons are bolder, but simpler, and slightly resemble those on the iPhone. However, although a touch-screen device the BlackBerry Torch 9860 still relies on its trademark touchpad for selecting various options.
The iPhone 4S, on the other hand, is a completely touch screen based device. The interface is bright and vivid, more so than the BlackBerry Torch. The interface is also almost completely icon based. Icons take up the majority of the screen in a grid pattern. The interface also features various home screens which can be accessed by swiping from left to right or vice-versa. These icons and menus can be customized accordingly. Apple has included the new iOS 5 on the iPhone 4S.
In comparison, much needed applause should be given to the RIM line and in this subsection the BlackBerry Torch 9860 wins over the iPhone 4S. The Torch features an entirely new and user friendly interface while the iPhone 4S remains practically the same.
Features
The BlackBerry's features are slim. There are the usual apps for running media, maps and so on. However, not nearly enough applications have been updated to run on the new BlackBerry OS 7. As a result, many users will find their Torch 9860 experience lacking.
On the other hand, the iPhone 4S introduces several new and innovative features. Such features include iCloud and Siri. iCloud is a storage application. It allows users to store contacts, reminders, calendars, emails, notes, bookmarks, documents, photos and videos online for safe keeping. This new feature is able to tie almost all media or information from your iPhone to your Apple account.
Next is Siri the newest instalment of voice activated controls. Siri is an artificially intelligent, voice-controlled assistant that is available on the iPhone 4S. For instance, holding down a special button allows the user to speak a question to Siri who will translate it and issue an answer or help where necessary. Asking Siri if you will need a raincoat for this time next week will provide you with a detailed list of the upcoming weekly forecast. If that's not intuitive then I don't know what is.
The iPhone 4S features an 8 megapixel camera that takes more natural vs vibrant photographs. There is better depth of field within the 4S's camera. Pictures are more true to life and more detailed. The BlackBerry Torch 9860 features a 5 megapixel camera. In comparison the iPhone 4S wins over the BlackBerry Torch 9860 in terms of features.
Performance
Battery life for both phones is great. The new Torch lasts for approximately a day on heavy usage while the iPhone 4S lasts for approximately 8 hours on heavy usage. In comparison the BlackBerry Torch is the better buy.
Verdict
The BlackBerry Torch 9860 vs iPhone 4S is a tough battle. The BlackBerry Torch 9860 is a great mobile phone, albeit featuring many new and needed changes in design. However, overall the iPhone 4S may have actually come out on top in terms of graphics, design and features. But hey, I am a BlackBerry fan through and through, so make your own choice based on the information above.
References