A Complete Guide to the BlackBerry Travel App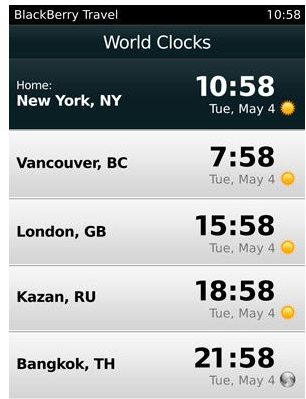 With over 100,000 hotels across the globe this BlackBerry travel app can be your personal travel assistant to monitor your upcoming flights, store travel records, share travel activities using LinkedIn and check the weather forecasts in your area and places you intend to visit.
It is a travel organizer that can help you to plan and optimize your trips by combining all the necessary tools so you can make informed travel decisions along the way. The app makes it easy to plan and manage flights as well as find a great hotel, search for alternate flights, get travel updates, rent a car and much more. Stay with us as we go through all that it has to offer.
The Interface & Features (5 out of 5)
The Travel app's interface is of high definition quality. The pictures are clear and in high-resolution
showcasing terrific colors, contrast, brightness and such. It presents a simple yet effective platform for users to search, view and choose travel options to go about creating an itinerary. Once you enter the application, you can easily pan through some of the main functions to – plan a new trip, share and connect with friends, search for hotels and view a five-day weather forecast for areas you want to travel to.
There are also readily available buttons to proceed with direct bookings, renting a car, search for flights as well as access helpful services to view a flight's status, conduct a local search for restaurants, shops etc., view world clocks, use the currency converter plus much more – all coupled with fantastic designs and photos along the way.
Browsing for a hotel, car or flight is very much the same as if you were to go online. The layout looks like any of those travel websites but utilizes only Expedia to search for what you need. Users get a list of useful functions right at their fingertips, since ideally, you are getting a comprehensive and well thought-out travel app.
If you choose to, you can sync the application with an email account to obtain seamless travel data filing. The app has an automatic trip scanner feature that can create and upload a trip itinerary from information that is acquired from travel confirmation emails that are sent to the phone's inbox.
What You Can Do
With this application installed you won't have any need to call a travel agent, make hotel reservations or get behind a PC. Everything that they can do for you can be done via this travel app on your BlackBerry smartphone. Let's take a look on some of things you can do and how to go about doing them.
Book A Hotel (4 out of 5)
To book a hotel, pan through to the 'Hotels' page and select 'Search Now', enter the city's destination name,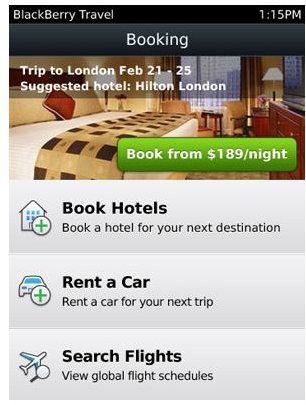 the date for intended check-in and check-out plus the number of guests then click the Expedia search button and you are on your way. You will notice, before you are even done typing in your destination name, that the app produces a convenient drop box with an extensive list of locations bearing a similar or matching name, so if you were unsure for any reason of the spelling or country's name, this BlackBerry travel app provides that for you.
As you get to the next step you will see a list of hotels in no specific order really, listing their names, star ratings, locations, prices and current deals along with their profile photos. To save time and make your search even easier, the app situates a 'Sort' button at the top of the hotel listings along with a 'Filter' and a quick 'Find' icon. You can sort your list by the top picks, the day's best deals, price ranges from lowest to highest and vice versa, and get directions to the hotel destination from major sites in and around the city. Filters can be configured to a preferred price range and star rating and the 'Find' function allows you to simply type in the name of a particular hotel of choice so you can view its details immediately.
Once you choose a hotel, the app takes you to a complete profile page, including photos, to show the room accommodations, hotel property and attractions. Along with a description of the room types and corresponding prices. The address and location are also listed with an integrated map complete with directions, routing options, distances and more.
If you are not particular about using your credit card on your phone then you can book your hotel room right from this section of the app. Simply click on the 'Book Now' icon, confirm your reservation details, refine your preferences, read the cancelation policy then proceed in providing your personal and credit card details.
Further on you will see there are more options for you to call reservations directly as well as read the hotel policies, FAQs and general information regarding check-in and check-out times, services, activities, assistance and much more.
Rent A Car (4 out of 5)
Renting a car with this app is just as simple – in the 'Bookings' section on the application's home page, select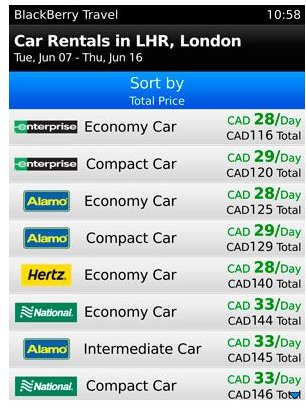 'Car Rental', enter the airport name or code plus the pick up and drop off date/time and then click the Expedia search button. Next you will see a list of car rental companies accompanied with the type of cars they have available and the respective prices.
Once you select a vehicle of your choice, you can review its full details and proceed to booking it for your trip. The car bookings section is similar and just as straightforward as booking a hotel as described previously. Simply fill out the required fields requesting your personal and credit card credentials – click submit and order.
Search Flights (4 out of 5)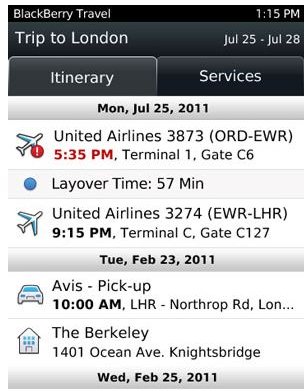 Now you want to search for and view the available flights to somewhere in particular – no problem. This is a simple process as well, click on the 'Search Flights' icon, then enter the departure and arrival destination along with selecting the date and proceed to clicking the 'Find Flights' button. Within a couple seconds the app will list the available flights – airline, flight number, time and duration.
Select and click on any of these flights and you will see a complete run through of all the details regarding that flight, including the arrival and departure infomation for both days or time of travel, aircraft specs, layover time (if any), terminal gate and so on. If a flight interests you, the app allows you to add it to a 'My Trips' or 'New Trip' folder for future reference.
What You Can't Do
Unfortunately this app falls short with the absence of one key function and that is actually booking a flight directly. It seem to have all the requirements in place to securely go about this procedure, considering you can book a hotel and car, but limits users from simply booking a flight too. Whether it is for reasons that have to do with bootlegging travel agents and the airlines, this would have been a terrific addition making this app more complete than ever.
Should You Get This App? (4 out of 5)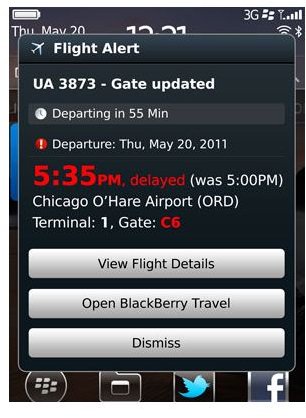 This is definitely an effective travel tool for anyone planning a trip and better yet, if you are currently on tour.
It doesn't require Internet access so it will work for you no matter where you are. With a wealth of features and built-in functions you can arrange your entire trip right from your BlackBerry without the assistance of hotel personnel or a travel agent. The app is hands-on and interactive in that it keeps you informed through alerts on flight changes and cancellations, and recommends important items you may have forgotten or booked incorrectly.
With a versatile app comes a bit of hassle when setting up. Since this application provides in-depth results that are specific to its users, it requires more personal information than the average BlackBerry app – including permissions to access your email inbox and LinkedIn account. Even though these requests are in aid of providing exceptional service it can seem a little intrusive. Plus let's not forget having to provide your credit card data when booking a car or hotel. Perhaps if they were to implement an alternate payment option users would feel more comfortable.
The choice is yours really – Are you willing to possibly compromise your personal infomation for a superb and helpful BlackBerry travel app? Or would you rather live without? Users are guaranteed privacy in the utmost regards and with the trusted brand of its developers you are sure to receive the best security, confidence and protection. In all this is a terrific app for anyone, it works well, fulfills almost all your travel demands and keeps you efficient and productive on your trips, plus it is FREE – a definite recommendation.
References