Stop Those Snoopers: Great BlackBerry Apps to Hide Messages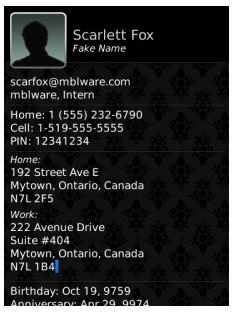 Who passed the bill that it is okay for people to borrow your phone and snoop through your files? It seems you can't trust anyone these days and now you don't have to. As you continue through the next few lines, learn how you can discreetly block people from accessing your files.
Below lists the apps designed for your BlackBerry to hide messages, contacts, SMS, photos, emails and any other file that is private to you. This way you won't feel nervous or guilty the next time someone takes up your phone.
BlackBook
BlackBook assimilates itself on your BlackBerry in the most inconspicuous and fun
way. It utilizes a custom launch key which users access to employ its function. There is no icon; simply type the preset custom launch key code on the keypad of your phone and the BlackBook app appears on the screen.
With BlackBook ,users can completely hide the address book or contact list on the phone as well as filter calls, SMS, PIN and emails. The app allows you to implement fake caller ID so no one but you can know who is calling or see the incoming number. The features extend to auto close, vibration alerts, real time contact search, custom message pop up alerts, outbound email attachments, shortcuts and much more.
iLock
iLock is designed to protect the privacy of your SMS and contact information from the prying eyes of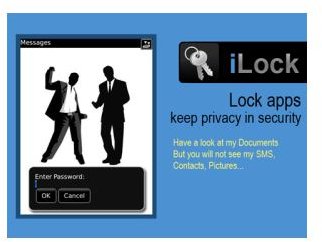 people who may come into contact with your phone. You can manually configure this iLock app to lock folders of your choice – even third party application like BB messenger and Facebook. It is fully customizable too; it can intelligently launch itself after a preset time, plus it supports shortcut commands and can search for files when prompted.
Furthermore, iLock can lock your SIM card, back up and restore files and other settings. It is easy to manipulate and takes little time to set up and initiate. The interface is a simple one, but it does have some interesting graphics that are cool to look at.
PatternLock
As its name suggests, this PatternLock app is opened through a custom lock pattern defined by the user. By tracing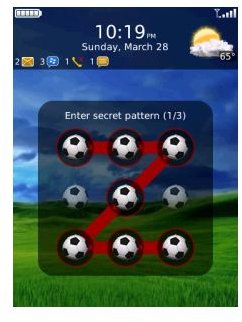 your finger in a particular pattern on the phone's screen, users decipher a lock and unlock code to access the app. This pattern is your key to unlocking the app so you can access the files you don't want people see.
PatternLock can lock individual applications, the call screen and the entire phone. It can send out notifications for emails, SMS, MMS, BBM's and missed calls. Also, you will be able to backup and restore files, place emergency calls, assign hardware lock key, show weather updates with 'BerryWeather' and lock down the device after multiple incorrect patterns. Also you can implement custom background images, colors, themes and much more.
Chameleon
Chameleon is an app that can help you hide and manage incoming short messages (SMS) and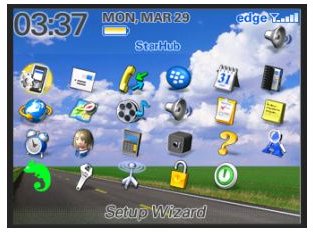 phone call logs. You can keep contacts private in the Chameleon address book so when an SMS is received from a privatized contact it will be filtered and stored in the app; this way it doesn't show up in the normal SMS inbox. This will apply to all the incoming and outgoing calls from private contacts too. These files will be filtered and the messages and call log history deleted. Private files will be password protected so only the user can access them.
Chameleon is a great app to use with your BlackBerry to hide messages and such – it is easy to use and installs quite quickly. Now you can feel comfortable leaving your phone around your kids, spouse, siblings and your inquisitive friends.
Lock Apps
Set locks for any app on your phone with Lock Apps on your BlackBerry smartphone. Without completely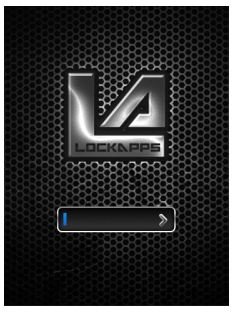 locking all the functions of the phone, you can set this app to lock a few specific applications that you want to keep private.
Lock Apps can lock or unlock SMS, MMS, call logs, contacts, calendar, photos, videos, as well as applications that were installed such as BB Messenger, Gmail and Facebook. It is an easy-to-use app, which makes manipulation a simple process. It has other customized settings you can explore to make the app perform just the way you want.
References
Image Credit - Screenshots courtesy of the respective app developers.