The Top Virtual Piano BlackBerry Apps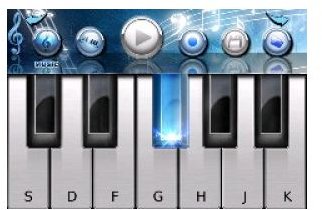 Can't get enough play on your piano and are you constantly thinking about how you're going to compose your next billion dollar hit? Well, take these piano apps anywhere with you and play as frequently as you like. Practice, have fun and impress friends with your skills right on your smartphone. These virtual piano BlackBerry applications are perfect for pianists as well as amateurs learning the art. Get terrific features to help coach you along the way and also provide the necessary tools so you can be creative and bold.
e-Mobile Piano
This sensational app turns your BlackBerry into a functional piano so you can tap away and create your own music or
play familiar melodies just for fun or practice. This e-Mobile app allows you to record music while you play and plays it back for you, plus you can save it for future reference and even share it with friends. Additionally, you can watch the piano light up during auto play as it plays preloaded music. It is a learning tool as well, with guided lessons the app can teach you how to play certain songs in no time.
It is a simple application that is very user friendly so you can access the simulated keys and perform the necessary functions to compose music with ease. The interface is one of the more attractive ones among other piano apps on the market. It is very intuitive and responds immediately as soon as you make contact with the keys.
Piano
Piano is definitely a front-runner among virtual piano apps for your BlackBerry, the interface mimics that of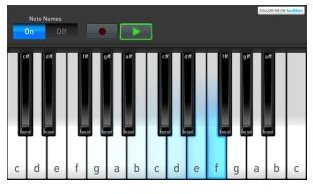 an actual piano keyboard with 25 keys and supports multi-touch for even the most advanced pianists.
The interface is a realistic one, the keys are animated so when you play they light up, there are controls at the top of the keys to instantly playback, record and turn on/off the piano. The keys are labeled and highly sensitive to touch as you play. Also, you are guaranteed to experience high quality stereo sound while playing and learning a variety of songs. There is an option to toggle the note name labels on the keys too.
This Piano app has a few limitations, however. It would have been better rated if you could change octaves as well as save and open more than one recording. Other than that it plays great, it's fun and quite addictive.
Handy Piano
This is a virtual piano BlackBerry app that allows you to create melodies the same way you would on a regular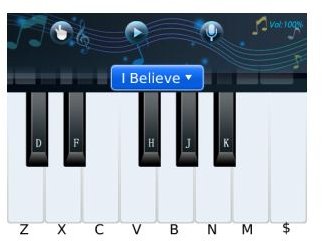 piano or keyboard. It also guides you through learning how to play the piano, for those of you who are in the learning stages. While you play and practice, Handy Piano can record the tune and play it back, so you can critique and improve your playing as you go along. Additionally you can watch the piano during auto-play as it demonstrates how to play tunes from an existing archive of music.
With this app you can reset, delete and rename recorded music files instantly in one quick step, i.e. through the app's main menu. This way you can effectively create and organize music on your phone using an attractive and easy to use interface. Plus you can enjoy the true imagery of an actual piano for a realistic playing experience.
Piano Chords
Piano Chords is a dynamic piano application that displays up to 600 chord fingerings for various combination note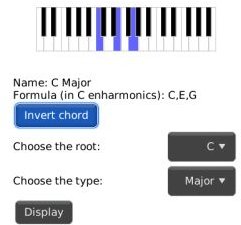 chords. It details all the functions needed to successfully compose your music, which makes learning that much easier. Also, you will find this application generates inversions for each chord. It gives access to view the chords through convenient drop down boxes and color highlights on a simulated keyboard.
This Piano Chords app is easy to use and implements a pretty basic interface that focuses more on delivering instructional content to help you create music as opposed to fancy back drops and such. It's a great tool for musicians especially pianists.
Piano On The Go
This Piano On The Go application is not as clean-cut and it doesn't have the high definition graphics that most of the other apps on

this list have. It displays a basic looking piano keyboard that plays effectively on both keyboard and touch-screen smartphones. The app is quite simple to use and can be an effective tool in composing music on your BlackBerry.
Users can play keys covering two full octaves but not chords. Additionally, with a simple tap on the menu button of the phone you can access functions to play a song, start recording, retrieve previous recordings, immediately delete recordings and even change the instrument. Also you can control the settings to adjust the volume, note duration and so on.
References