Best Vegetarian Apps for BlackBerry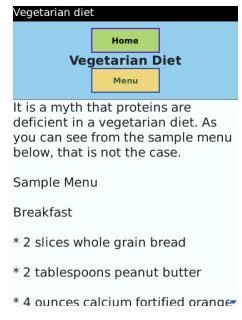 Take the next step in completely transforming your diet into a strict vegetarian regimen or maintain it with these vegetarian apps for your BlackBerry. Monitor your daily meals and get help creating and sourcing delicious vegetarian dishes to put a smile on your belly button. Also, get nutritional details to educate and control your overall intake of calories and such so you can take better care of your health.
Check out these apps and find more interesting ways to maintain a happy vegetarian lifestyle or create one.
Diet Science
You don't need a nutritionist to give you food advice, this Diet Science app is a smart
way to get all the details you need to understand different foods and how they affect your body's performance. It gives users a guide that will also provide scientific advice on the foods necessary to develop a balanced, healthy diet.
The app features a calculator that you can use to determine the daily calorie requirements by age and gender. Also, you can find the glycemic index with a glycemic load calculator that has a load of 125 common food items. Plus users can establish their metabolic condition and body mass index. The diets included are vegetarian, Asian, Mediterranean, Latin, USDA and Dash, all with menu samples so you get an idea of what each diet entails.
The Allinson Vegetarian Cookery Book
This e-book application is a simple vegetarian cook book with quite a number of tasteful vegetarian recipes to help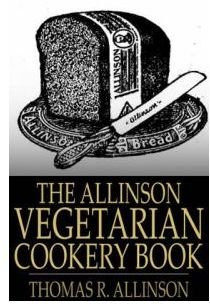 plan your daily meals and also multi-course vegetarian meals for family and friends. The Allinson Vegetarian Cookery Book extends itself to non-vegetarians too who are looking for creative vegetable recipes and ideas to supplement meals.
Some of the food items you will find recipes for in this e-book application are rice, macaroni, vegetables, potatoes, eggs, plus more. There are dessert recipes too for whipping up tasty puddings, pies, tarts, breads, cakes and more.
ABC's of Vegan With A Vengeance
This is a great vegan app to have on your BlackBerry, simply because it details the recipes of 125 delicious and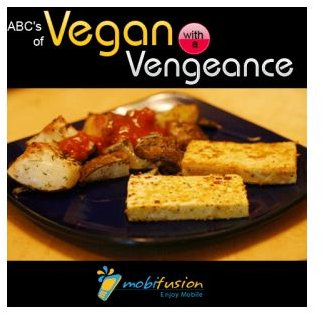 expertly concocted meals from cooking show host Isa Chandra Moskowitz. The app features an edgy cook book, personalized with a few of the author's life stories and views on politics to sophisticated culinary recipes like seitan and herb stuffed mushrooms, curried carrot bisque, Moroccan spring vegetable tagine with red lentils and chocolate raspberry blackout cake. It takes you further in providing amazing breakfast recipes for muffins and scones as well as appetizers, soups, entrees and desserts. Additionally, you will find helpful pointers and tricks on how to diversify the ingredients and keep your vegan diet inexpensive and liberated.
The app has a terrific interface filled with attractive, ready to eat photos of the dishes you can prepare. These photos guide you on how to display your food nicely on the plate especially when cooking for guests. For each recipe there are respective photos of the finished dish including tips and tricks to help keep you efficient in the kitchen.
Everyday Vegan
While some of you may be well settled into your vegan lifestyles and diets, there are those of you who are still in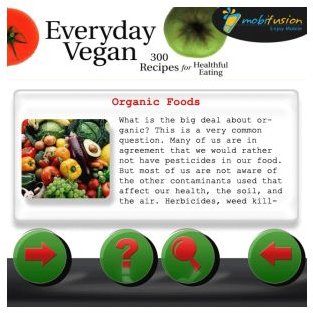 the early stages and struggling to maintain such a change. Everyday Vegan is a simple guide to help you stay on track, by educating its users on compelling facts about nutrition, how foods are prepared, cultivated and such. These informational facts will undoubtedly reinforce and encourage individuals to sustain healthy vegan diets and feel a wealth of reassurance in the process.
Additionally, you will find it lists up to 300 recipes for healthy eating so users don't have to battle with trying to plan daily meals. The app takes you through its collection with no hassle and boasts a colorful, vegan themed interface with background images of vegetables and fruits to get your taste buds stimulated.
Go Vegan PREMIUM Theme
Being a vegan is something to be proud of and fellow vegans love meeting each other and talking about their diets and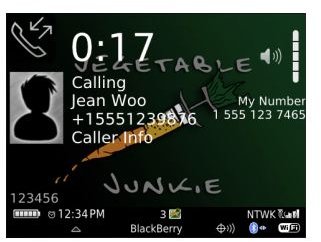 meatless lifestyles. This app is like a badge of honor – it somewhat shows off your 'status' so everyone can see that you are a true vegan, or vegetarian even, and also a compassionate animal lover. This Go Vegan Premium Theme app skins each of the generic screens on your BlackBerry, so you never miss a glimpse of its vegan enhanced background.
Also, you will find there are functions for you to change the font and color of the theme plus access a lock screen icon on the home screen of the phone. There may be a slight disposition of some the icons depending on which BlackBerry you own, but it certainly won't remove them.
References
Image Credit - Screenshots courtesy of the respective app developers.