The Best BlackBerry Battery Monitor Apps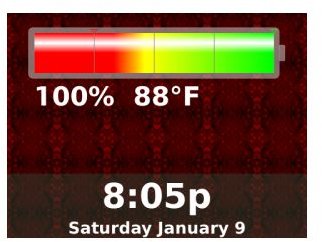 One of the biggest problems cell phone users face on a daily basis is the endurance of battery power. Well if you didn't know before, now you do – there is an app for that. These are the best, most efficient BlackBerry battery monitor apps you can find on the market today. With a simple download see how you can take full control and manage your battery life to get more usage out of your BlackBerry.
Vorino Battery Monitor
With tons of configuration features Vorino Battery Monitor allows you to manage your phone battery.
Once installed this application can notify you when the battery is fully charged. It can also tell you when the battery level drops below a certain percentage – this setting and others will be set by you. These notifications are configurable also, so whether you want to set alerts to vibrate, chime or light up with the LED indicator that's entirely up to you.
Additionally, you will see that this battery monitor will be displayed on the screen of the phone as an animated battery-charging indicator or optional text description showing the battery reading percentage, battery temperature, min/max indicators or optional charging indicator. All the original data on the phone screen will still appear but situated differently. There are also color preferences for displayed components, color blends and gradient options, color combinations, solid backgrounds, plus multiple built-in wallpapers and many more great enhancement features.
SystemDash - All-in-One Battery Alerts Memory Booster Device Info
Get a complete package to fully manage the functions of your phone with SystemDash. First and foremost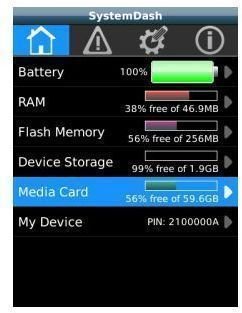 it features a battery monitor that you can customize to receive alerts when the battery level is low and also when it is critical and fully charged. This is displayed on the home screen so you are always a glimpse away from knowing the battery status. Also, it has a battery indicator with 32 colors from which you can choose to add a bit of personalization.
SystemDash is also a memory booster – by reclaiming unused RAM periodically it optimizes the phone's performance. This fully loaded app also gives users a significant level of customization capabilities. You can set alerts for all the functions, assign tones, and set up vibration and LED notifications.
It has a great interface with an extensive database. The information is easily accessible through its dashboard feature – you can instantly view the battery status, flash memory, RAM, device storage, media card and other device information.
Battery Watch - Free Power Consumption Monitor
Here is a terrific BlackBerry battery monitor app to give you detailed battery updates and tracking in style.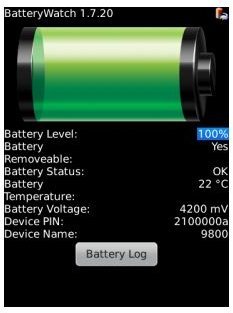 It gives you a quick overview on the battery state with line chart visualization over time – for the day, week or month. There is a battery level indicator icon to show when the battery is fully charged, charging or even when the power cord is unplugged. When installed, you will receive warning updates for when the battery is running low as well as the status of the battery temperature, voltage, name, PIN and whether it is removable.
This Battery Watch app has a great interface with high definition illustrations to show clear and colorful graphics and even the tiniest line on the visualization charts – handy considering you will be viewing this data on the screen of the phone.
Monitor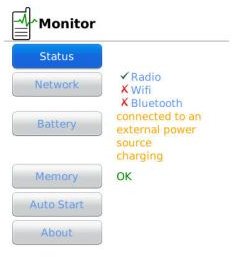 Take full control of your BlackBerry battery through this application. It provides a thorough report on all the updates and aspects of the phone's battery right at your fingertips. This Monitor app has charts showing the battery level, memory use, signal strength, data sent/received and also the remaining battery power during use. From all this data you can better manage other applications on your phone, for instance the status on the memory use lets you know which programs are using up more space.
Even when you are not sure of the required readings for certain programs, the app will provide reports so you know what actions to take in order to get the best performance out of your phone. Additionally, you will find there is an auto start application after rebooting or resetting the battery (battery pull).
Blattery Status - Monitor the Status of your BlackBerry Battery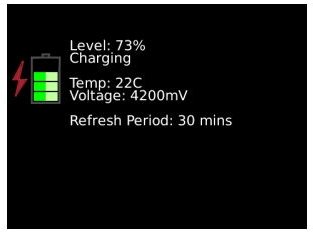 This is a simple application to monitor the status of your BlackBerry battery. It runs in the background and doesn't use up too much additional power. Blattery Status is designed to signal an alert when the battery starts approaching the low levels so you know to either cut down on the phone's usage or prepare for recharging.
In addition to monitoring the battery level, this app also keeps track of the battery temperature and displays this in units of degrees Celsius or Fahrenheit for your convenience. It has a very basic interface with a simple display. You can see the battery status and look at the battery level instantly in one quick step.
References