Why Buy a BlackBerry? Are There Any USPs Left?

The BlackBerry brand, developed by Research In Motion (RIM), has long claimed the affections of the business community. By focussing on devices with physical keyboards, offering a wealth of connectivity options, and providing secure solutions for business email, they built a large and loyal following. Their BlackBerry Messenger or BBM service is hugely popular with BlackBerry owners. It also helped to pull in a more casual audience and expand the brand to the market at large. For a while RIM looked to have secured an unassailable position in the smartphone market but nothing lasts forever.
Recent news for the BlackBerry brand has been nothing short of grim. There's a suggestion that they failed to understand what consumers want and continued to focus on their traditional business users and IT departments rather than meet the needs of the general public. The trouble is that the wider market has come to represent the bulk of their customer base and they haven't been listening to what people really want. Their change in focus has come too late.
Stiff Competition
The explosion in the popularity of apps for smartphones has seen a meteoric rise for Apple's iPhone and a number of manufacturers producing Android smartphones. These platforms have eaten into RIM's market share. One of the problems for the BlackBerry brand is that it is not perceived as sexy or trendy. It is safe, it is reliable and, for businesses, it is cost effective.
In the wider consumer market BlackBerry is struggling because they've failed to capitalise on the demand for touch-screen devices that support a wide variety of apps and games.
Of course while BlackBerry may be losing market share it is also important to remember that as a smartphone producer RIM is operating in a growing market. Their slice of the pie may be growing smaller but the pie itself is getting bigger every year. By focussing on their business users RIM can expect to survive in some form, but recent moves suggest they are keen to claim more of the casual market. That brings them into direct competition with Android and iPhone – a move that could prove to be suicidal.
Too Little, Too Late?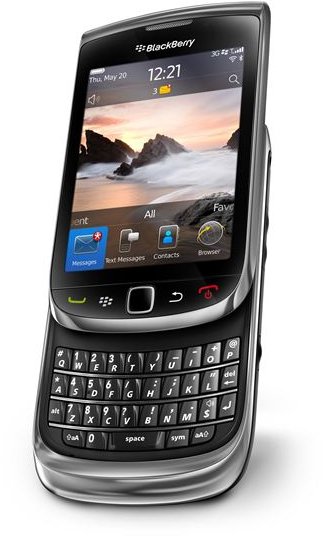 The BlackBerry Storm 2 signalled a move towards touch-screen devices for RIM but it didn't do well. The last wave of BlackBerry releases was led by the BlackBerry Torch. They retained the keyboard and added a touch screen with a sliding design. The problem is that they pitched it as an iPhone competitor. In a tussle with Apple's clever design and the increasingly powerful Android smartphones hitting the market, the Torch finishes third. It is an excellent messaging phone but for multimedia, apps and gaming, it simply can't keep up with the competition.
The Torch was followed by updated versions for the Curve and Bold lines. They both offered slight improvements but not enough to catch the competition, or even to keep up with them. RIM also released the experimental BlackBerry Style, a clamshell style smartphone that sank like a stone.
These updates did little to change the public perception of the BlackBerry brand and sales were below expectations.
Delays in New Products
As internal problems and falling share prices hit RIM it seems they stalled on the new wave of BlackBerry releases. There have been quite a few details released on their forthcoming line already and if you compare the new BlackBerry smartphones that are on the way with what is currently available, especially on the Android platform, they look like they're way behind. The screens aren't as impressive, the hardware isn't as fast and they aren't catering for gamers at all.
At the other end of the market releases like the HTC ChaCha and the Motorola Charm represent cheap alternatives to a BlackBerry but with the same form factor.
Why Buy a BlackBerry?
The reasons to buy a BlackBerry instead of another smartphone are rapidly shrinking. There are so many superior smartphones on the market in terms of raw power. Losing the app and game race is also a disaster for RIM.
The recent announcement about the free instant messaging feature in iOS 5, Apple's next platform update, was enough to raise more doubts about USPs for BlackBerry. This looks like serious competition for BBM.
So what remains? Basically the business features of the BlackBerry range are the only thing that sets it apart anymore. Even there we're seeing some great new smartphones running Android with combined touch-screen and QWERTY keyboard designs and business oriented software. There's also the looming spectre of Windows Phone 7, especially now that Microsoft are in bed with Nokia.
We're fast approaching the point where BlackBerry has no distinguishing features as a brand.
Can RIM Compete?
The BlackBerry line up may be down but it is certainly not out. The business position is still relatively secure thanks to their focus on security, email and document management. However, with more businesses asking employees to buy their own smartphones and other platforms improving their business credentials, RIM will have to work to stay on top.
If they decide to make a play for the consumer market at large, instead of retreating and focusing on that business market, then it could be all over. There are already discussions about whether they represent an attractive takeover prospect and there are plenty of companies out there that could afford to buy them.
Whether they can recover from this position is impossible to know, the release of their new line and the new version of their OS will be key. It is possible they'll bounce back to some extent, but right now it's not looking likely.
What do you think? Are you a BlackBerry fan? Post a comment.
References