Find out How to Use BlackBerry Maps Offline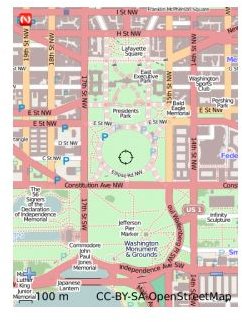 The next time you decide to go hiking in the middle of nowhere or take a trip to unknown territories, you may want to install one of these apps so you can use BlackBerry maps offline. There is no need for an Internet or data connection to get GPS data such as route tracking, route distance, time measurement, or speed of your activities. Get maps online and preload them to your SD card then have any of these navigation map applications help you find your way, plus get a whole bunch of other GPS data.
Nogago Outdoor GPS
Lets face it, there are times we need GPS coverage and there is no data
connection to even get a single dot on the screen of our phone. Nogago Outdoor GPS is a fully loaded offline navigation map application that can facilitate a lengthy list of GPS needs without a Wi-Fi connection. Users can download maps at www.nogago.com so that they can plan and find tracks, whether for outdoor escapades or when traveling abroad. With Nogago installed to your BlackBerry, you can track and measure the time, distance and speed of your activities. You can also view maps of any area, as well as navigate along tracks and routes that are optimized for walking and biking.
The Nogago Outdoor GPS app requires a BlackBerry with GPS and the SD card inserted in place so as to store maps and tracks. Devices that don't have an internal GPS should work with an external Bluetooth bundled GPS Sensor.
TrekBuddy
When you are out of range with no data signal anywhere, TrekBuddy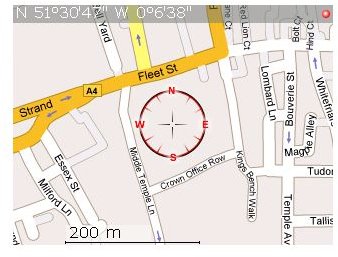 can be a lifesaver. It provides accurate data and maps to retrieve waypoints, POS, directions and even route speed. Of course, specific maps will have to be preloaded and saved to the SD card to provide this data since the app works offline. Maps can be downloaded from Google, Yahoo maps and elsewhere to show exactly what is needed for any purpose. Using offline maps with TrekBuddy is easy and they load quickly because they are stored on the phone. This app is especially useful when you are roaming overseas.
Additional capabilities help users with simple navigation, GPS tracking, editing and arranging maps, track logging, change screen viewing, sharing locations via SMS with other trekbuddies, as well as zooming in on maps, plus much more.
Mobile GMaps
Download maps from Yahoo Maps, Windows Live Local, Ask.com, Open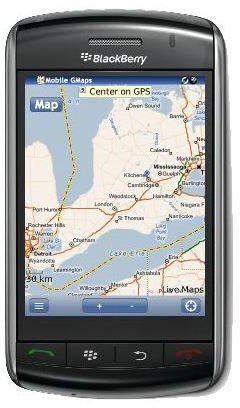 Street Map and any other source (except Google Maps) through your BlackBerry web browser, then connect to a GPS receiver over Bluetooth or use the phone's internal GPS to automatically display maps. Mobile GMaps will use these maps to obtain your current position, direction, speed and even perform route tracking, plus much more, right on the screen of your phone.
Preloaded maps can be stored on a memory card so that you can access them any time and anywhere hassle free. There is no need for an Internet or data connection, which means you can use Mobile GMaps while on the go.
If you try using Google Maps with Mobile GMaps, it deletes the application, so you may want to avoid loading maps there. There are a bunch of other options as mentioned above, they work just fine and give you the opportunity to explore this app.
GPS Guru Pro
With GPS Guru Pro you also have to download maps and preload them to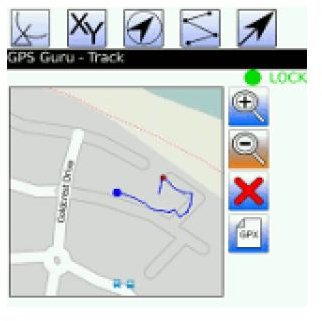 your handset. This will not allow current GPS data such as instant turn-by-turn direction and real time positional data. What this app will do is to plot and help plan your tracks on offline maps, show routes, waypoints and point of interests. GPS Guru Pro provides zooming capabilities to better manage and retrieve data. Also, you will be able to use its built-in compass to see your exact direction while traveling. It computes your speed, allows you to view your altitude above sea level, shows you how far you have traveled, and allows you to record where you have been.
Through waypoints, you will be able to locate specific points since you can get directions and distances between two points or from where you are to another location. It is the ideal tool for outdoor sports, geocaching, vehicle tracking and so on. GPS Guru stores tracks in GPX format to your BlackBerry for simple and quick data retrieval.
GPSLogger II - The free AIO GPS solution
Here is another application that allows you to use BlackBerry maps offline to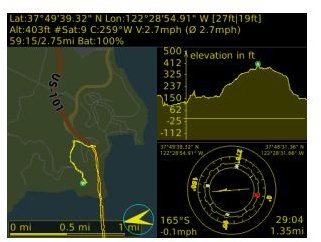 get GPS data. It can record your elevation, speed, and movement on a map, plus more. If you want to find a particular POS, simply enter the location manually and the app provides the positional data for you. This is especially useful when you want to locate your car in a big parking lot or if you are in the wilderness and have lost your orientation. Also, it has a 'LapTimer' feature where you can obtain and keep track of intermediate timings when you're out and about.
Users get up to three different views at a time and have an optional 'NightMode' where the maps can be viewed in 4 different colors (yellow, blue, red and green). Additional functions allow you to configure emergency alerts, back up and restore data, import and export formatted maps and completely customize its operation to your preference. Also, you can select between imperial, metric or nautical units.
References
Image Credit - Screenshots courtesy of the respective developers.