Guide to Use and Sync iPhoto for BlackBerry Smartphones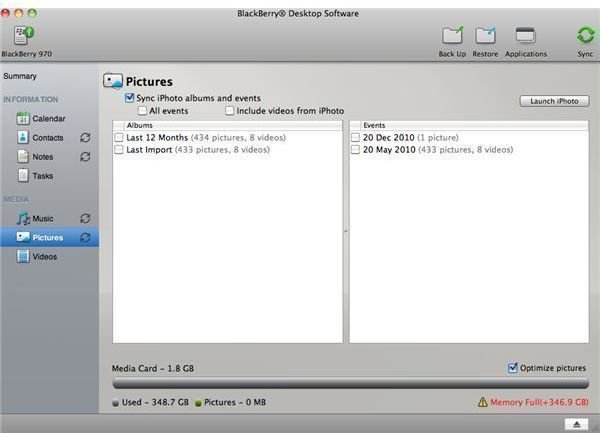 BlackBerry Desktop Software 2
Before you start syncing your BlackBerry with iPhoto, you must ensure that your BlackBerry Desktop Software is up to date. Older BlackBerry phones were shipped with the first release of BlackBerry Desktop Software for Mac. Version 1 does not include the same features of BlackBerry Media Sync included with version 2 that are required to sync with iPhoto.
Downloading
Go to the BlackBerry Desktop Software website to download the latest version of the software. Click "Download it Today" to advance to the download page. If you want to receive updates from Research in Motion, click "Yes," then enter your user details, otherwise click "No." Click "Download" to begin the download.
Installing
Double-click the disk image once it has downloaded. Double-click "Install BlackBerry Desktop Software" and then complete the setup wizard. Close the disk image once you have finished installing the application.
Syncing
Connect your BlackBerry phone to your Mac via the supplied USB cable. The BlackBerry Desktop Software will automatically open, if it doesn't click on the "Applications" folder link on your Dock, and then click "BlackBerry Desktop Software."
Enter a name for your device and then click to sync, either "with this computer only" or "with other computers" depending on your preference. Click "OK" to finish setting up your phone.
Click "Pictures" on the left-hand side and then click "Sync iPhoto albums and events". Click the iPhoto albums you want to sync with your BlackBerry in the left area. Click the BlackBerry albums you want to sync with iPhoto in the right area.
Click "Sync" to sync your device.
Mass Storage Mode
If you do not want to use the BlackBerry Desktop Software, you can manually add the photographs from your phone into iPhoto. By connecting your BlackBerry to your Mac and choosing to enter mass storage mode, you can drag and drop photographs into iPhoto. This will not sync both iPhoto and your BlackBerry in a two-way sync, as it would via the BlackBerry Desktop Software, but if you simply want to transfer your BlackBerry photographs into iPhoto, it will transfer them.
Syncing
Connect your BlackBerry to your computer via the supplied USB cable. Select "USB Drive" on your BlackBerry when the options appear.
Click the "iPhoto" link on your Dock (if you have deleted this icon, select "Applications" and then "iPhoto").
Double-click the "Finder" icon on the Dock. Click "BlackBerry" under the "Devices" list. Expand the "BlackBerry" folder then click and drag the "Pictures" folder from Finder into iPhoto. iPhoto will now import all the content from your BlackBerry pictures folder.
Wait a few moments for iPhoto to finish updating.
Troubleshooting - Correct File Types
If you find you are having problems when syncing files between your computer and your BlackBerry, there may be a file conflict error. Your BlackBerry takes photographs in the JPEG file format (.jpg), which is compatible with iPhoto so you do not need to worry about conflicts when syncing device-to-Mac.
However, if you are syncing photographs that were not taken with your BlackBerry camera, but are stored on the smartphone, you may encounter compatibility errors. BlackBerry Desktop Software 2 and iPhoto will only sync pictures in five image formats.
The compatible image formats are: .jpg, .tiff, .raw, .bmp, .png and .gif.
While there are other image formats available, these six should account for most image types now.
Troubleshooting - Software Incompatibility
The ability to sync with iPhoto was only introduced in version two of the BlackBerry Desktop Software for Mac. Therefore, if you have version one, that was shipped with many BlackBerry smartphones, you will have to upgrade the software. If you do not want to upgrade, or your Mac does not support the new version requirements, you will have to perform a Mass Storage Mode sync manually, instead.
Troubleshooting - General
If you find that the media does not sync to your device, there are a few things you can check. Firstly ensure that your device memory card has enough free space on it. If you have a lot of photo albums in iPhoto, or keep high quality images, then the device memory on your BlackBerry can become full very quickly.
You can check how much space is available on your Media Card in the Pictures sync screen. Below the browser panes, a "Media Card" bar shows how full the card is. If there is no remaining space, you will have to delete something before you sync iPhoto with your BlackBerry.
References