Smart BlackBerry Apps for Price Comparison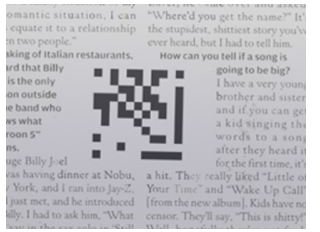 Retailers sure have a tough time with apps like these around. Comparing prices of supermarket products, toys, appliances and even books or CDs is a few clicks on your BlackBerry. These apps are specifically designed to give the prices of an extensive list of products as well as deals, coupons, services and much more. They allow for quick and easy retrieval of such information and are guaranteed to be quite consistent and accurate. You won't believe how much you will save and how much better your shopping experiences can be with a simple download of one of these brilliant BlackBerry apps for price comparison.
ScanLife Barcode Reader
With four different types of barcode reader ScanLife provides
price comparison data from an extensive list of websites offering product pricing, coupons and sale deals. The app can scan QR Codes, Datamatrix, EZcode, and UPC codes on products and any other printed material, even a business card, as long as it is readable. Each barcode reader allows you to retrieve specific types of data. For instance, the UPC code can give you comparison pricing, reviews, coupons, nutritional information (US only) and also editorial information on books and DVDs.
Simply use the BlackBerry camera to snap the code on a product, the app scans the barcode and immediately launches a website, video or online product offer. This way you can see what other products are valued for elsewhere plus get updates on special deals. If you prefer, you can search for an item using the manual search feature.
Most BlackBerry cameras will be able to scan a 2D barcode - Datamatrix, EZcode and QR core. However, only phones that have an auto-focus camera can read UPC barcodes, such as the BlackBerry Tour or Storm. If you have an older phone, remember all is not lost – you can always type the barcode number to retrieve the same results.
GasBuddy - Cheap Gas Prices
Tired of being robbed by the Man? Let's fight back, well, try to at least.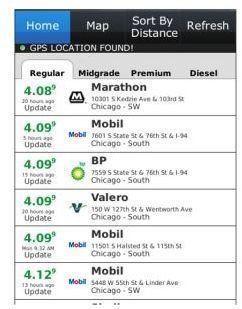 Gas prices can certainly take a chunk out of our pockets especially for those of you who travel a lot. Now you can find the cheapest gas near you and do it while on the go. GasBuddy is an easy to use application with a terrific user interface to help you source the best gas prices at various gas stations in and around your surrounding area. The prices are updated frequently to maintain a current database so you don't have to overpay on gas.
GasBuddy is updated by registered users - people like you who visit gas stations in your area daily. They log the date, time, place, rate and type of gas they bought (or what is listed) on the app so that others can reap the benefit of that information. GasBuddy even provides a map to help you find the gas stations you want to visit. There are options for you to narrow your search and give feedback plus more. It is a well thought-out app to give a comprehensive report on helping you get the cheapest gas rates around town.
These rates refer to gas prices in the USA and Canada only. Check out Fuel Prices Plus UK for the UK (see references below for download link).
Want to Compare Parking Rates? Check an app that lets you do that too (see references section).
Sccope
Described as one the best shopping applications for BlackBerry,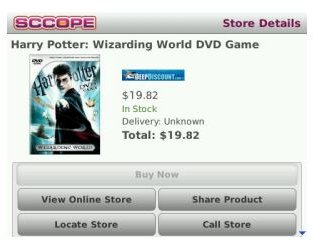 Sccope has a wealth of features so you can search for and compare prices of a long list of products and deals from top retailers. With Sccope you can browse products by category, search by barcode, set a price alert for price drops, share deals with friends and even create a wish list. Also, users can get coupons alongside products to optimize ways in which to save. Imagine all this done from your BlackBerry. Now you can make smart purchasing decisions whether you are shopping online or in a store. So if ever you feel that you can get something cheaper elsewhere, Sccope will help you to find it.
Once you enter the product name in the search bar or take a picture of the product's barcode, Sccope will connect you to 10 million different price points so you can compare prices and not overspend on anything. You can even make these purchase orders right from the convenience of the app – there are integrated functions to locate and call the retailers right away. This is a definite 'must have' BlackBerry app for price comparison.
Also, check out Sccope UK (see references below for download link).
NeoReader
This dynamic application offers universal barcode scanning of all

standard code types found on products in the supermarket, such as appliances, books, toys and so on. This complete scanner application can scan Data Matrix, QR codes, Aztec Codes, EAN, UPC, and Code 128. It literally transforms your BlackBerry into a barcode scanner, allowing you to access mobile web content so that you can search for and compare prices on print ads, publication, packaging, billboards, retail display, broadcast media, or any other medium.
Install NeoReader through your BlackBerry web browser at - https://get.neoreader.com/ and follow the on-screen instructions, then download to the phone. Once this is done, you will have easy access to any information you want on any product – anywhere you go. Simply launch the NeoReader app, click on the barcode with your camera and instantly the content is delivered to your phone. No typing the URLs into your browser, no time consuming search engines, no annoying menus to navigate through, just a few quick clicks to get what you need.
Compare Hotel Prices
If you need to find out the best hotel prices while traveling -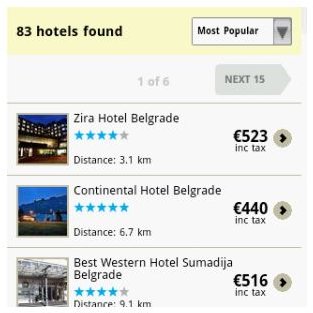 that too can be obtained through a BlackBerry price comparison app. Compare Hotel Prices is an app that allows you to search for the best hotel deals with a database of over 30 different travel websites. More than 235,000 hotels in 225 countries are listed. You can browse through and view a number of hotels in one area then compare prices so you know you are getting the best price for that time/season.
The websites are updated frequently to correspond with the current changes in hotel rates worldwide. So you can expect reliability as well as up to date hotel information with this app. The Compare Hotel Prices app is simple to use and gives you a quick view of each hotel, rates, accommodation, ratings and so on. Especially useful since navigating on your phone can sometimes be a drag.
References
Image Credit - Screenshots courtesy of the respective app developers.