BlackBerry Themes - Free True Blood Downloads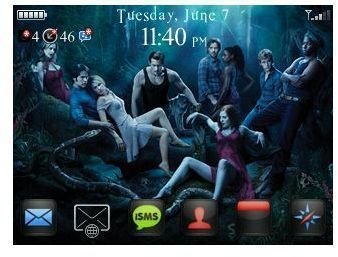 Welcome to Bon Temps, Louisiana
True Blood is a supernatural drama on HBO based on the Sookie Stackhouse Southern Vampire Series of novels published by Charlaine Harris. Audiences are transported weekly to a place called Bon Temps, Louisiana where nothing is as it seems. Vampires, shape shifters, werewolves, witches, demons, and even fairies exist in this small relatively close-knit town.
The show is centered on the daily events of Sookie (Anna Paquin) a telepathic waitress working at Merlotte's Bar & Grill. She falls in love with a vampire named Bill Compton (Stephen Moyer) and her life changes forever. Best friend Tara (Rutina Wesley) and Sookie's brother Jason (Ryan Kwanten) join her in the constant struggle to adjust to the bizarre events unfolding in their quiet hometown. The storyline mixes gothic romance with comedic one-liners that sets it apart from traditional horror on television. It tackles a diverse range of topics like fetishes, sexuality, prejudice, rape, religion, war, and politics while maintaining a mystical fantasy element. The violence and bloody sadistic sex scenes have made the show somewhat controversial increasing its overall allure. Adding to the vampire phenomenon it reaches women as well as men in the 18-34 age demographic. There's something about True Blood that captivates viewers.
Bite Me, Please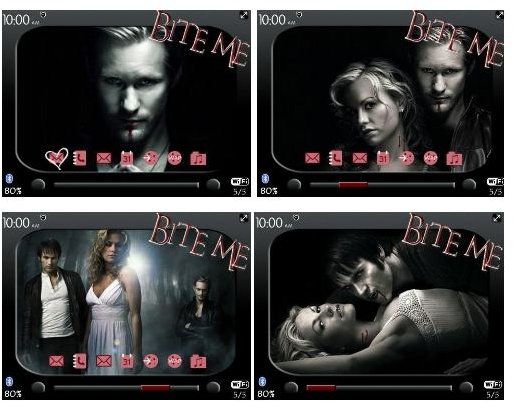 Fans of the popular vampire series really enjoy displaying their love for the show. There's a wide variety of novelty items located in HBO's shop inventory that surpasses most cable sensations. Apparel, collectibles, comic books, bar stools, and Tru Blood Beverages that resemble the drinks consumed on the show can be purchased. There are also various True Blood BlackBerry themes and ringtones available for every model. In this article we'll discuss a few of Bon Temps fanatics' favorite downloadable editions and where to get them.
If you have a Tour or Bold running OS 5.0 or higher at the website known as BlackBerry Theme Park visitors can download a custom Bite Me theme for their mobile phone. It features eerie black and white photography with pink icons that stand out. The words bite me linger in the upper right corner. The originality makes it a fun tool to personalize your device.
Sookie Stackhouse & Cast for BB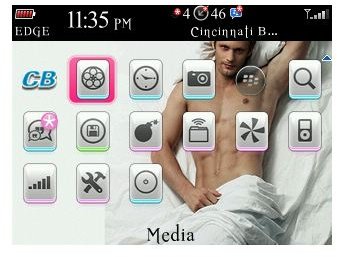 One of the best places online to find the series signature downloads is at CoolBlackBerryThemes. The website has hundreds of categorized themes and ringtones for your BB device. Most of the True Blood stuff is free. In the official cast theme Sookie, Jason, Bill, Eric, Lafayette, Sam, Tara, and Jessica appear against a dark blue backdrop. The icons change into dark squared bubbles. Incoming call screenshots switch to random close-ups of three cast members seductively grouped together.
The Eric Northman theme features the sleekest design. Silver and black detailed icons appear on the left side of the screen. The menu and calling screen both display different photos of actor Alexander Skarsguard. A red doodled heart pops up when scrolling. This application is perfect for fans that are obsessed with the dashing Viking.
There's a dark love triangle motif that gives users Sookie wallpaper along with blood battery life alert. Another free must-have is the red and white Bill loves Sookie theme with customizable bottom dock for the 8300/8800 series. It features several romantic still shots of the two. In order to access the links users must sign up as members and log in. Registration doesn't cost anything. It only takes a few seconds. They have every BlackBerry model covered including the Curve 8520.
Bloody Wallpapers, Ringtones & More
Perform a Google search by entering the terms BlackBerry themes free True Blood. Sometimes a member may post versions that they've customized or created on forums. It's a great method to snag unique looking themes without paying. Be sure to check the model specifications for an easy install process. Most of the user pre-made versions feature cool details that are hard to find. If you want to outdo your friends it's worth spending the extra time.
Wallpapers are also a nice alternative for individuals who prefer their original BB icons. Each of the main characters on the show has a strong fan following making it a breeze to locate sexy or slightly sinister photos of the delectable cast to use as wallpaper.
The theme song that plays at the beginning of each episode is called Bad Things by Jace Everett. Fans can download it for free at CoolBlackBerryThemes or Zedge for the complete effect. Whether it's simply a guilty pleasure or the reason you wake up each day these incredible themes and ringtones specifically designed for BB models will keep all the creatures that go bump in the night well within reach.
References
Source: Author's own experience.
Image Credits: Ange P.