Best BlackBerry App for Daily Logs or Diaries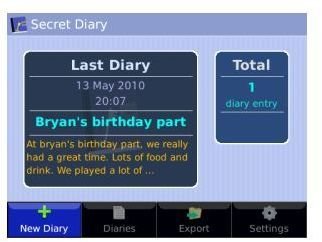 Can you remember the details of the day you got promoted or hit a milestone? What about that time you met that special someone, what was your first impression? Don't forget the sweet details or allow time to blur your memories when you can record them with these BlackBerry apps for daily logs or diaries, they will allow you to reminisce on the good times over and over again. With this selection of apps, you can configure reminders with your notes, email diary logs, keep entries private with secret passwords and much more. See how these handpicked diary and log applications can polish your memories and help keep track of your days.
Secret Diary
A big set-back with keeping an actual diary is keeping it private - no matter where you put it, there is
always that lingering thought that someone is bound to find it. Relax and take a breather, now you can log as many notes, write as freely as you want and record your deepest, darkest secrets without fear. With this app you can lock in a secret password that only you will know, this way all your diary entries are protected. There is no way for anyone to decipher the secret code, just make sure it's not something your best bud, room mate, sibling etc. can figure out.
Once in use, you can view a list of concise titles clearly and search for particular notes in no time with its intelligent search engine feature. You can choose to save and back-up data on the phone's SD card or send it to a private email. If ever you need to restore a document, the app will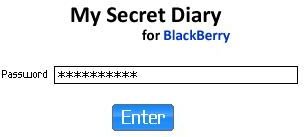 retrieve the data from the SD memory card or BlackBerry Desktop Manager.
Also check out My Secret Diary, where you can store up to 25 thousand diary entries and protect them on your BlackBerry with a secret password.
My Diary
If you're not one to walk around with your journal or diary everyday, then more than likely you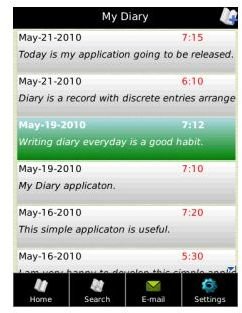 often forget to include some key entries. My Diary app is the solution to that problem. No matter what's on your mind, where you are and what time of day it is, this app is ready to take your entry. You could be in the middle of a game of tennis or getting a haircut, just grab your BlackBerry and record your notes or an idea on My Dairy.
It has an attractive interface for you to easily type entries and view them anytime. The app organizes your diary entries by date or title headers to simplify searching and retrieving data. For added security, there is a feature for you to send each note or a batch of diary notes to an email of your choice.
Lawyer Log
We all know lawyers have a lot on their plate and plenty of legal notes to record. Quite frankly the preinstalled MemoPad or Tasks application on the BlackBerry is a joke when notes on legal proceedings, prosecutions, clients, and court information have to be logged. With this app lawyers can make these extensive notes and also integrate personal messages in each to keep current and fully functional on the job.
This app also provides features to set reminders, make multiple and comprehensive entries, store and quickly retrieve client info, organize data by dates or sub headers, customize view modes and much more. Not only is this app useful to lawyers but also other professionals who need excessive work notes logged on their BlackBerry.
Diary Pro
Here is another great BlackBerry app for daily logs or diary notes that offers a bunch of features so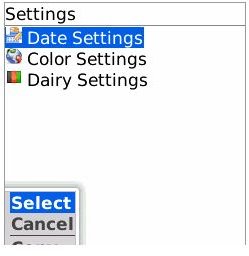 you can list different activities and personalize your entries. Manage your day-to-day notes, appointments, tasks, schedules, dates etc. and enable reminders for any entry. Diary Pro allows you to record notes easily and quickly on your phone as well as save, search and view them. It has a settings feature so you can configure and customize the date format, color and log layout to your liking.
The app is quite simple to use and allows users to connect instantly to do specific tasks, so you don't waste time fumbling through sections to log notes or manage your diary. If ever you feel your diary entries are compromised, the app has an effective edit and delete option to quickly adjust or delete data.
MobileDiary
If you're looking for a simple solution to log notes easily on your BlackBerry, then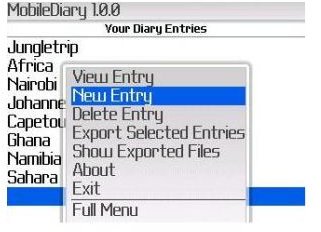 MobileDiary is what you need. You can keep an organized record of your thoughts, goals, experiences, schedules, appointments and more with an easy to use interface and basic template.
All your entries can be dated and given titles for a quick and orderly reference. Entries are displayed in the order that you created them and can be exported and transferred to a PC as a text file or in HTML format with just a few quick steps.
References