Get BlackBerry Apps Cooking for You: Top Selections for Wannabe BB Chefs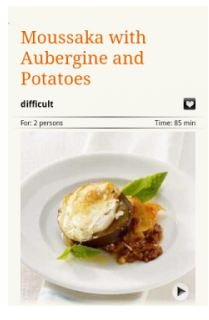 Why lug around a cookbook when you can download an app with the same information plus much more assistance? Simply open one of these app interfaces and get an extensive list of recipes, detailed cooking instructions, quick cooking tips, cooking tutorials, recipe guides plus much more right on your BlackBerry smartphone. Even if you are a particular eater or committed dieter, you will find these apps to be of great use. They are designed to appeal to wide range of diners, from kids to the exotic food connoisseur, check them out.
Patrik's Easy Cooking
A great Blackberry cooking app is Patrik's Easy Cooking; it lists the ingredients and directions to
prepare over 70 tasty and simple meals. Not only are these cooking ideas easy, some are clever recipes that can be executed in no time with a short list of basic ingredients, so don't worry about having to run down to the grocers to pick up any additional or odd items. You are likely to find a recipe with ingredients already existing in your kitchen.
The app also shows you how to transform leftovers into tasteful dishes; create simple snacks, soups and concoct elaborate main courses. Even if you're an amateur, no need to get intimidated, the app provides step-by-step instructions complete with high- quality photos of the preparation process and finish product.
The interface is terrific and easy to use and packed with creative features - you can simply search specific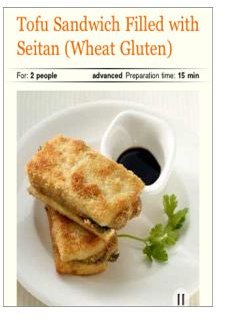 recipes with keywords instead of going through a lengthy log of dishes; all recipes are categorized to optimize discoverability; it has a scrolling slideshow with multiple images for each recipe; integrated cooking tips regarding alternative ingredients, decoration, storage etc.; there is an email function to share and even print recipes; flag favorites or most used recipes plus much more.
A major limitation however, shows that this application is compatible with a slim list of BlackBerry devices, check the download link in the references to see if your phone is a suitable fit.
Cook With Campbell's
You're in store for a bunch of tasty, fun recipes with this app from Campbell's. Whether you are a pro or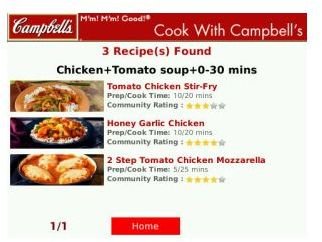 not, Cook with Campbell's will give you helpful, timesaving, dinner inspired ideas, that are simple to prepare. The app offers easy to follow directions, instant smart tips and even nutritional information to help with your diet. If you're looking for something new or advice you can trust, you can always try their featured daily recipe that is guaranteed to awaken your taste buds.
This app has a list of fantastic features, some of which you won't find with others of its kind. For instance, it has a recipe finder that can locate dishes in its database based on preselected ingredients you chose, along with the time frame you entered for which you can spare in the kitchen. If you would like to try a particular recipe, but lack a few ingredients, the app can create a detailed shopping list on your BB, so you can pick the items up on your next trip to the store. You can even tick off items as you find them on your shopping list or email it to someone else. After you have tried some of these recipes, simply save them for future reference, add them to your favorites list and rank them with star ratings.
Learn To Cook Japanese Style
How many of you have dared to try cooking Japanese style? I have and failed miserably. Yet they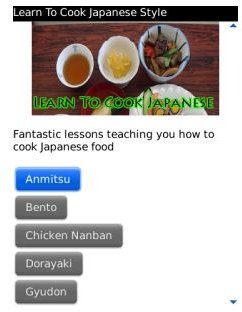 make it look so simple, and boy does it taste great – which is why giving up is not an option. Plan B; download Learn To Cook Japanese Style on my BlackBerry and head back to the chopping board.
This app has 33 lessons that will teach you how to whip up Japanese dishes in no time. It has a basic and easy to use interface, so you can simply click on the dish you would like to prepare and get a run down of detailed instructions. Don't worry, recipes are not written in Japanese only the name of the dishes. Among some of the recipes you can learn how to cook there is Chicken Nanban, Kakiage Soba, Katsu Curry, Mapo Tofu, Mizore Nabe, Octopus Scallion Karashi Sumisoae, Ozoni Soup, Pork Shogayaki, Tendon, Vegetable Tofu Nimono, Yellowtail Teriyaki & Pickled Turnip and much more. Nothing beats a BlackBerry kickstand case with this app up and running while trying to imitate the Iron Chef.
iFood Assistant Lite
If you're looking for tasty, and easy recipes that are also affordable, then iFood Assistant Lite is what you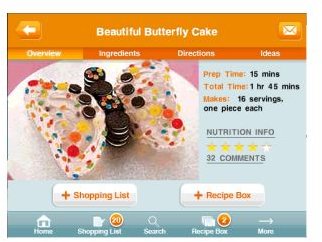 need. The app delivers recipe ideas for breakfast, lunch, dinner and dessert, that are not only fun but also delicious and healthy. iFood Assistant app is powered by Kraft, so you will find an extensive list of recipes for your most picky eaters and for any occasion. See how you can whip up creative and tasty meals from ingredients lying around and ingredients you never thought could combine with others.
Smart users can check out the BudgetWise section for appetizingly affordable meals that are sure to impress. If ever you feel limited, simply take advantage of a seamless sync function to link with www.kraftfoods.com and get featured recipes, a detailed food recipe categorization, reviews and much more.
Healthy Recipes
You may say we saved the best for last with this BlackBerry app for cooking. The Healthy Recipes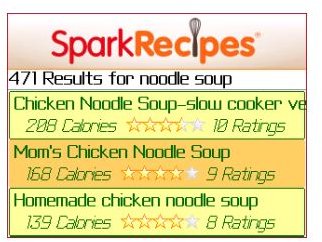 app gives users the power to take control of their diet and save money while doing so.
You can look forward to breezing through a jam-packed database with 200,000 fantastic recipes and get ingredients and instructions to play chef all you want. There is an extensive list of recipes that will combine the right amount of calories, carbs and other nutritional elements to make a wholesome meal for your family and friends. Whenever you encounter a dish that you enjoyed, simply save it for an easy and quick reference so you can whip it up anytime.
This app has a basic-looking interface and is not as attractive as other similar cooking apps, but you will find it is quite easy to use and the recipes are quick to find. You can challenge this app by searching for any exotic dish – you may just find the recipe listed.
Bon Appétit
These are definitely smart solutions to get savvy in the kitchen, users can simply whip out their smartphone beforehand and decide on a tasty meal and even assess the necessary ingredients. Optimize convenience in a big way and try a few of these amazing apps, you can find the download links for each below in the references.
References
Image Credit - Screenshots courtesy of the respective app developers.