MS Office for Blackberry Phones: Where to Find The Best Apps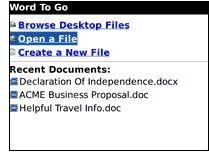 Mobile technology has grown in the last few years and nothing shows this better than that of the smartphone. Not just for making phone calls anymore, cell phones have grown to be smaller versions of our home and work computers, allowing for web searching, mobile gaming, email checking, and text messaging.
For years, professionals have looked to RIM's BlackBerry phones for the ease and use of getting all of their office and home information in one place when they can't be there physically; combining their smartphone and the programs from their office creates the ability to still be in the know while being on the go.
But what do you do when you need to edit a Word document while sitting at the airport? Here, we'll look at some great MS Office alternatives to use on your BlackBerry.
Microsoft Office Suite
Microsoft is the major name when it comes to productivity within a business office. A good majority of companies not only use some version of the operating system Microsoft Windows, but they also use the Microsoft Office suite, which contains programs for email, word processing, spreadsheets, and slide presentations.
With the emergence of mobile and cloud commuting, Microsoft has brought about mobile and web versions of these popular applications. However, these apps are really better utilized and offered for those users of the Windows mobile platform; while Blackberry phones are able to view Word documents or Excel spreadsheets, there still isn't a way to edit these from the phone itself.
What is a BB user to do?
Luckily, there are many alternatives to using MS Office on a BlackBerry - Documents to Go, Google Docs, and eOffice offer the ability to not only view Office files, but edit them as well.
Documents to Go
Documents to Go is an application for both Windows desktop computers and mobile phones, offering the ability to not only view
documents from Microsoft Office, but edit them as well. Currently, Documents to Go offers the features of -
Word to Go - gives you the ability to view and edit files that are created within Microsoft Word.
Sheet to Go - allows you the ability to view and edit files that have been created within Microsoft Excel.
Slideshow to Go - allows the ability to view and edit files created with Microsoft Power Point.
PDF to Go - a new feature that allows viewing and editing of PDF files.
Currently, DataViz - the company that makes Documents to Go - is offering a free trial of the product if you want to see if it's for you. The purchase cost is $14.99, with the ability to re-download in the case you get another phone. Both the free trial and the premium edition can be found at the official website.
Google Docs

The office offering from search mogul Google, Google Docs not only allows you to view and edit your Office files, but you can also use the software to share files and documents with your co-workers. As a free application, BlackBerry users can view and edit their docs from the mobile web site for the app.
The current downside for BlackBerry users is that you can only edit Excel spreadsheets from your phone. Again, Google Docs is completely free and can be found at the main website.
eOffice/QuickOffice
eOffice is another app that can allow you to view and edit your files in MS Office for use on your BlackBerry. The company, QuickOffice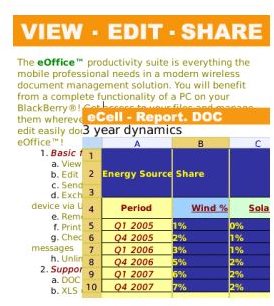 sadly has stopped supporting eOffice and offering it for BlackBerry devices on its official website; however, you can still get the product from alternative download sites.
eOffice is available for BlackBerry devices that run either operating system versions 4x or 5x; it is free to try for a seven day period and is $9.95 to purchase. eOffice can currently be downloaded from download.com.
Conclusion
Currently, BlackBerry users are only able to view Microsoft Office files and documents, but with the above apps, the ability to edit them is now in their reach.
References