Best MSN Apps for BlackBerry – Mobile Windows Live Messenger & Other Supportive Chat Applications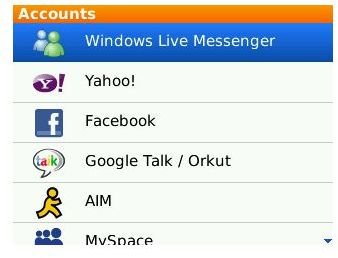 Windows Live Messenger App
There are some excellent alternatives for BB users that want desktop quality MSN messaging on their mobile phone. Most BlackBerry devices feature several chat applications accessed through the Instant Messaging icon. Windows Live Messenger is one the first options displayed. It functions as a scaled down, more basic clone of the PC original. Contacts are instantly imported upon signing in. For most users the ability in this app to chat with friends or potential clients on the go is enough. Others who prefer a bit more out of their chat apps should consider downloading Nimbuzz, Fuze, IMPlus Lite, and Pro. Nimbuzz is a popular application that allows users to import their instant messaging and social networking accounts. Although, the initial sign-up procedure is time consuming, once logged in, smartphone owners can easily converse with their contacts on MSN and seven other platforms.
[ Download Link ]
Fuze Messenger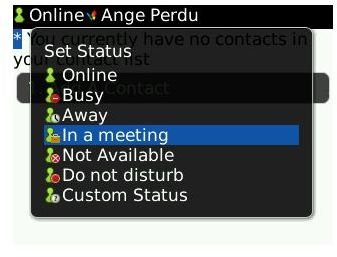 Fuze Messenger is a somewhat professional themed chat application. The sign-up process can be relatively short or tedious depending on how many IM accounts are chosen. Users can choose to set up AOL, FB, Google, ICQ, MSN, OCS, or Yahoo messenger. Multiple accounts are allowed. A feature for mobile Windows Live lets users import MSN contacts from their desktop directly to their smartphone. There's a nice variety of setting options that give BlackBerry owners the ability to log in and out freely as well as categorize contacts. One of my favorite features is the set status. Unlike other apps that only have the primary online, offline, or busy notices, Fuze messenger has an "in a meeting" notification along with the ability to create your own custom status to inform clients when you'll be available. There are also options to automatically log BB owners in when the phone is on, display categorized contacts, and groups. It's an excellent mobile chat app for individuals that communicate through two or more platforms regularly.
[ Download Link ]
IMPlus Lite or Pro as MSN Apps for BlackBerry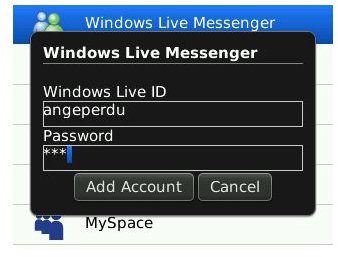 IMPlus Lite or Pro versions offer another alternative for BlackBerry owners. Similar to Fuze Messenger IMPlus Lite is also free. There's a wider variety of services available, making it ideal for those users heavily into social networking. Autoconnect upon start-up to Facebook, Google Talk, ICQ, Jabber, Skype, MSN/Live Messenger, MySpace IM, Twitter, Yahoo, and AIM/iChat. This app is designed with multi-chat support allowing individuals to connect to all of their IM accounts simultaneously or communicate through a particular platform. Options permit users to exit to background or close and stay connected. In IMPlus Lite there are advertisement banners that appear at the top of the screen which can be distracting at times. In the elite version IMPlus Pro there are no ads and a very cool speech recognition feature is included. Instead of typing busy professionals can simply speak and the app will dictate their messages. Send files, photos, and voicemail to associates. The only downside to this chat application is the price. BB owners have to pay $39.99 for the pro version. Both IMPlus chat applications feature a lot of settings. The interface isn't as user-friendly as other MSN messengers on the BlackBerry.
[ Download Link ]
Chat Apps for BlackBerry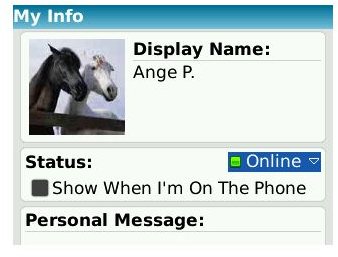 Remember clicking on the Instant Messaging icon on your smartphone will display an already installed Windows Live Messenger along with other popular chat options available. For some users who prefer more customization the apps discussed above can be considered. Choose the IM application with the features that best suits your business or personal needs. The goal is staying connected in an effective and effortless way. Keep your contacts within reach by using multi-chat support and integrated programs that work. When you want to take your Windows Live messaging habit on the go using any of these top MSN messenger apps for BlackBerry will do the job.
[ Download Link ]
References