Best BlackBerry Contacts Apps: Top BlackBerry Contact Apps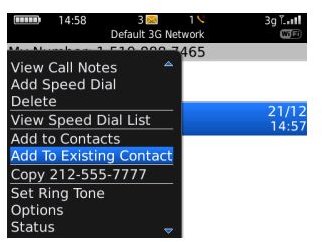 BlackBerry Contacts Apps
Is the default contact application on your BlackBerry just not cutting it? Or have you tried downloading a contact app, but you are still fumbling and wasting time? Stop giving yourself a hard time and get proactive by downloading a few apps from this great selection of contact apps, they will have you looking BlackBerry savvy and technologically advanced in no time. Learn how to sync contact info with one quick click or organize your contact folder in seconds while navigating an attractive interface, plus add and merge details like company address, special dates, reminders and much more. Take a look at the best BlackBerry contact apps.
Up2Date - Add To Existing Contact
Up2Date takes the hassle out of editing contact information on your phone and simplifies the process of updating as well as adding a new contact. The developers have configured this application on the menu button to aid in its convenience and speed. Once you are in the call logs, SMS or e-mail message file on your BlackBerry device, simply press the menu button and you will be able to add new information to existing contacts or create a new contact. This way you won't need to copy and switch over to another file to paste data anymore.
This is a simple app, but you will see how much of a big difference it makes once installed to your phone, it will make you wonder why didn't you download Up2Date sooner.
CallPop - Contact Pop-up by Caller ID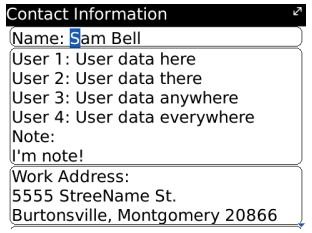 CallPop is a great app for those who need a quick reference to a caller's contact information while on a call. As soon as a call is connected, all the information for that person automatically pops up on the screen. Users can also add, edit or insert notes in the caller's contact database while talking to the person on the phone. This information is safely saved and appears the next time that person calls your phone. A minor limitation to this app is a missing contact photo of the person, this would have added a nice touch to CallPop.
Contact Cleaner - Merge Duplicate Contacts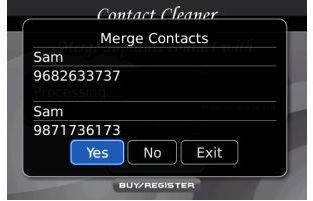 Do you have contact information for the same person all over the place? That means there are multiple phone numbers and e-mail addresses everywhere on your BlackBerry. Contact Cleaner allows you to merge duplicated contacts based on a selected criteria, it scans your contacts database to identify duplicated content no matter what it is and simply merges the information.
The app can merge duplicated contacts one by one with manual confirmation, or automatically all at once if you prefer. It does a good job in cleaning up unnecessary data from your device and as a result creates more space on the memory card and phone.
e-Mobile Contact Pro for BlackBerry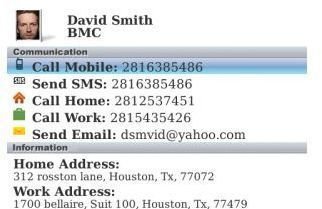 This app is the ultimate organizer and contact file management tool to get you performing like a pro. It sorts and organizes your contact information in such a dynamic and efficient way that it speeds up access and retrieval of contact data on your Blackberry.
The app guides you in creating a comprehensive contact folder so you can organize contacts by categories, separating personal and business; arranging by first name or last name; group and sort names by starting letter and in alphabetical order. In addition, you can call contacts directly from the contact list plus send text and e-mail messages and even enter an appointment with a contact. As a result, you get improved searching abilities – you can search for contacts by selecting the first letter of the name, search for contacts by entering part, or all of the contact's name or search contacts by name, phone number, e-mail, address and/or company name.
It may take some time to organize your contact data with this app, however, once everything is set up, you will find how easily and quickly a vast amount of information can be accessed and used to help you function at a professional level.
Facebook Contact Sync
This is an app to help you sync all your Facebook friend's contact information to your BlackBerry contact folder and have quick and easy access to call, text or e-mail them right from your phone's interface. Facebook Contact Sync will download your Facebook contacts all at once and enter their info in your address book with their name, picture, and a few other bits of contact information - depending on your friend's privacy settings and available information.
The problem with this app is that it duplicates matching contact information that was already stored in the address book on your phone. You will need to install the Contact Cleaner app mentioned earlier to take care of this problem.
References