BlackBerry Apps for Babies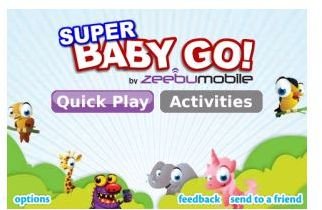 Baby GO!
**
Baby GO! Is an application for children ages 0-2 and is designed to keep your baby entertained, all while learning and developing. The app allows them to press keys on your BlackBerry without exiting out of the application. The app also prevents accidental dialing, sending unwanted messages or accidental deletion of valuable information in your phone. As your baby presses the keys, they will hear the corresponding number or letter allowing them to learn while playing. You can choose from four languages and even record your own voice if you upgrade to the paid version of Baby GO! Click here for the free version of Baby GO. Love it? Click here for the paid version of Baby GO!
Sleeping Baby – Sound Machine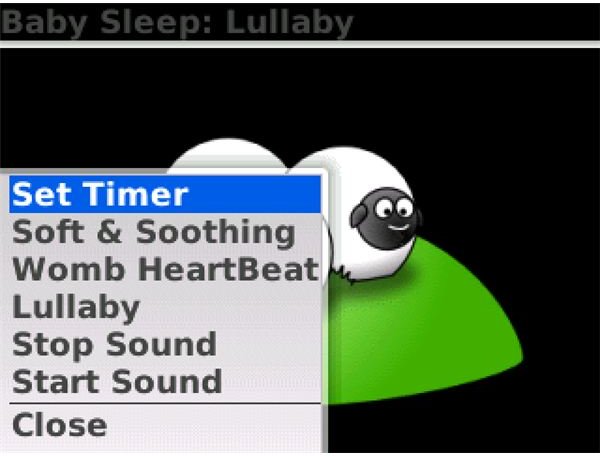 Having a sound asleep baby makes all the difference when you're trying to get some rest yourself. Nevertheless, as every new parent knows, good rest is hard to come by, especially when you have a new baby at home. Rest assured, Sleeping Baby - Sound Machine allows you to get your baby to sleep by playing soothing sounds that are designed to comfort and sooth your baby. There are several sounds to choose from including a lullaby and heartbeat in the womb. Click here to purchase Sleeping Baby - Sound Machine for $6.99.
Baby Diary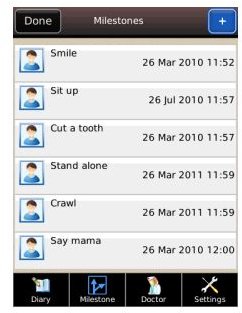 Baby Diary allows you to store valuable information about your baby that is important to you. You can keep track of your baby's milestones, vaccination shots, doctor's visits and more on your BlackBerry. Do you have loved ones that are far away? You can also send your log entries to your friends and family so they can keep informed of your baby's milestones as well. Baby Diary is $1.99 at App World. Click here to download it now!
Baby Cog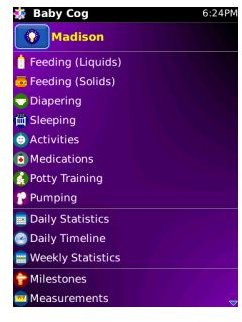 With Baby Cog**,** you can keep track of your baby's daily activities. This app contains a plethora of options from keeping track of vaccinations to playing soothing songs to get your baby to sleep. This app is also useful for childcare providers as up to 10 children can be tracked to keep parents informed of their child's activities. You can store information and sync data with another device. A sound machine option is available to help put your baby to sleep with sounds like rain or even running water to urge potty training. There are many other customization options to choose from. Click here for Baby Cog for $4.99!
BabyPhone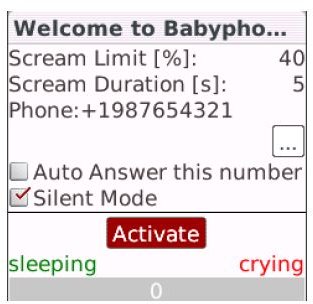 Being able to monitor your baby allows you to have peace of mind especially as a new parent. BabyPhone is a simple and easy to use application that is free and allows to you monitor your baby while you're in another room. There's no need for those expensive baby monitor gadgets, just download BabyPhone to your BlackBerry! Once your baby starts to cry or makes a noise, your cell phone will call the designated number you have assigned, to alert you that your baby needs your attention. Click here for BabyPhone!
Baby NameLab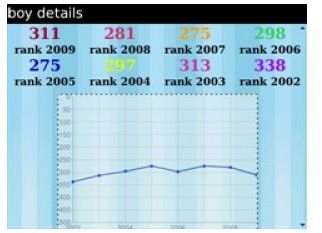 Having just the right name for your baby can make all the difference with what direction he or she will take in life. With this application, you can determine what name is best for your child as it uses scientific data to help you to select a baby name that is just right for the new addition to the family. For only 99 cents you can gain full access to all this app has to offer. Click here to download it now!
BlackBerry Apps: Babies
BlackBerry App World provides tons of applications that BlackBerry users download everyday. From productivity apps to games to social networking apps, there are apps for just about anything for just about everybody, including BlackBerry apps for babies. Whether you need to keep your baby occupied or keep a diary of your baby's milestones, there is an app for you to do that. So, don't worry about breaking the bank in a baby store just download any of these apps for your baby and you'll be happy you did!
References
Blackberry App World, https://appworld.blackberry.com/