Best Open Source Apps for Blackberry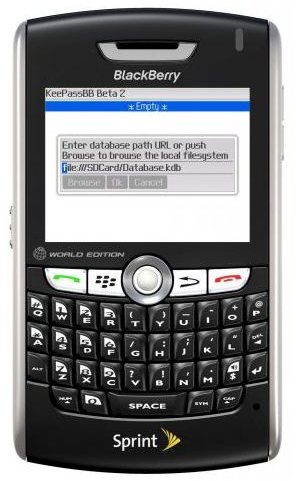 What is Open Source?
Open Source refers to applications or programs where the underlying code is available for anyone to see or even modify. As such the product openly encourages modification in order to improve its operation, and to present new innovations to the program. This differs for proprietary applications or programs which can only be modified by the owners of the program source code. Microsoft Office Suite is an example of a proprietary application. On the other hand OpenOffice, a Microsoft Suite look alike is an open source software application.
KeePass for BlackBerry—The Open Source Password Keeper
Passwords are an integral part of the security for any computer system. The trouble is that many people have too many passwords,
because they have access to many programs or applications, or hardware devices. Hmm. How do you keep track of them? Well, KeePass for BlackBerry does this. It allows you to keep track of all of your passwords and you only have to remember one, the one for the KeePass app. Two encryption algorithms are used to secure the application databases AES and Twofish. Cost: Free!
Download Link
BlackBerry Tools
BlackBerryTools is a free package of five open source apps that you can download. They give users more control over BlackBerry functions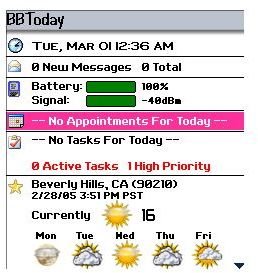 like backlight, message reply options and spell checking. This utility also offers various weather and device status information, like BlackBerry battery life and messages received.
Here is a list of the 5 apps available:
BBLight: Works on your back screen light.
BBReply: You can show a different reply to address on your emails.
BBToday: You can customize fields for weather, stocks, or email information.
BBWeather: Works to quickly check current weather conditions and forecasts.
BBCorrector: A spell checker.
Download Link
bbTracker
If you need to create GPS track logs of where you've been, then bbTracker is an application for Java-enabled smartphones to let you do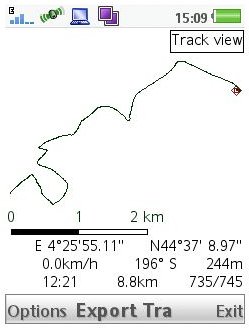 this. It is a simple program that just tracks your movements. In that regard, you shouldn't try to use this app as a substitute for a full-featured BlackBerry GPS app, because it does not display maps or path-finding, but rather just records where you've been: it just does one thing well, and it does it for free.
Download Link
Berry Bloglines
If you have an RSS feed, this free program is great, because it offers you short summaries of content within feeds, and then it lets users read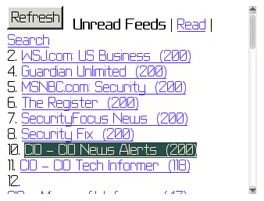 full articles without clicking to separate pages. In addition to that, it combines Google's mobile content reformatting operations, so external pages that are reached using Berry Bloglines are configured for BlackBerry screens.
Download Link
Summary
This is a fraction of the open source BlackBerry Apps available. The ones discussed here offer a variety of experiences to the BlackBerry holder. The best one covered here is the BlackBerry Tools. It has a variety of options which will enhance your BlackBerry experience.
For more information of Blackberry Apps see also: What Are The Top 10 Best BlackBerry Apps? Revealing The Top Applications
Sources
KeePass for Blackberry
Source and Image: https://sourceforge.net/projects/keepassbb/
BlackBerry Tools
Source: https://sourceforge.net/projects/blackberrytools/
Image: https://www.cio.com/article/373413/Free_BlackBerry_Downloads_Five_Open_Source_Mobile_Apps?page=3&taxonomyId=3061
bbTracker
Source: https://www.bbtracker.org/
Image: https://www.bbtracker.org/wiki/Screenshots
Berry Bloglines
Source and Image: https://www.blackberryforums.com/bbf-reviews/31425-berry-bloglines-blackberry.html