Top Five Open Office Apps Alternatives: Open Office for BlackBerry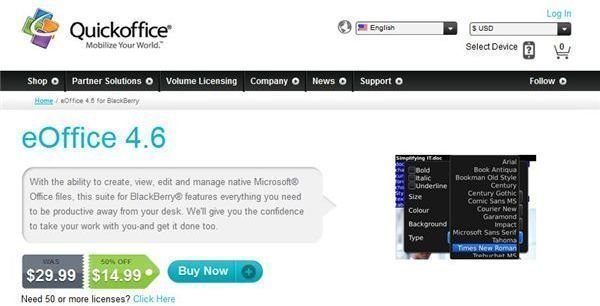 Open Office is a suite of document processors for desktop computers. It is considered as the top competitor to Microsoft Office, the leading brand in terms of working with documents, spreadsheets and slideshow presentations on desktop computers. This is why it would be extremely convenient to have an Open Office for BlackBerry app. However, such an app does not exist, but there is no need to worry. There are several alternatives out there that provide similar functions and capabilities. Here are some of them.
eOffice
This app is a suite of applications that help you create, view and edit Microsoft documents like Word files, PowerPoint presentations and Excel spreadsheets. Accessing and managing e-mail attachments is also possible in this app, making it a serious out-of-office productivity tool. File sharing and data integrity are some of the other features and capabilities that can be found in this suite of applications.
Documents To Go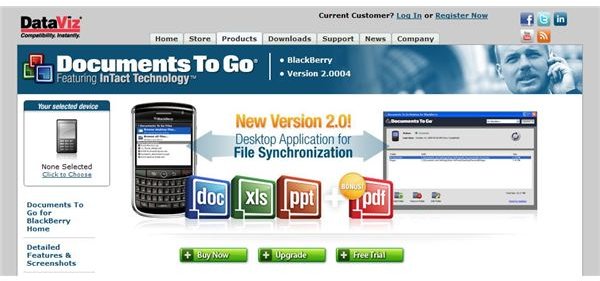 This app brings the capability to create, view and edit Microsoft Office documents to BlackBerry devices. Whether it is a Microsoft Word, Microsoft PowerPoint or Microsoft Excel file, it can be created, viewed and edited in this app. PDF files can also be viewed using this app, making it one of the most useful tools in productivity for BlackBerry devices. Syncing files between your BlackBerry device and your computer is a snap thanks to the built-in file synchronization feature. The features you love in Microsoft Office and Open Office like spell checking, character formatting and others can all be found here.
BeamSuite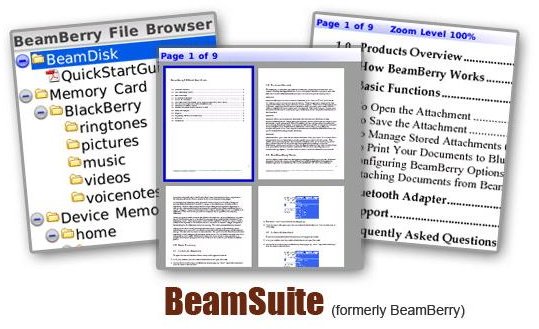 BeamSuite does not just offer you the ability to view documents, it also has easy to access features for unlimited online storage, document management, e-mail attachment, zooming and printing. It is capable of letting you view your documents in their original quality via a user interface that is intuitive and has optimized natural scrolling. Its printing capabilities give it an edge over other similar apps since it supports more than 1,500 kinds of printers as long as they are Bluetooth enabled.
eWord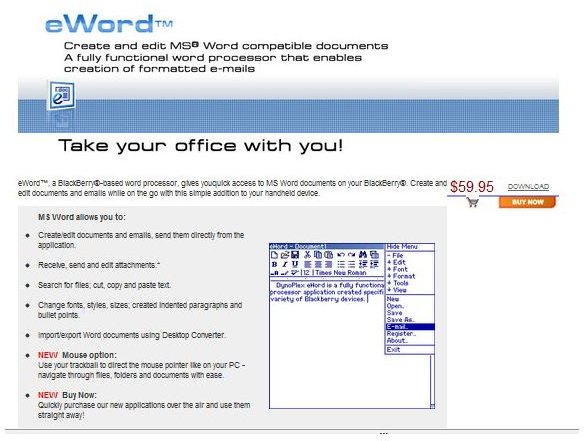 This application focuses more on Microsoft Word documents rather than providing an entire suite to handle Microsoft Office files. It features the ability to create, edit and view documents, as well as import and export them with the help of the Desktop Converter feature. It also functions as an e-mail creation and sending app since it lets you compose an e-mail and send it right from inside the app. It is a straightforward app that you can always carry with you if you don't need an entire suite of document processing apps.
GridMagic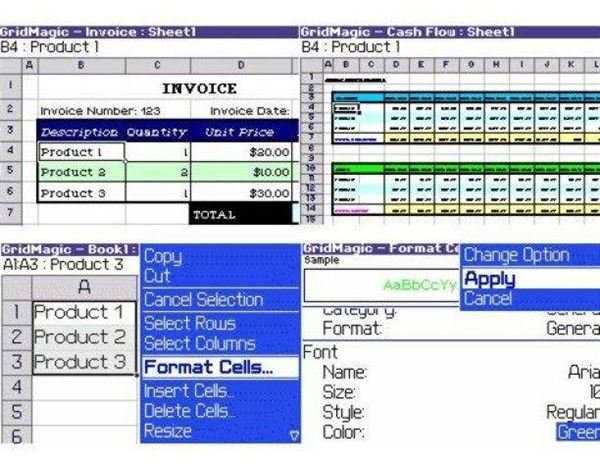 Much like eWord, GridMagic focuses on one section of the documents world and that is spreadsheets. It is very easy to use and it features a very intuitive user interface. It lets you view and edit spreadsheet files like those created in Microsoft Excel. It even lets you protect your spreadsheet files with passwords, giving you the security for your work even when you are on the go.
Documents To Go, the default office suite in BlackBerry devices, is the best alternative to an Open Office for BlackBerry app. It guarantees compatibility for both the BlackBerry platform and document files. The other apps are also ideal tools for productivity on your BlackBerry device.
References and Image Credits