Best BlackBerry App for Pedometer: Pedometer Apps for BlackBerry Round Up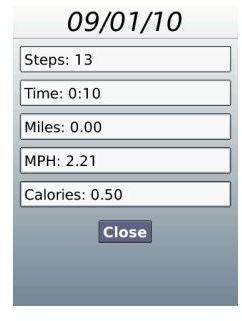 Pedometer Apps for BlackBerry
The best BlackBerry apps for pedometer are AllSportGPS, TreadIt, Runner & Fitness Cog, Running Log and Runtastic Pro GPS. We run through the functions of all these apps and state what they do to facilitate the pedometer feature in order for you to know whether these apps will be helpful.
TreadIt Pedometer
The TreadIt pedometer app is specifically designed for the BlackBerry Storm and BlackBerry Torch. Like a typical pedometer this app uses an accelerometer to count and keep track of how many steps you take during a walk or run. It calculates the distance covered as well the time and speed to complete your journey. TreadIt can also use the information from your exercises to state how many calories you have burned.
This app has great reviews and five star ratings all around – it is very easy to use - upon starting simply press the Start Button and TreadIt will begin recording your steps. Then when you are done press the Stop button and the TreadIt app will save your results in a log format so that you can keep track of your steps. You can activate a sound alert to help monitor and state accurately how many steps you have accomplished.
Runtastic Pro GPS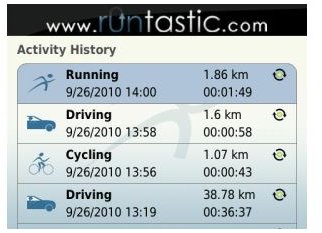 Runtastic Pro GPS is a BlackBerry app that caters to all your trekking exercise needs. It is designed to work with your phone's GPS to record time, distance, speed and elevation. It provides a map so you can view your current position and heading and graphs to show your altitude, speed and even your heart rate. In addition, it can be used as a calorie counter. It takes all this information along with your exercise progress and creates a history log for reference. There is quite a rave about Runtastic Pro; its voice over feature is a hit along with attractive design, accuracy, usability, installation process and GPS feature. Problems that were detected were minor and fixable upon calling the BlackBerry support service.
AllSportGPS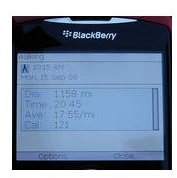 AllSportGPS is a BlackBerry app that uses your phone's built-in GPS to measure your speed and distance during walking or running while viewing your progress on a map. It calculates this data and uploads it to its website - AllSportGPS: Trimble Outdoors so that you can view your workouts in detail i.e. the distance, elevation, and speed during the workout and also the map of the area covered. This pedometer app will only record your steps if you are moving - continuously stepping in one place or using a treadmill will not calculate your steps.
AllSportGPS gives an accurate reading of your workouts and counts calories as well; it is easy to download and efficiently picks up GPS signals. In addition, you can select a step mode for walking, running, cycling etc. You can also take phone calls without interrupting the program. It's a great app to have and can be used with various types of smartphones.
Runner & Fitness Cog
Runner & Fitness Cog is the ideal BlackBerry app for runners and athletes and can be used as a pedometer as well. It has 11 utilities for various fitness calculations. All tools support US standard (English) and metric measurements. Runner & Fitness Cog calculate your pace, time or distance covered and also display split times. As a fitness calculator, this app provides computations for body fat and mass index, caloric and nutritional requirements, calories burned, distance converter, heart rate, weight loss and water requirement. Among the user reviews for this app, people found the distance and pace conversions quite handy and the information retrieval quick and readily accessible. However, there were misconceptions that this app uses GPS, if you're looking for real time data then this app is not for you.
Running Log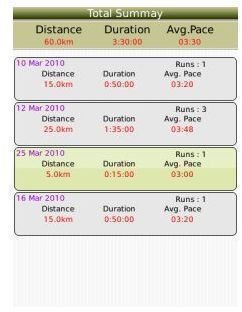 Running Log is a very useful BlackBerry app that can completely record and monitor any trekking workout. It confirms your walking or running distances and speed for the day or week and allows you to record all the data along with the basic information like name, photo, route covered, duration, exercise mode, etc. and sends it in an e-mail if required. It doesn't allow users to upload progress information to their Facebook or Twitter pages to share with friends online and as a result suffered in performance ratings, neither does it allow inclusions for weight and heart rate reading. However, this app remains highly rated (5 and 4 stars). It is easy to use and keeps an amazing log of stats so you can keep on track with your workouts.
References