How to Reconcile E-mail Between Microsoft Outlook and a BlackBerry 8800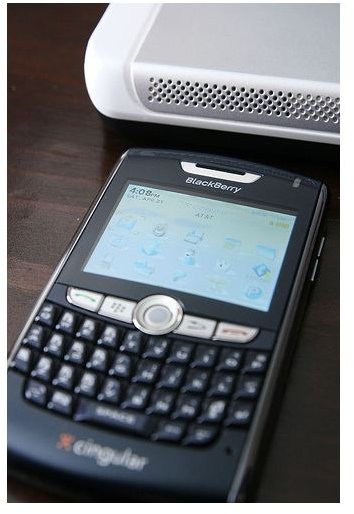 Introduction
Reconciliation is the process where a BlackBerry synchronizes with your e-mail server, ensuring both your handheld device and the wireless server are up to date. If, for example, you read an e-mail on your BlackBerry, reconciliation marks that e-mail as read in Microsoft Outlook, or any other e-mail client. Reconciliation was introduced with version 4.0 of the BlackBerry Device Software. The BlackBerry 8800 came preloaded with this edition of the BlackBerry Device Software and so is fully capable of using the service. Reconciliation occurs automatically but only after a certain time period has elapsed. You can force reconciliation manually as well. To use e-mail reconciliation, you must first set up e-mail on your BlackBerry 8800.
Set Up BlackBerry 8800 E-mail
BlackBerry Internet Service (BIS)
Press the "Menu" button, then select "Setup Wizard." Select "Next" throughout the Setup Wizard until you reach the e-mail screen. Select "I want to add or create an email address" on the screen. Select "Create New Account," and then set up a new user ID and password. This will activate a BIS account. Enter your personal or work e-mail address and password in the space provided. Select "Add an email account" if you want to add another e-mail address.
BlackBerry Enterprise Server (BES)
Press the "Menu" button, open "Setup Wizard," advance to the e-mail screen and select "I want to use a work email account with a BlackBerry Enterprise Server." Follow the onscreen setup to activate your BES e-mail on your phone. You will need to have the BES configuration details. You will be able to get these from your system administrator.
How to Reconcile: BlackBerry 8800 Outlook E-mail Reconciliation
Press the "Menu" button on your device, highlight "Messages" and then press the trackwheel in to activate the option and open your e-mail messages. Press the "Menu" button again and select "Reconcile Now." This forces your device to reconcile manually. Your BlackBerry 8800 will automatically reconcile but with a time delay that can be as long as twenty minutes.
Reconciliation Options
Open your "Messages," then press "Menu," then "Options" and then "Email Reconciliation."
Change the "Delete On" option to configure whether you want BlackBerry-deleted items, to delete in the wireless mailbox as well.
Change the "On Conflicts" option to reflect what you want to happen when your device and mailbox show different data.
Troubleshooting Reconciliation Problems
Permanently deleted items in Microsoft Outlook will not be reconciled on your BlackBerry. The BlackBerry software does not recognize fully deleted e-mails and so if you want a deleted item to appear deleted on your phone, move it to the "Deleted Items" folder in Outlook. This way it will delete on your handset as well.
If Outlook is configured to automatically purge the "Deleted Items" folder, click "Tools > Options," then select "Other," then deselect the "Empty the Deleted Items folder…" and click "OK."
References
"BlackBerry - 8800 - Specifications", https://worldwide.blackberry.com/blackberry8800/8800_specifications.jsp?navId=H0,C201,S2
"101 Demonstrator for BlackBerry 8800", https://demos.blackberry.com/8800/na/us/gen/[](https://demos.blackberry.com/8800/na/us/gen/)
"BlackBerry Technical Support Center - Email Reconciliation", https://www.blackberry.com/btsc/search.do?cmd=displayKC&docType=kc&externalId=KB00285&sliceId=SAL_Public
"BlackBerry 8800 Image," mil8, https://www.flickr.com/photos/mil8/467664597/in/photostream/[](https://www.flickr.com/photos/mil8/467664597/in/photostream/)