BlackBerry Bluetooth Printer Guide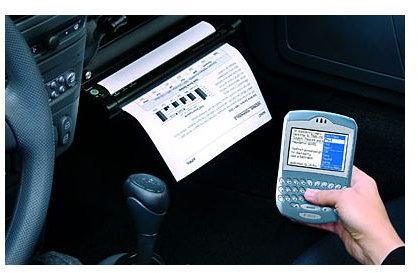 BlackBerry Bluetooth Printer
BlackBerry smartphones are loaded with features that allow you to work from anywhere. You can even print documents from your BlackBerry by using a BlackBerry Bluetooth printer. The programs listed below will help you in performing these printing functions with ease.
ThinPrint - Free
ThinPrint has developed an innovative Bluetooth printing solution through which you can print documents from your BlackBerry to the nearest printer. The software, Cortado, prints e-mails as well as attachments from printers via a Bluetooth interface. You can directly integrate the menu option for printing into your BlackBerry device menu. A highly compressed print file is sent to the BlackBerry instead of downloading it onto your device for printing, making the printing process easy. The ThinPrint printing solution also uses the advanced BlackBerry Enterprise Server security features for safety reasons.
BeamSuite - $49.99
BeamSuite is a program that makes it simple to print, view, and store files that you received as e-mail attachments or have stored on your BlackBerry's memory card. It prints documents directly from your BlackBerry device to any printer that supports Bluetooth. You just have to pair your phone with the printer and print the documents. Even if your printer doesn't support Bluetooth functionality, you can still print your documents by connecting a Bluetooth printer adapter to your printer's USB port. What sets this program apart from others is that it is compatible with almost 1,500 printers and can print from virtually any BlackBerry device.
eOffice- $14.99
eOffice is a productivity suite that addresses the mobile professional requirements of BlackBerry users. This program serves as an up to date wireless document management program that offers access to your Word, PowerPoint, and Excel files along with printing solutions.
The program allows you to print anything from graphic files to photographs from your BlackBerry via a Bluetooth printer. Supported file formats for printing are Adobe PDF, MS Office files, web pages, and graphic files like pictures and facsimiles.
Print from BlackBerry via Bluetooth
BlackBerry users can purchase any of the suggested printing solutions and carefully follow these instructions to print documents from BlackBerry via Bluetooth enabled printers.
Download a software program onto your BlackBerry device that permits you to view and print document files from the mobile device. Some of the best printing solutions are Cortado, BeanSuite and eOffice.
Install the downloaded printing software onto your BlackBerry device.
Turn on your device's Bluetooth from the Menu > Setup > Bluetooth > Make Discoverable.
Now, turn on your printer and activate its Bluetooth. Consult your printer's user manual for turning on its Bluetooth. Once the printer detects your phone, pair the devices and click OK.
From your phone's menu, open the Applications folder. Locate and launch the printing software that you have downloaded.
Next, open the documents that you want to print and begin printing them by choosing the Print option from the application toolbar.
References