How to Setup Visual Voicemail on the BlackBerry Torch: A Step-by-Step Guide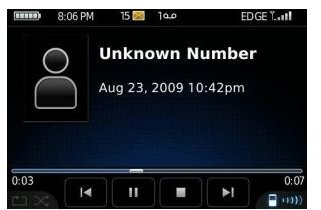 Guide to Visual Voicemail Setup on BlackBerry Torch
Visual Voicemail is an integrated application on the BlackBerry Torch. It offers an alternative to accessing and managing your voicemail activity on the phone. In addition to the usual voicemail features, you can also view in text format a list of important voicemail messages quickly, and in any order you choose. Vital information such as the sender's name, length of the voicemail message, the date and time can also be quickly reviewed. Visual Voicemail is also designed to enable BlackBerry Smartphone users to pause and also fast-forward a voicemail message. The original voicemail feature that is provided by your carrier has to be disabled before Visual Voicemail can work effectively.
There are two methods in setting up and activating Visual Voicemail:
1. By activating Visual Voicemail on the AT&T server.
2. By dialing your voicemail directly through the Visual Voicemail link on the phone.
This article will explore both these options, and will provide simple guidelines for setting up each.
Setting up Visual Voicemail on The BlackBerry Torch
Setting up Visual Voicemail is an easy step-by-step process; follow these simple instructions to get Visual Voicemail up and running on your BlackBerry Torch.
Open the 'All' tray on the menu/home screen then scroll down and tap the Visual Voicemail icon

On the configuration page click NO if Visual Voicemail is not set or YES if it is.
If NO – Visit the AT&T server and choose your Wireless, AT&T U-verse, or Phone & Internet account and fill in the required information. This will provide a guide to setting up Visual Voicemail on your BlackBerry Torch. If you are unable to go online, then contact your corporate help desk for assistance to add the Visual Voicemail feature on your phone.
If YES – Continue to the next page and tap the 'Call Voice Mail' button. Follow the provider's instructions for steps on how to setup Visual Voicemail on your BlackBerry Torch.
Once you have launched the Visual Voicemail application you will be required to enter a password – this is your basic voicemail password.
Tap 'Options' and select your desired preference.
If you want to view your messages then tap the 'Message List' and view a list of all your voice messages.
To exit, simply tap the 'End' key and then 'All' to return to the home screen.
More Features of Visual Voicemail
Visual Voicemail offers an exciting list of features unlike regular voicemail; here is a look at some of these great adds:
Large inbox storage capacity - Up to 40 messages.
Saves contact numbers to the phone's address book.
Reply to messages via return call, text message, email or MMS.
Share messages by forwarding through email or MMS.
Save messages to device memory or memory card.
Now you've learned how to setup Visual Voicemail on your BlackBerry Torch, these varied new features will become available to you.
References
YouMail Visual Voicemail Plus - https://appworld.blackberry.com/webstore/content/724
Visual Voicemail Setup Online - www.att.com/mywireless
Visual Voice Mail for BlackBerry® smartphones / Product Overview -https://supportforums.blackberry.com
Set up Visual Voicemail - https://att.deviceanywhere.com/25008/tutorials/5014