How to Record BlackBerry Calls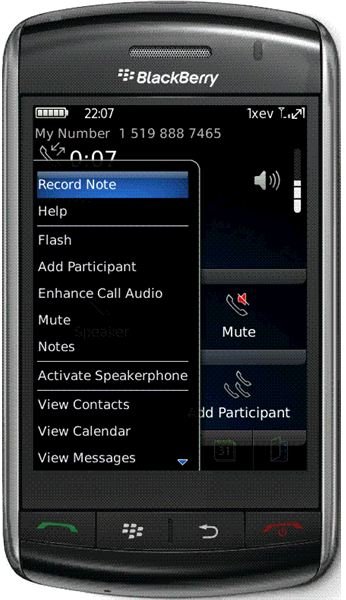 The BlackBerry smartphone is not equipped to readily record phone calls, however, there are downloadable apps and services available to allow you to achieve this task. Some of these phone call recording apps and services are Berry Record, RecordiaPro, Ring2 and Google Voice (formerly Grand Central). Let's take a closer look at how to record BlackBerry calls.
Berry Record
Berry Record is an application that was developed to record voice notes while you are on a phone call. So far it is only available for
the BlackBerry Storm. This is the first BlackBerry app of its kind – it is user friendly and requires little effort to initiate. The features include:
Records voice notes during a phone call.
Integrated activation button in the phone's application.
Easy to enable.
Dual storage options (memory card and phone).
Once installed and before recording a phone conversation you will need to go into your phone settings and choose whether you want to save the voice notes directly to your BlackBerry device or on the memory card. While you are on a phone call simply click the menu button and select 'Record Notes'. Once you're done, go back into menu and select 'Stop Recording Notes'. For more details check out the Berry Record app.
RecordiaPro
RecordiPro is a service designed for mobile phones that allows you to record a phone conversation while you are on a call. It records both incoming and outgoing calls on ANY phone. There is no software or hardware necessary to set up this feature on your phone. All the voice notes are stored to an online account manager. There are three packages available that give you different access levels to phone call recordings. Get more details at - RecordiaPro.
Ring 2 Conferencing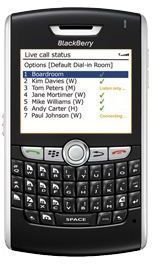 Ring 2 Conferencing is an application service provided by an audio-conferencing company. The service offers remote control of all calls from your BlackBerry mobile device. Among the features available, Ring 2 can record a conference call and download it as an MP3 file. Receive notifications when participants join, see a listing of all the participants on the call and much more. For more details visit Ring 2 Conferencing.
Google Voice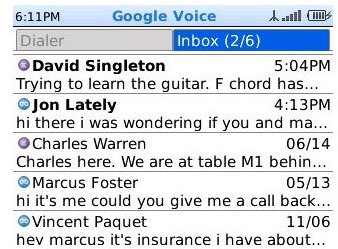 Formerly known as Grand Central, Google Voice is an application project by Google that allows you to record incoming calls by simply pressing the number 4 key of your keypad during a call. You can do it when you first accept a call, or any time after it has started. To stop the recording, press 4 again or hang up. Set up Google Voice on your BlackBerry smartphone.
References
Premium Berry Record App For The BlackBerry Storm – Record Voice Notes During a Call - https://blackberryrocks.com/2009/06/15/premium-berry-record-app-blackberry-storm-record-voice-notes-phone-call
RecordiaPro – Capture/Record/Store - https://www.recordiapro.com/how-it-works.php
Ring 2 Conferencing - https://ring2.com/services_index.aspx
Google for Blackberry - Google Voice – https://www.google.com/mobile/blackberry/#utm_source=hc_header&utm_medium=Blackberry&utm_campaign=topic=25508