What is the Best BlackBerry Call Blocker App?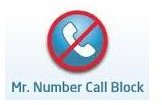 Mr. Number Call Block and Caller ID (5 out of 5)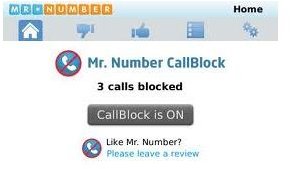 With the Mr Number Call Block app, you are able to not only block calls, but also text messages and you even the get option of choosing how the calls will be blocked. You can choose to have the blocked call go to your voicemail or simply hang up on the caller.
You can do what many other people have done with the Mr Number app, and that is to use it to rid yourself of pesky telemarketers. Simply add the numbers to the blocked list and you won't have to be interrupted by them again. The great thing about this BlackBerry call blocker app is that you can use it to block one solitary number or all the numbers associated with a contact. You can also block an entire area code if you wish. Even if you are called with private or restricted numbers, they can still be blocked with the Mr Number app.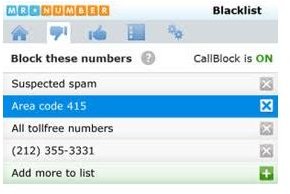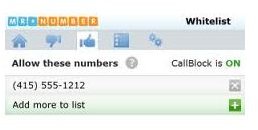 You can actually use this app in a reverse form, in that you can confirm a select group and block everyone else. So instead of selecting people to block one by one, you can select the people whose calls you want to receive and block all others. This is called a white list.
If you are unsure about who has been blocked, you will be able to view the history of your blocked contacts and the reason you had for blocking them. You can also opt to receive notifications of your blocked calls in your inbox, if you wish to keep track. You can download Mr Number from BlackBerry App World for free.
iBlocker Pro (4 out of 5)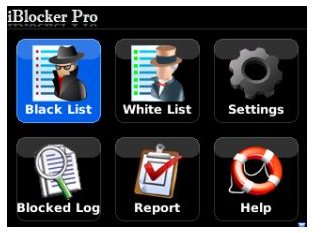 iBlocker Pro is a BlackBerry call blocker app that allows you block any unwanted incoming calls from your BlackBerry device. You can block calls from contacts, bots, telemarketers and automated calling. This can be done for both local and overseas calls.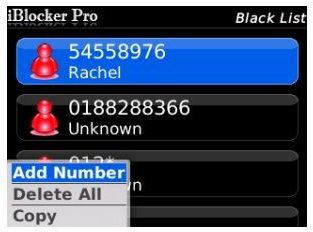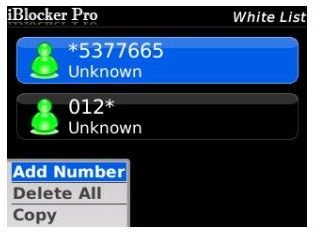 The cost of this app is only $0.99 and your upgrades will be free of cost. The app is equipped with many features that have now become common in call blocker apps, such as – black and white listing. Blacklisting is simply creating a list of contacts that should automatically be blocked while others are accepted and white listing is creating a list of contacts that are accepted while all others are blocked. Your address book can also work like a white list as you can set the app to only accept calls from contacts within your address book. If you know something that no one else does, you can opt to block all calls with a particular prefix or suffix, thus eliminating an entire group of numbers in one action.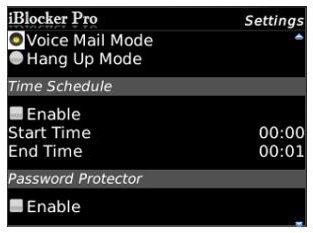 The iBlocker Pro has all the necessary features that allow you to block private calls, and it will even work while your phone is in call waiting mode. You can also opt to send the blocked call to your voicemail or drop the call from the beginning. A nifty feature is the time schedule option which allows you to block calls within a given time period like school, meeting, interview, etc. You can also use the SMS responder that will send a message back to the blocked caller so that you can get whatever point you want to make across.
For more information, features and a download link, visit BlackBerry App World.
.
Call Control - The Super Blacklist & Call Block App (5 out of 5)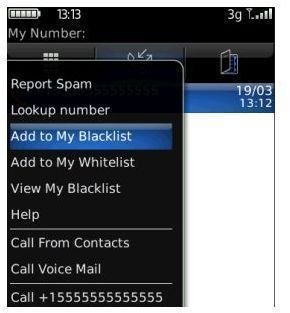 Call Control is a blacklist and call blocker application. It is one of those call blocking apps that actually already comes preloaded with many known spam numbers that are pulled from the Community Blacklist of evrycall.us.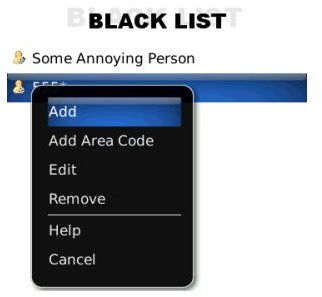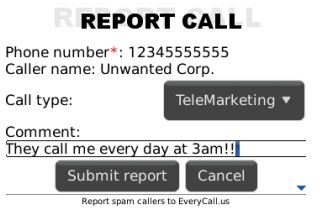 You can download the free trial for 14 days which allows you to use all the great features so that you can get an actual feel for the app before deciding whether or not it's worth your time and money. The features of the Call Control app, in addition to the already preloaded spam blocker, include black and white list options, the ability to block private and unknown calls, the option to blacklist calls directly from the BlackBerry call log and report them to the evrycall.us website. Calls from the Address book are never blocked; this can be considered as a good feature or limitation depending on the circumstances and your personal view.
Download your Call Control Free Trial from the BlackBerry App Store. There is also a Lite version that is always free, after your trial version is up you will be reverted to the Lite version unless you upgrade.
BuzzOff (3 out of 5)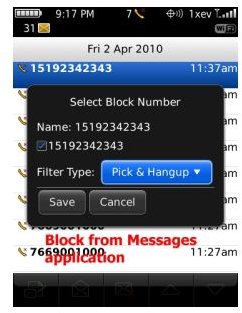 BuzzOff is one of the first BlackBerry call blocker apps that I came across when I first got my BlackBerry Curve. BuzzOff is a typical blocker app that will block any number including private and unknown calls.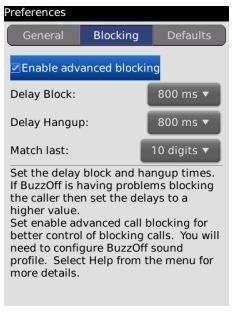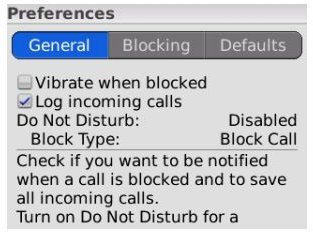 You do have the option of blocking single numbers or an entire area code and you can also block numbers directly from your BlackBerry call log. You can do this by simply highlighting the number and select Block Caller from the menu options, then select the type of block that you would like.
You can download the BuzzOff app from the BlackBerry App World for $1.99.
Conclusion
There are more and more BlackBerry call blocker apps being developed and added to the BlackBerry App World every day, thus it is difficult to choose just one. But it would be redundant to have more than one call blocker app on your BlackBerry and my number one pick has to be the Mr Number App. It has all the features that the other call blockers are equipped with in addition to being able to block text messages. It is a truly useful app that works great on the BlackBerry Torch and Curve and there have not been any major complaints that I know of. Their support team is always available, as sometimes users need some help to learn how to use the app properly. In essence, Mr Number is my pick and if I had to choose a number two, it would be the Call Control app. The great thing about these apps, is that they can used for free.
References and Images
BlackBerry App World, https://appworld.blackberry.com/webstore/