What Is the Best BlackBerry Text App?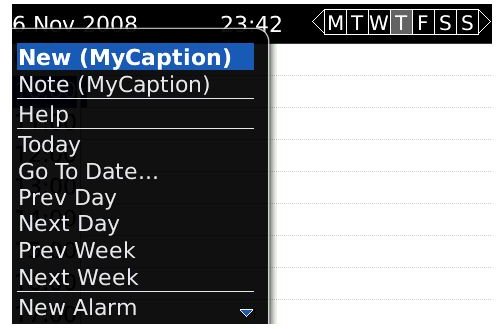 Best Blackberry Text App
BlackBerry App World has many interesting and helpful text apps that have brought quality performance to text technology on the BlackBerry smartphone. Here we will round up the best BlackBerry text apps available.
Voice to Text Apps
Very popular are the voice-to-text apps and page one of this article will concentrate on these. Continue to page two if you are looking for other text apps that backup or protect your privacy.
Text reading apps allows users to talk their writing tasks into action. You can speak to your BlackBerry, instructing it to create written e-mails, memos, notes, and text messages as well as sending them to specified recipients. Let's look at the best of these fantastic apps.
MyCaption
MyCaption voice to text app is one of the best BlackBerry text apps available. This uses accurate speech-to-text technology and is very secure.
Also, the voice recognition is highly intelligent. You can speak freely and naturally to create an e-mail, SMS (text message), memo, task, note, contact and/ or calendar entry and synchronize them to Outlook, Google, BES or Lotus. Once you have completed voice texting you can edit and make corrections or add afterthoughts to your draft before instructing your BlackBerry to send or store. Users can speak for 3 minutes on each message and create up to 100 messages.
For more details and download visit BlackBerry App World.
V-Lingo
The V-lingo virtual assistant app is readily available on the BlackBerry App World website. It combines voice to text technology with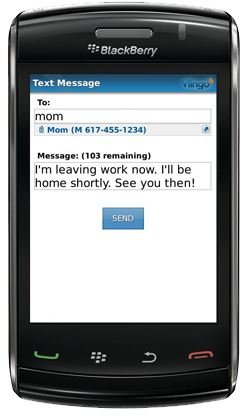 its 'intent engine', to help users quickly complete a writing exercise on their BlackBerry phone. It has an ActionBar, which allows you to speak to your phone or type a command. V-lingo can send texts and e-mails and can also update your Facebook status, dial a contact, search the web, source and contact a business or location, and much, much more.
For more details and download visit V-lingo.
Drive Safely
Drive safely is a mobile app designed to protect against distracted driving. To fully employ this application, users speak aloud the instructions required to carry out certain tasks. You can send an e-mail or SMS text while driving, without physically touching the keyboard too. This app can also read incoming e-mails and text messages, and allows you to respond to them by voice as well, so you do not need to take your eyes off the road. In addition, you can use voice commands to instruct the Drive Safely app to repeat a message or call back a sender. Even though this app is highly functional it does not slow down your phone. If this app appeals to you, then check out our review of the top 5 voice recognition apps for BlackBerry.
For more information and download visit BlackBerry App World.
Voice on the Go
Voice on the Go is a hands-free voice to text app and is perfect for users on the go. It sends e-mail and text messages along with other wording required content from your BlackBerry phone to anyone in your contact list. This app automatically converts your speech into text for any cause, whether to compose, reply, listen, forward, navigate, or to delete e-mails or SMS messages. Also, this app can update your Facebook or Twitter status, create calendar entries, search and call a contact. It is fast to set up, very user friendly and works with all BlackBerry smartphones on any network carrier.
For more details and download visit BlackBerry App World.
Text Message Backup App
The text message back-up application provides an alternative support option for securely storing text messages on your BlackBerry smartphone. Installing this app to your BlackBerry will backup text messages to an e-mail inbox of your choice. It forwards all your incoming text/SMS messages directly to your e-mail in-box.
For more details and download visit BlackBerry App World.
Dexrex SMS Backup
Dexrex is another great SMS text backup app that automatically archives both incoming and outgoing text messages to a private,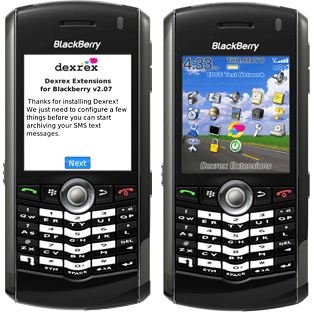 password protected email account. This app provides features to help control your text message activity by searching, forwarding, and deleting text messages, as well as keeping track of monthly SMS totals, and offering a quick view of archived messages.
For more details and download visit BlackBerry App World.
Auto Text Response App
A very effective auto text response app is the 'Siesta Text: Away Message Auto Text Response'. It sends an instant automatic text reply to recipients who text or call your phone when you are unable to respond to them right away. The Siesta Text app allows you to customize the auto response message to exactly what you want to say, who you want to say it to, when and how often you want to say it.
For more details and download visit SiestaText, or the BlackBerry App World.
Privacy Text App
A great privacy text app for the BlackBerry is the 'TigerText Free Text Messenger'. This app is only functional when two users install the application on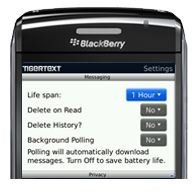 their smartphone. It ensures messages and pictures are deleted as soon as they are read/viewed. The application and chat time is free for both users, and either party can see and access their message status - i.e. when a message has been received, opened and expired. Most importantly messages can be deleted anytime after they have been sent. TigerText eliminates the possibility of damaging evidence being left behind.
For more details and download visit BlackBerry App World.
References
Blackberry App World - https://us.blackberry.com/apps-software/appworld
Siesta Text – Away Messages Auto Text Response - www.siestatext.tumblr.com
V-Lingo - https://www.vlingo.com