How to Capture BlackBerry Screenshots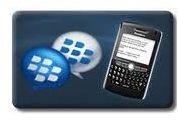 How to Capture Programs Like BlackBerry Messenger
Many BlackBerry applications, like BlackBerry Messenger, contain information that you might like a hard copy of, to keep for your records. This is especially helpful for applications that will eventually automatically delete the data, once it reaches a certain age. Unfortunately, your BlackBerry smartphone does not come with a native application that will take a screenshot. Luckily, there are more than a few ways to accomplish this task. If you have BlackBerry Desktop Manager installed on your computer, there is a command you can run to capture whatever is on the screen. If you don't have access to a computer, or just want the screenshot saved on your BlackBerry, there are a number of applications that will get the job done.
Take Screenshots with a Computer

Your BlackBerry Desktop Manager comes with a command that will take a screenshot of whatever is currently on your BlackBerry screen, and save it to a directory of your choice. The only catch is that you have to use the Windows command prompt to access the feature. Once you learn the command you can save your BlackBerry screenshots wherever you desire.
Plug your BlackBerry into your computer with a USB cable.
Navigate your BlackBerry device to the screen you want to take a screenshot of.
Click the "Start" button on your computer and place your cursor into the search box.
Type in "Command Prompt" and press enter. Alternatively, you can click on Start-Program Files-Accessories and then choose "Command Prompt." On some Windows versions you may have to run this as an administrator. To do this, use the second method, right click on "Command Prompt" and choose "Run as Administrator."
Type in the following: cd c:\Program Files\Common Files\Research in Motion\Apploader If you are running a 64-bit operating system, change "Program Files" to "Program Files (x86)."
Type in the following: loader.exe /screenshot c:\screenshot1.bmp You can change "c:\screenshot1.bmp" to any directory and file name that you desire.
Enter your BlackBerry password on the screen, if you have a password.
RIM does note that some Windows Vista and 7 computers will save the file to: C:\Users\\AppData\Local\VirtualStore\Program Files\Research In Motion\BlackBerry\Apploader regardless of where you direct the file to save.
If you are looking for a slightly easier way to go about this, consider downloading and installing the JL_CMDER program. Run this program (as an administrator) and choose the screenshot option to take a picture of whatever is on the screen.
Screenshot Applications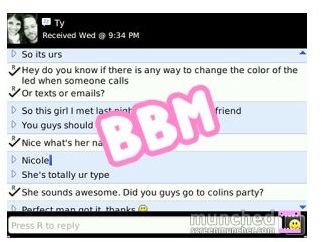 A short look at the App World will reveal a number of applications designed to take and save BlackBerry screenshots. Most of these applications will cost you something, but it is only between 1 and 2 dollars and if you plan on taking a lot of screenshots, it should be well worth it.
Screen Muncher will give you a new "Munch Screen" option on every BlackBerry menu. Choosing the option will allow you to email or save the captured image. The program will also allow you to assign the program to a convenience key, so you can take screenshots of any program, including BlackBerry Messenger, with just the push of a button. Screen Muncher currently costs $1.99, although there is a free version that will place watermarks on your screenshots.
SnapScreen will also add a menu option and give you the ability to assign the program to a convenience key. However, SnapScreen will let you choose between saving the screenshot as a JPG, PNG or BMP. SnapScreen costs $0.99, but has a 3 day or 30 screenshot trial.
Capture Edit Send is both the name of the application, and a pretty good description of what it does. You can capture a screenshot, apply effects to it and then send it to a number of programs like TwitPic, Glowfoto or Tumblr. Capture Edit Send costs $1.99.
There are a number of other screenshot applications available for your BlackBerry. Just search for "Screenshot" on the App World to get a full list of applications that can take BlackBerry screenshots.
References
Reference 1 - BlackBerry Knowledge Base KB18982
Images from RIM and App World.