What is the Best BlackBerry PDF Viewer?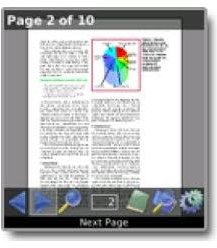 Introduction
By default, you can only view a PDF file on your BlackBerry device if it is an email attachment. However, the frequently asked question is "how to read a PDF file on a BlackBerry if it is stored on your memory card?". Well, there are some third party BlackBerry PDF viewer options for you that offer great quality and responsive user interfaces. Here are the best five applications.
BeamReader PDF Viewer with File Manager
BeamReader, with the capability to let users view PDF files stored on their BlackBerry's memory card, is a native BlackBerry PDF reader. It offers quality that we are all used to when it comes to viewing PDF files, offering the same fidelity as that of computer PDF readers. This means whatever the formatting of the content is, it is preserved. Viewing PDF email attachments is also supported, making this app an all-around PDF-reading solution for the BlackBerry platform. Not only does it provide PDF reading capabilities, it is also a file management tool that lets users open, rename and copy existing document files, as well as create new ones. For people looking for a complete native documents solution for the BlackBerry, this app should be on top of their list of options.
RepliGo Reader for BlackBerry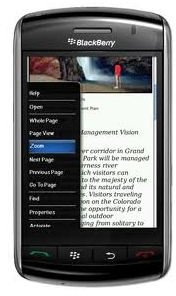 Like the BeamReader app, RepliGo Reader provides native support for PDF viewing on BlackBerry phones. This means it displays both PDF email attachments and PDF files stored in the BlackBerry device's memory card. It doesn't require any data plan or wireless coverage to open PDF documents, which means as long as the PDF file is stored in the device's memory, it can be viewed at any time. If you are used to using PDF readers on desktop or laptop computers, you will feel right at home since this app provides the same user experience in reading PDF files. It is a very responsive app, providing quick navigation for users.
PDF To Go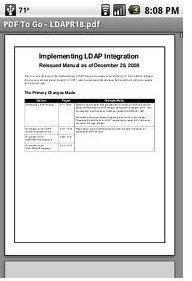 This app requires you to have the Documents To Go Premium Edition app, which is a complete documents solution for BlackBerry devices, to function. As part of the Documents To Go suite of tools, PDF To Go handles viewing and opening PDF files natively on a BlackBerry device. It has a set of features that make the whole PDF reading experience efficient, fast and easy. These features include a list of recently viewed documents, a file browser, email attachment support, keyboard shortcuts and PDF editing tools, including the ability to display fax messages as PDF files using services like RightFax.com and eFax.com.
eOffice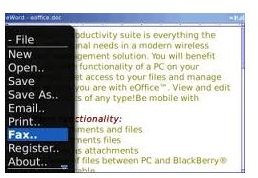 If you need to do more than just read PDF files, like create and edit Microsoft Office documents and images, eOffice provides an all-around solution. It is mainly used to work with Microsoft Office and also allows you to save documents from email attachments to your phone memory. Printing and sending fax messages is easy with this app, no matter what document file format you are using.
eReader Pro for BlackBerry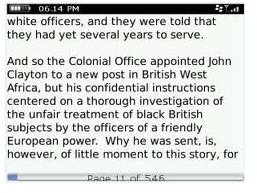 This app is designed to read eBooks in different formats, including PDF files. This may not be the best choice for you as your default BlackBerry PDF viewer since it is not designed to handle email attachments and PDF files saved on your memory card, but if you are fond of reading eBooks in PDF format, this is a nice and free solution for your needs