What's New in Ham Radio Apps for the BlackBerry?

King the of Ham Apps
According to the American Radio Relay League (ARRL) that serves as a sort of an official website for amateur radio enthusiasts, unless you have an iPhone, there just aren't many options for Ham radio apps for the BlackBerry—at least not those apps that do it all like FreqLoader for the iPhone that keeps track of stations and logs, allows you to listen in on the airways just about anywhere and finds your friends all over the world.
The CrackBerry Forum doesn't offer many solutions either for BlackBerry apps that cover the airways—at least for those enthusiasts who are looking for Ham apps that do it all.
So, whether you're licensed or an amateur, what can you download to your BlackBerry to listen to the airways and connect with other Ham operators?
iPhone Logo courtesy of Wikimedia Commons.
Scanner Radio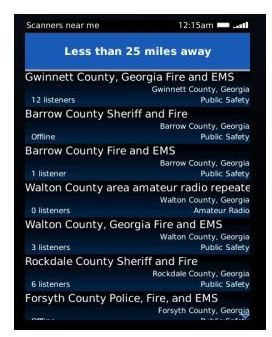 Offered up by Gordon Edwards in 2009, Scanner Radio is available in version 1.7.14 and has a file size of 397KB. It does support all BlackBerry models, but the device software must be 4.2.1 or higher. Countries and carriers are limited so check the link above to see if this Ham radio app for your BlackBerry is worth the cost of $4.99.
This app offers one-sided scanner communication (meaning you can listen to police, fire, railway and weather broadcasts via their scanners, but as far as catching up or finding a handler, you can't do that). There's a brief trial period but if you don't purchase the app, once the trial period is over, you'll only get up to 5 minutes of scanner listening—unless of course you purchase the app. I do like that it uses your data plan (not minutes) but even the app description warns if you can't find the app after download, seek out your download folder and start searching icons until you find it. Not too impressive for any experienced Ham enthusiast.
BBScanner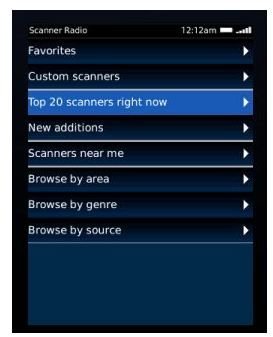 This free app is (again) for those Ham operators looking to listen to fire and police scanners—it's not a true Ham radio app for the BlackBerry. It does use your data plan (not minutes) and works on all BlackBerry models, but a blog I read about this app warns it might not work the best on the BB Storm. Your operating system must be version 4.3 or higher, and actually, upon further research, this app is the same as the Scanner Radio app only, however, by using the BBS Scanner Change Log website, you can download the app for free, and read information on fixes and updates. Not too impressive for the experienced Hammer.
Other Options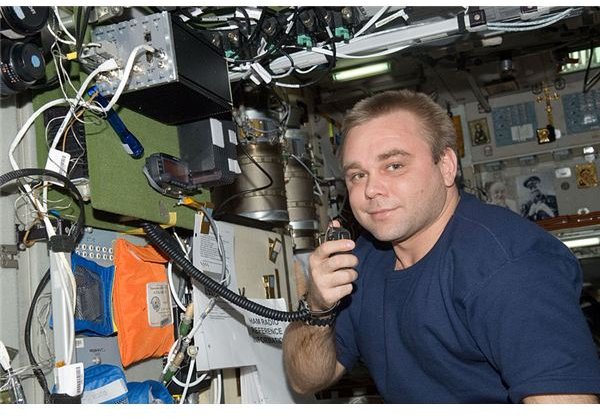 Blogger 73s.org has some nice information on what's in beta stages such as the Ham radio app from Ochre Labs, but it has some caching problems at the moment. This automatic packet reporting system (APRS) is what Ham operators want but can't seem to find for their BlackBerry devices.
Eventually Ochre Labs intends to call this app AmaBerry and an update on their blog in July of 2010 tells subscribers to "check back often," and that they haven't forgotten about this beta-stage app—but no new information is available as of January 2011—good luck waiting on this one.
It's worth reading (and posting) on the 73s.org Blog (link above). Many frustrated BB users seeking out Ham radio apps for the BlackBerry do offer some links that (sort of ) help such as Ntrak, but most of the posts are left by Ham wannabes who may be just like you—looking for great Ham radio apps to no avail.
So, if you're a "barefoot," or one that transmits with a transceiver alone and no linear amplifier, the Scanner Radio app may be OK for your needs, but for the real pros, you may want to start emailing BlackBerry App World with suggestions; or switch to the iPhone. But, while you're waiting for a Ham radio app for the BlackBerry, why not learn the lingo via a great Ham glossary?
If you're a Ham enthusiast and know of a BB app–we'd love to hear from you!
Image Credit (Wikimedia Commons)
Screenshots by author courtesy of BlackBerry App World