How to Wipe Your BlackBerry Device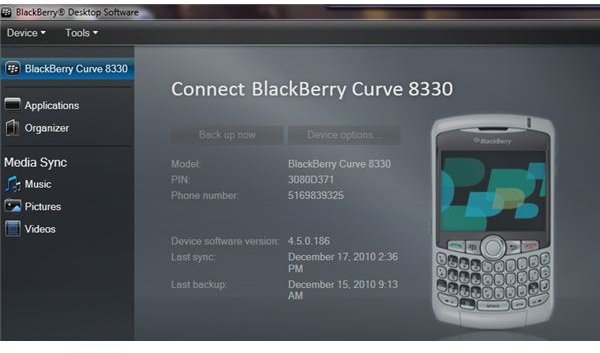 Why Wipe a BlackBerry?
BlackBerry devices are designed to store your information so that you have access to it while you are on the go. Every once in a while, however, there will come a time when you need to wipe the information from your BlackBerry and start over. You might need to wipe your BlackBerry if you are giving the device away or selling it and you don't want whoever gets the device to get all your phone numbers and pictures as well. You could also be having issues with your BlackBerry software, and want to wipe your BlackBerry so you can start over. You can even use specialized software to completely clear the BlackBerry, including the OS, leaving you with a perfectly blank slate.
Whatever the reason for wiping your BlackBerry, you'll want to back up your information beforehand. Backing up your information is the only way to protect it once you wipe your BlackBerry, by keeping a copy of the information on your computer. Once you have the backup file, you can put the information back on your device when the wipe is complete, or even download it to another BlackBerry device.
Backup Your Information
Backing up your information is one of the main features of the BlackBerry Desktop Software. You can get the Desktop Software from BlackBerry's website, just download it and install it. Once you complete a backup, you are free to wipe your BlackBerry without worrying about permanently losing your information.
The Backup Process:
1. Download and install the BlackBerry Desktop Software from BlackBerry's website.
2. Run the program and click the "Back Up Now" button.
3. Enter a file name and choose a location to save the backup file.
4. Click "Back Up" to complete the process.
The Security Menu Method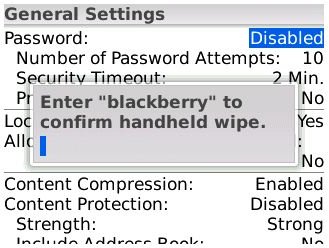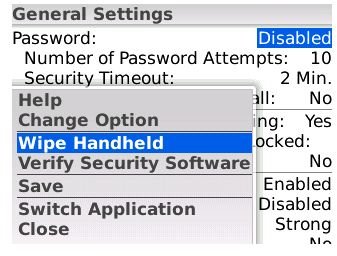 The quickest and easiest way to wipe your BlackBerry is through the security menu. RIM included this option to give you a quick way to clear the information from your device.
The Security Menu Method:
1. Select the "Options" menu from your applications list.
2. Choose "Security" and then "General Settings."
3. Press the BlackBerry key and choose "Wipe Handheld."
4. Place a check mark next to "Include third party applications" and then press "Continue."
5. Type in "blackberry" to wipe your device.
The Password Method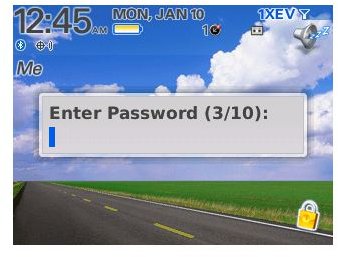 The next method to wipe your BlackBerry is to password protect your device, and then enter in the incorrect password a certain number of times. Your BlackBerry is designed to keep your information secure, so it has this built-in failsafe. If you lose your password-protected device, this failsafe prevents someone from repeatedly guessing your password to access your device. After enough wrong attempts, the device wipes everything, to protect your information.
The Password Method:
1. Access the "Options" application and then go into the "Security" option.
2. Select "General Settings."
3. Change the "Password" field to "Enabled," and change the "Number of Password Attempts" to "3."
4. Press the back key to exit, and you will be asked to enter your password twice. Just enter in anything.
5. Go back to the application menu and select "Lock."
6. Press any key to bring up the password screen, then just enter in the wrong password three times to wipe your BlackBerry.
JL_Cmder Method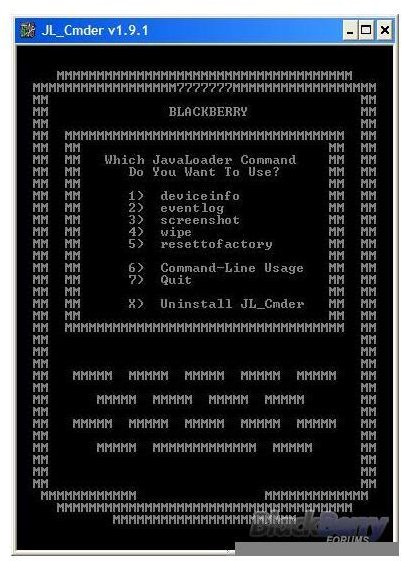 JL_Cmder is a small utility program that you can use to manipulate JavaLoader. JL_Cmder has a number of uses, and one of them is to wipe your BlackBerry. Be aware, however, that this is a complete wipe, including the operating system. Your BlackBerry software will not load after you complete this wipe, and it should only be done when you need to reload the operating system. You need to have BlackBerry Desktop Software installed on your computer for JL_Cmder to run.
Download and install JL_Cmder.
1. Connect your BlackBerry to your computer and run the JL_Cmder program. If you have Windows Vista, you may need to run the program as an administrator.
2. Enter a password for your BlackBerry into the JL_Cmder program. If your BlackBerry isn't password protected, just press "N" for "No."
3. Choose option "4" to wipe your BlackBerry. Press "Y" to continue, and then type in "blackberry."
Reload Your Software
The last method of wiping your BlackBerry isn't really a true method, it's just a byproduct of a different procedure. When you install a new software version on your BlackBerry, the BlackBerry Desktop Software has to erase all of your information. Normally, the program will backup your information right before it upgrades the software, and then restore it at the end of the procedure. You can choose, however, to uncheck the "Backup" box when you start the installation process. Your BlackBerry will be wiped after the software update is complete.