Top 10 BlackBerry 8530 Apps Worth Your Time
BlackBerry 8530 Apps
As a BlackBerry user you always have the advantage of enjoying thousands of apps that have been designed for various purposes. Some of these apps are extremely useful while many others are a real waste of time and money. That's why directly riding towards the top BlackBerry 8530 apps is advantageous instead of trying to find what the best apps are. We have done the hard part of finding the best apps for your BlackBerry Curve phone. It's your turn to get the benefit of them.
10. Ka-Glom - Free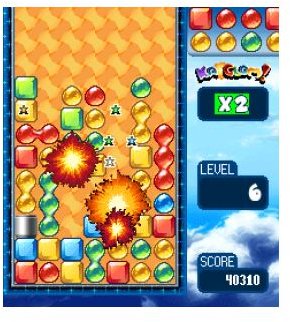 Ka-Glom is a free BlackBerry Curve game app and one of the most popular apps. What you have to do is to combine the explosive Ka-Glom jelly for blasting blocks and get the chain reaction. This is really an addictive game and a nice way to have a break. It consists of three different modes of play including Normal, Time Attack, and Puzzle modes. Also there are modes to be unlocked. It also has an easy tutorial that teaches you how to play. This is a nice application for your BlackBerry phone.
9. Auto TextBak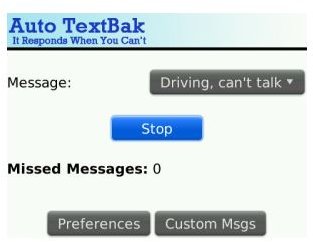 Auto TextBak can create a message that automatically responds to incoming text messages and sends it away. This is very useful, especially when you are driving. You don't need to get distracted due to incoming messages because, this handy app will reply for you. You can easily customize your away messages and create an ignore list that doesn't need a reply. This app costs US$2.99 and uses only a small amount of your phone memory. Add this nice utility to your collection of BlackBerry 8530 apps.
8. Pandora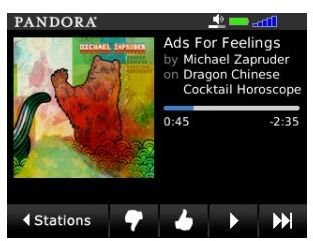 If you need a personalized radio application, Pandora is the app you are looking for. You can create a radio station that only plays your favorite songs or songs by your favorite artists. You can rate songs so that Pandora will create best playlists for you by analyzing your feedback. Pandora has almost all types of music including classical, latin, rock, pop, dance, country, etc. Pandora is also one of the most popular BlackBerry 8530 apps.
7. BeJoose - Memory Optimizer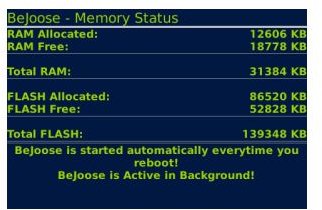 As a BlackBerry user you know how important your phone memory is. There are some apps that eat up your phone memory making it extremely frustrating to use. If your patience is running out, here is the application you are desperately waiting for. BeJoose - Memory Optimizer is an extremely lightweight tool at just 32 KB but it will do lot of things.
BeJoose can optimize runtime memory of your BlackBerry phone without reconfiguration. This is very easy to use as you don't need to do anything. It installs and runs automatically. It increases the productivity by deploying more apps at the same time. This app cost you US$4.99 and comes with a 100% money back guarantee. This is a must use BlackBerry 8530 app and it is well worth your money.
6. WeatherBug
It is quite useful to get informed about weather conditions wherever you go. That's why WeatherBug is one of the best BlackBerry 8530 apps you must use. With WeatherBug, you can stay informed about local weather, international weather, severe weather alerts, and much more. This valuable app has many more features. One advantage is the ability to share weather information with your family and friends. More importantly it is a free app.
5. Pixelated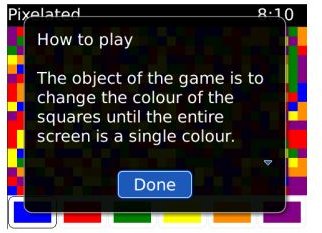 If you are looking for free BlackBerry Curve apps, Pixelated is one nice app to download. Pixelated is a puzzle based strategy game that consumes only a fraction of your phone memory. This addictive game is a great way to spend your free time testing your skills and luck. The objective of the game is to change the colors of the squares until the screen is filled with a single color. The less moves you use the better. Under default settings you only have 21 moves. For higher difficult levels, you need to download Pixelated Plus.
4. Viigo for BlackBerry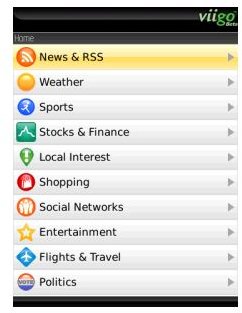 If you want to keep updated with almost everything including news, weather, sports, etc. Viigo for BlackBerry is the right tool that you should add to your BlackBerry apps collection. With Viigo you have the access to whatever you like. Tell it what you need to know and it'll inform you soon as the information is available. Once you configure the settings you have one click access to sports scores, entertainment, movies, shopping, and whatever other information you are interested in. This free BlackBerry Curve app is really useful for any BlackBerry user.
3. Twitter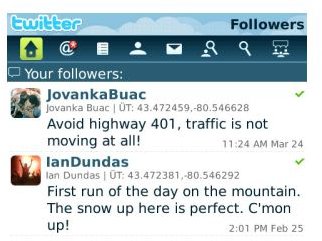 Are you a Twitter addict? Then download this free Twitter app to your BlackBerry Curve 8530. With this free tool, you can get direct messages, post links, upload pictures, follow friends, find users, and search for topics you need. You don't need to search for a computer to stay connected with Twitter anymore. Download it free and enjoy.
2. Yahoo Messenger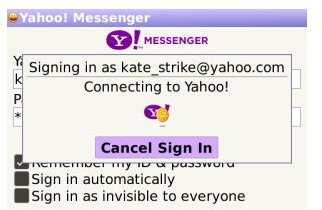 With the Yahoo Messenger free BlackBerry Curve 8530 application you can chat with your friends in virtual real time. You don't need a computer anymore. This is a fast and reliable way of messaging and you can invite multiple users to join your conversation. Also you can get your own avatars, emoticons, and custom ringtone alerts.
1. Lookout Mobile Security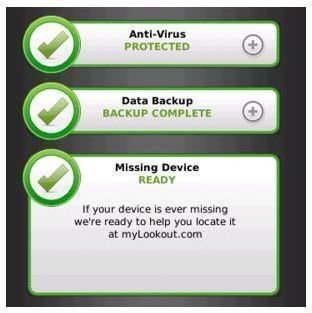 As a BlackBerry user you should always be prepared for possible virus attacks. Because viruses, spyware, and malware are everywhere. That's why you need a great antivirus app for your BlackBerry Curve 8530 like Lookout Mobile Security. This is the most popular security app for BlackBerry at the moment. It includes Antivirus, Backup, and Find My Phone. The Antivirus protects your phone from viruses, malware, and spyware. It scans each and every app you download. Therefore you don't have to worry about infected apps.
Backup features help you to backup and restore your contacts and photos. By visiting https://myLookout.com you can access your data. The Find My Phone utility of Lookout Mobile Security is another cool feature of this app. It can find where your phone is on a map in a situation where it was lost. Also it can activate a loud alarm for finding the phone and has the facility to erase your data in such a situation.
If you are interested in getting the most out of your phone these free BlackBerry Curve apps are easily among the top selections. Download and make your life much easier with them.
More Top 10 BlackBerry Apps
This post is part of the series: Top 10 BlackBerry Apps
If you wanted find some great apps for your BlackBerry smartphone, now you can do it easily. Just read these reviews, select the most appealing apps, and download them quickly. No need to waste your time finding the best apps.