Top 10 Most Exciting BlackBerry Storm 9530 Applications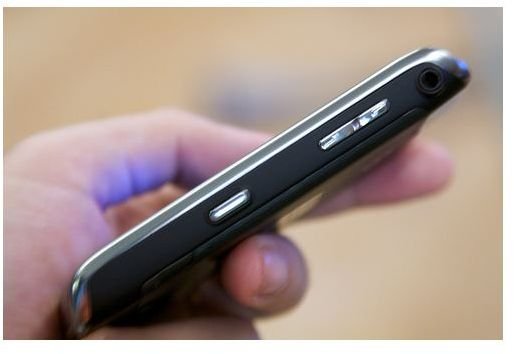 BlackBerry Storm 9530 Apps
There are BlackBerry apps for almost everything. Gaming, optimizing tools, time saving apps, privacy apps, and searching utilities, are just some of them. However, if you need the best BlackBerry Storm 9530 applications, you don't need to go through all of these apps. Here is the cream of the crop for you to choose from.
10. Slacker Radio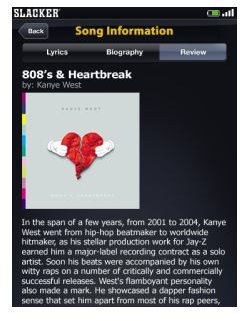 Slacker Radio is one of the most popular BlackBerry Storm 9530 applications around. You can listen to over 100 radio stations or create your own custom stations for free with the Slacker Radio app. There are a number of advantages of this handy tool over other similar tools. High quality stereo sound, background play, custom stations based on your likes, and the ability to remove songs or artists you don't like, are just a few of them.
9. Poynt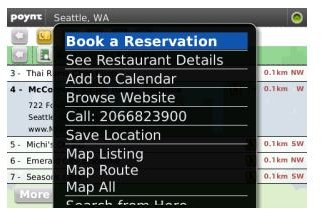 Poynt is a highly acclaimed BlackBerry app that searches for many things for you. You can use Poynt to find retailers, restaurants, businesses, and movies around you. It also searches for weather information and gas prices (only in USA) that can be very useful. Another feature of Poynt is one click phone number search. It also facilitates browsing websites and getting map directions very easily.
This great application also has the capability to show an integrated weather display and 5 day forecast. Poynt is a free app for your BlackBerry Storm 9530 and supports most of other BlackBerry phones too. This is definitely a must have app for your collection of BlackBerry software.
8. XE Currency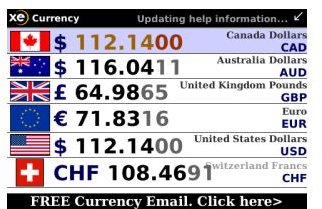 XE Currency is a great currency tool that has the capability of converting more than 180 currencies. This is a simple but, powerful tool which is totally free to use. This is brought to you by one of the most popular currency converter websites - XE.com. Therefore you don't have to worry about the accuracy of their currency data. Currency information is updated each minute and you can use this tool offline as it saves last updated data into your BlackBerry phone. If currency is important to you, then download this free BlackBerry storm 9530 application.
7. 3001 Wisdom Quotes - Touch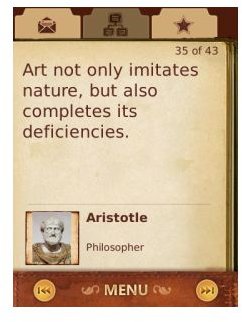 When your mind is exhausted this great application might help to pump energy back in there. 3001 Wisdom Quotes gives you the ability to read the most insightful and inspirational quotes from the world's greatest thinkers and leaders such as Einstein, Gandhi, Aristotle, Lincoln, etc. It also includes images and links to Wikipedia, a "Quote of the Day" feature, keyword search, and much more.
6. UberTwitter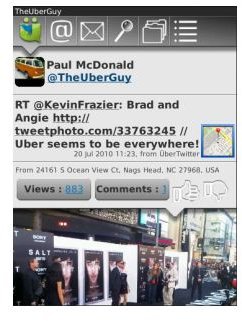 UberTwitter is a free Twitter client with many useful features including all the functions of Twitter. You also have the ability to embed videos in tweets, change your Twitter avatar, save searches, conversation threads, photo integration, and much more. UberTwitter is among the highly rated BlackBerry Storm 9530 applications and it costs only US$4.99.
5. Pandora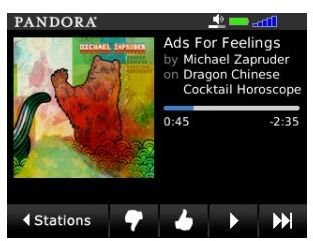 If you are tired of hearing songs that have no interest to you, Pandora is the application you are looking for. This free BlackBerry Storm app will play only songs you like to hear. You can customize songs, artists, and type of music so that you always hear what you like. The Pandora radio application has almost all types of music including jazz, pop, techno, country, classical, etc. While playing your favorite songs it will introduce new songs that you may like. Rate the songs and Pandora will personalize the playlist based on your feedback. That's why this is a really handy and cool app to use.
4. Lister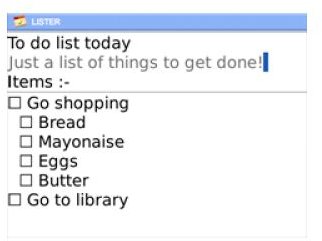 Lister is one of the free BlackBerry Storm 9530 applications that enables you to create and manage multiple lists at the same time. There are several handy features of this app. You can easily create lists without entering the BlackBerry menu, add due dates and reminders, share your lists with friends, and it features easy navigation. This is definitely a great time saver for any BlackBerry user.
3. Viigo for BlackBerry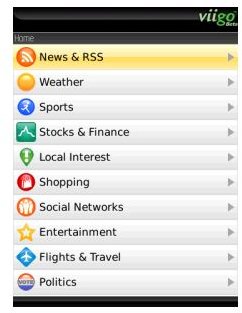 With Viigo you have easy access to all sorts of information including news, weather, sports scores, markets, stock portfolios, flight schedules, Twitter, movies, entertainment, and much more. You can customize your preferences and whenever something happens; your information will be available immediately. Being one of the highly rated applications this is a must use tool for any BlackBerry user.
2. Navita Translator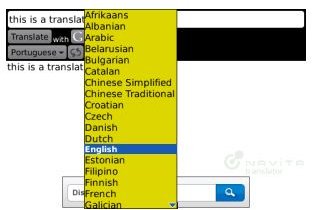 Add Navita Translator to your free BlackBerry Storm apps and you will really enjoy its capabilities. It can translate and speak words from browsers, messages, emails, or typed words. It can translate your words into more than 50 languages and speak languages including English, Spanish, Russian, German, French, and Italian. Another useful feature of Navita Translator is sending translations to Twitter, Mail, SMS, PIN, and MEMO.
1. PrivacyStar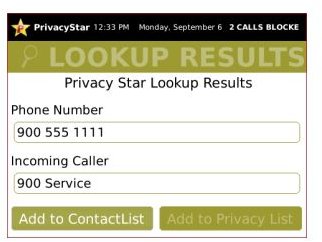 PrivacyStar is simply the most complete consumer privacy protection and preference service available today. PrivacyStar displays a caller's real name and you can filter out incoming communications based on your preferences. Unlimited Caller ID, Unlimited Call Blocking, and Complaint Filing are some of its handy features. This is the best way to deal with harassing callers and get peace of mind. PrivacyStar is one of the top choices if you are looking for free BlackBerry Storm apps.
These nice and useful apps will help you to have a better time with your BlackBerry smartphone. Download and install them to see what they have to offer for you.
More Top 10 BlackBerry Apps
This post is part of the series: Top 10 BlackBerry Apps
If you wanted find some great apps for your BlackBerry smartphone, now you can do it easily. Just read these reviews, select the most appealing apps, and download them quickly. No need to waste your time finding the best apps.