TypePad Review: Find Out About a Great Blogging Program
What is TypePad?
TypePad is a tool that allows you to create a professional-looking blog. TypePad, like its competitor, WordPress, allows users to customize their blog format. In addition to being able to create a blog and upload text and photos, you can also upload video and music to TypePad, making the software a boon to those who are using their blog to showcase their creative talents. TypePad Pro allows you to fully control your blog and the design of your blog. While the program is subscription based, when you're looking for the ultimate in professionalism, you can't get better than TypePad.
Installation and Setup (3 out of 5)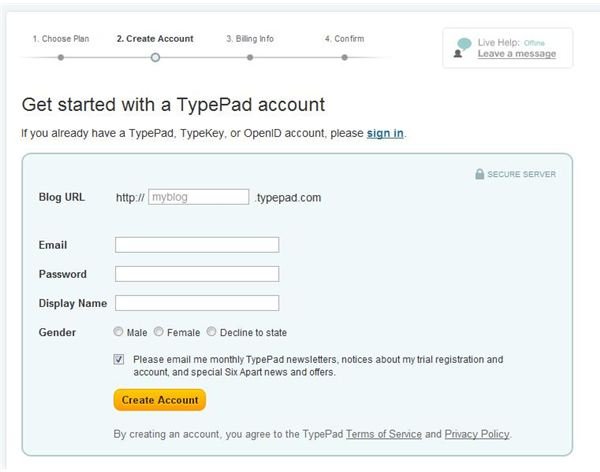 TypePad is easy to set up. Simply select the level of membership you would like to commit to and fill in your information. Once you have filled out the first form, you will then be asked to fill out your payment information. If you do not want to pay for your blog, perhaps you want to see if you will remain committed to completing work on it before investing in it, there is a free option - TypePad micro. Be aware that TypePad Micro does not have the same functionality as the subscription service possesses. This can make it frustrating for someone who wants to see if TypePad is the program for their needs before investing money into it.
It should be noted, though, that TypePad will not charge you for fourteen days after you sign up for their services. This means you have fourteen days to evaluate whether or not you wish to continue using their services before you will be charged the monthly fee.
Ease of Use (4 out of 5)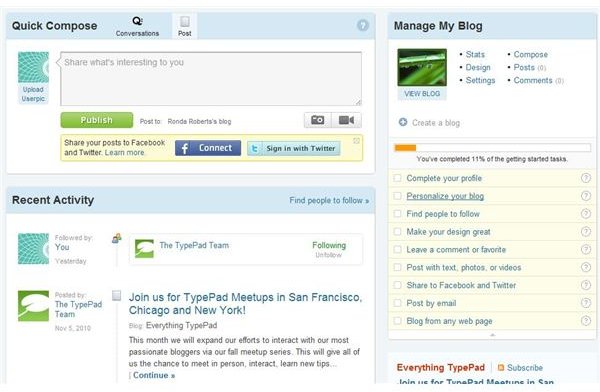 TypePad is easy to use and customize. If you are unfamiliar with CMS coding, you will find TypePad a welcome relief when it comes to designing a professional looking website. Even if you don't like any of the already created templates, you can create your own design quickly and with little effort. If you want to view the statistics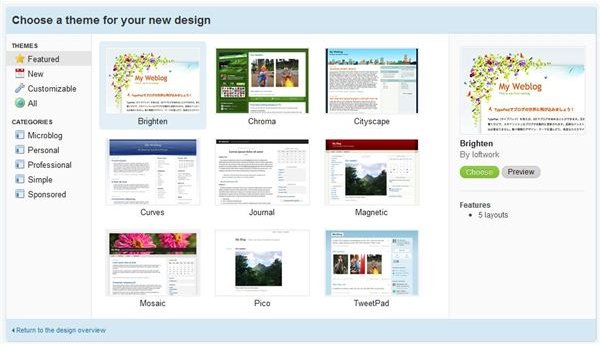 that show you how your blog has been performing, that is easy to read and use as well.
Not only is TypePad easy to use, but it is also easily navigated. Each tab describes succinctly exactly what users will find when they click on it. It is easy to post both text and media to the blog. The only thing I did not immediately find intuitive about using TypePad was navigating the design section. However, after a few minutes, I was cruising through there with no problem.
Features (3 out of 5)
TypePad has many wonderful features that allow bloggers to truly take advantage of all of its different aspects. Among TypePad's best features are:
An array of pre-created professional-looking blog designs
Total control over features
Plugins for the blog for PayPal, amazon.com, Twitter, LinkedIn, and many more
The ability to pre-create blog posts and publish them in the future
The ability to promote your blog using built-in SEO keywords and updates
Assistance with optimization,
The ability to create a following and track followers
The ability to create a real community feeling
Run ads for your blog, keep a tip jar, sell products, sign up for affiliate programs
Price to Value (3 out of 5)
TypePad has four pricing tiers. There's a free edition of TypePad, as mentioned, called TypePad Micro. The next step up from TypePad Micro is TypePlad Plus, an edition that will cost you $8.95 a month. From there, it's the unlimited edition at $14.95 a month and the premium edition $29.95 a month. Like many on-demand software options, TypePad costs more for more features and more users. While I do pay for my personal domain and the software I use with it in my private business, it's an annual expense, and I"m nervous about spending money on a monthly basis for a blog. If, of course, you are using your blog as a means to make money as opposed to a means to promote your business, then it may be a worthwhile investment to you.
User Support (5 out of 5)
One thing that can not be denied is the vast amount of user support available to TypePad users. All TypePad subscription users receive personal support, and the premium edition subscribers receive priority support. In addition to this personalized support, you can get support in the following ways:
Product documentation in the form of a knowledge base
A list of "tips and tricks" for gaining more blog viewers and producing a better blog
Take advantage of the TypePad business center
A blog produced by the creators of TypePad that demonstrates that you will be able to continue your learning curve
Direct contact
Fix it support tickets
Is TypePad for You?
TypePad is a great program that allows users to easily set up their blogs. TypePad is outstanding in the support services that are provided for bloggers using the program. While TypePad can be expensive, if you are making a large sum of money on a regular basis through your blog, then it is well worth the expense.