Adobe Flash Builder 4 Review: Installation, Interface, Functionality, and Features
Installing Adobe Flash Builder 4 (5 out of 5)
First thing to cover in this Adobe Flash Builder 4 review is the installation procedure. Simply put, the installation of this product is quite simple. Whether you purchase the product or opt for the sixty day trial, the installation procedure is identical.
Visit the Adobe Website and find the Adobe Flash Builder 4 listing under Products. When the new page loads, select the Trial Version and download the product.
You will have to create an account in order to do this. When the download completes, open the folder and find the Setup files. Run it and follow the step-by-step wizard.
Installing Adobe Flash Builder 4 is easy, simple, and convenient. A beginner should have no problem with this aspect of the product, which has led to such a high rating in this section.
First Impressions: Interface And Functionality (4 out of 5)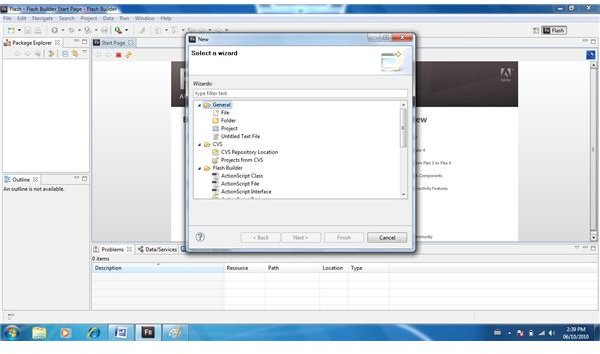 When the program first loads, you will be presented with a screen to enter your Adobe ID and password. Once entered, the main interface will load. As with most Adobe Programs, it is simple and organized well.
The Files of the project you are currently working on appears in the left column, along with Components that you can add to your project below it. On the right side, object Characteristics appear at the top defining what object you are currently selecting, with Styling options below it.
These panels are customizable, meaning you can change width, height, close, minimize, maximize, or replace them. The main project you are working on lies in the middle of the interface.
Adobe Flash Builder 4 allows you to create a variety of different file formats, including:
MXML Application
Flex Project
Flash Professional Project
CSS File
ActionScript Interface
ActionScript File
These are just some of the different types of files that you can create with Adobe Flash Build 4.
When creating a new project, you will be walked through a step-by-step wizard to ensure the project gets created in the most efficient way. Because Adobe Flash Builder 4 has such a clean interface and numerous functionality options in terms of project capabilities, this section receives four circles of five. The missing circle is due to the fact that the program is not exactly beginner friendly, as in you will need to know what each format is and how they differ.
Noteworthy Features: Spark Components, Debugger, Profiler, and Connections (4 out of 5)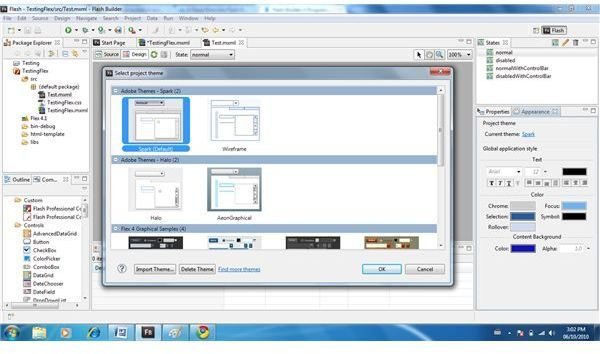 Again, this section receives four of five circles. There are a lot of great features in the program, but there are some that need more work and some that have yet to be introduced.
The biggest complaint is that Adobe Flash Builder 4 has both the Design and Code views, but not a Split view. While this may seem like a minor flaw, a lot of Developers enjoy coding and seeing the outcome immediately.
There are a few features that deserve some recognition though. First off, the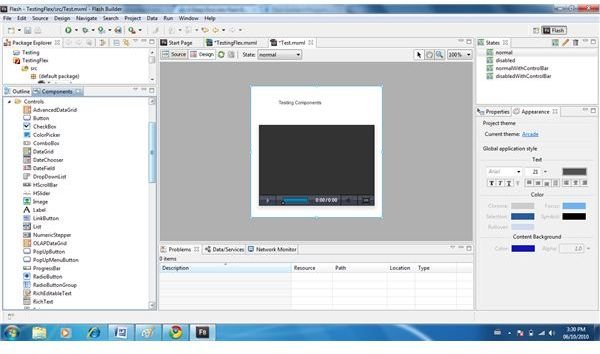 program has Spark components in it; meaning skin developing is easier. Additionally, the Spark components includes thirteen pre-made themes that you can use, and you can upload themes that you created yourself.
Another useful feature is the improved Debugger. This checks the coding of your web application for any errors. The previous version was limited in terms of this feature, and the new Debugger checks various aspects of your coding including watch points, breakpoints, and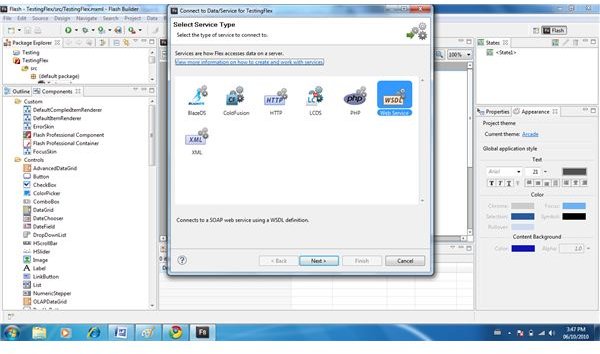 expression evolution.
It will also open the web application in your browser to preview your project, which is also provided by the Profiler feature.
The last key aspect to mention is the Data feature, which allows you to connect your web application to services online. Some of these include:
XML
Web Service

Cold Fusion
Blaze DS
HTTP
LCDS
PHP
Overall, the features are impressive; but they are slightly confusing for first-time users. It can be challenging to figure out where certain features are and how to use them. With time, you can use the described features more easily.
…Continue To The Next Page For A Look At Ease Of Use, Pricing, And Final Thoughts…
Is Adobe Flash Builder 4 Easy To Use? (3 out of 5)
Another pivotal topic to cover in this Adobe Flash Builder 4 review is ease of use. Firstly, it is crucial to understand that this product is designed for those who have experience with developing. Although a beginner could use this product, you will need to spend a lot of time learning and experimenting. Adobe Flash Builder 4 is best used for those who are professional Developers.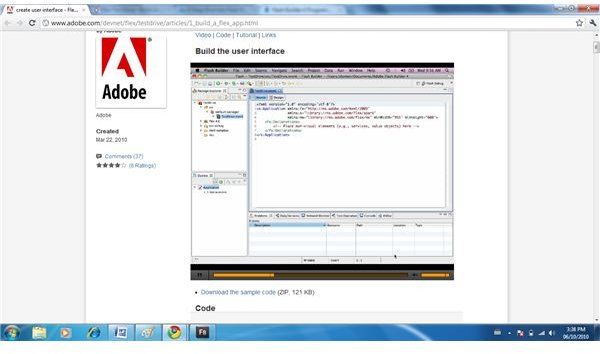 The formats are confusing and quite hard to understand if you are not already accustomed to them. The only beneficial aspect in terms of beginner friendliness, is the online Flex Developer Center that Adobe maintains.
This Center provides you with tutorials, a large number too, that help you get started with the program and help you get used to the features. The coding for each project being explained within the tutorial is also provided so that you can copy and paste, making web application far easier.
The other beginner friendly aspect is the drag and drop capability. The panel in the bottom left of the interface provides you with various Components that you can easily drag and drop onto the project. Some of these Components include:
Images
Video Players
Progress Bars
Drop Down Lists
Buttons
Obviously there are dozens of other Components that you can add to the project you are working on, all of which are easily accessible via this adjustable panel. As a result of these drag and drop capabilities, and the Development Center provided, Adobe Flash Builder 4 receives three circles of five for ease of use.
These attempts to make the product easy to use are noteworthy, but the product is still challenging for new users that are not familiar with the file formats offered and web applications.
The Cost Factor (2 out of 5)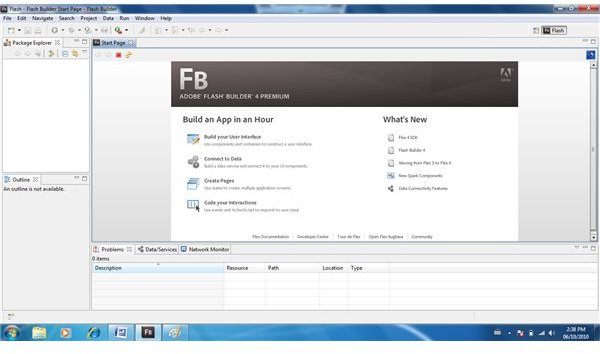 As with most products, Adobe Flash Builder 4 is indeed expensive, although far more than others offered by Adobe. It is worth note taking that if you had Flex Builder 3, the previous version of the product, you can purchase the upgrade for $299. For those who have not purchased the product before, the program will cost you $699. For the functions, capabilities, features, and other aspects of this product; the price is moderately fair.
The reason why this portion of the review receives two circles of five is because it is quite costly when compared with other Adobe products. Again, this cost further enhances the viewpoint that this product is specifically meant for Professional Developers. For individual students, website creators, or those just looking to create web applications; this product may not be the appropriate choice.
Is Adobe Flash Builder 4 Worth The Money?
It depends on your current situation. The product makes developing web applications easier, but it certainly is not the ideal choice for beginners.
If interested, take the trial version and test it out. It lasts for sixty days, so it will provide you with enough time to explore the product and develop your own opinion on its effectiveness. If worse comes to worse, you can always use another web development program, such as Expression Web.