Yola Review: The Best WYSIWYG Editor? Features, Design, and Templates
Features (5 out of 5)
First thing to cover in this Yola Review are the features they provide you with.
For those of you whom are beginners, you will be able to find simple tools that make the basic foundation of a website.
Some of these features include:
Text Module
Image Module
Video Module
Maps Module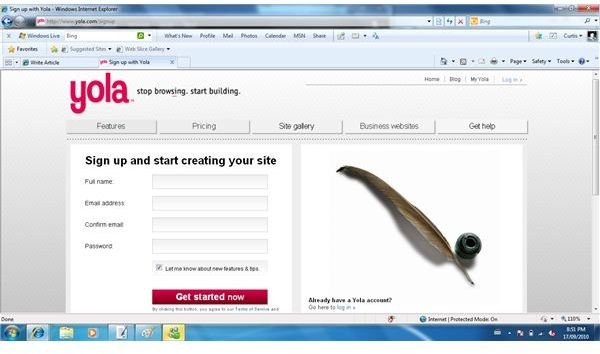 All of these features can be inserted onto the web page through a simple drag and drop. For advanced users that want additional flexibility, Yola provides you with all the technical features needed, including:
HTML Module
RSS Module
Social Network Connect
Regardless of which features you want to use on the web page, they are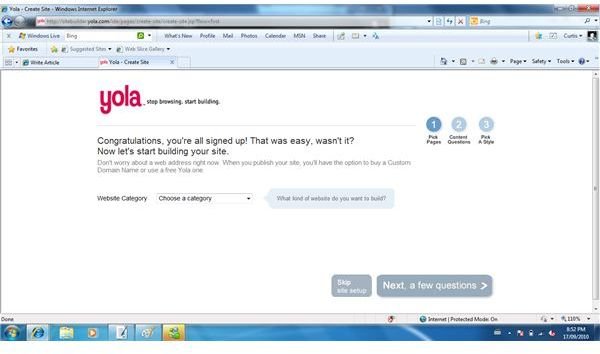 extremely simple to add. This is perhaps one of the greatest features of Yola; the drag and drop capabilities they have.
Without them, you would have to shift around and attempt to find the right menu or window to add a certain element. For instance, Dreamweaver may provide a lot of advanced functions, but for the average business owner or personal website these features are not needed and can often be confusing.
In terms of visibility, Yola provides you with your own sub-domain. This will allow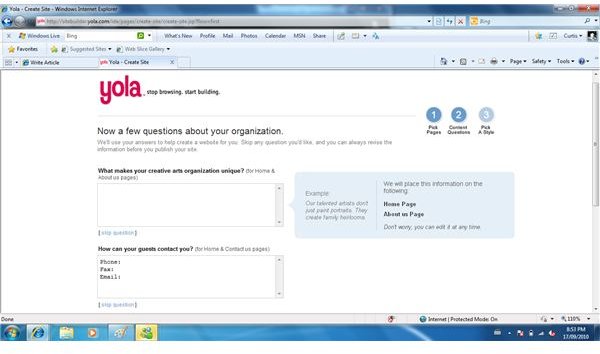 you to create and develop your own website, ensure it is to your standards, and then launch it on an actual domain when you are confident the website is as best as it can be.
While Yola does provide you with many features for both on page and off, it slightly lacks in search engine optimization. This is a crucial part of a website, and although Yola provides the basics, there are numerous other services that enhance your website's search engine optimization, such as Site Build It!
Design (3 out of 5)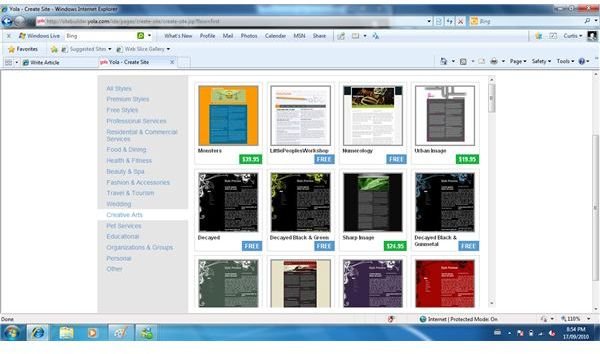 Another important topic to cover in this Yola Review is design capabilities. Yola has an elegant and professional feel to it. The service provides you with dozens of different templates that you can choose from to effectively start your website. You can then take these templates and customize them to your specifications by changing the background image of the website or changing the banner image altogether.
There are a variety of different types of templates that are designed to meet common need, some of which are:
Business
Family
Personal
Portfolio
Additionally, each template gives you the opportunity to change the website into a blog format, allowing you to use Yola as a blogging platform. The templates are attractive; however, many who use the Yola service use the same two to five exceptional templates. This means that your website will never have a truly unique feel, despite how much customizing you do.
To avoid this, you can purchase premium style templates; however, they can be quite expensive. These premium templates still possess a basic design, and it will be hard to alter the template to a distinctive appearance that allows you to standout. Essentially, the templates are prepared well and allow for easy website production, but they are by no means suitable for larger business or corporations.
Also, the service does not allow you to upload your own template; meaning that all customizations will have to be done through switching the background and header image. This is very limited in terms of flexibility.
Cost (4 out of 5)
As one can see, Yola is a service that is worth considering. The greatest element about the service is the fact that it allows you to test the product out by creating a free website. This can give you the opportunity to explore the product and determine whether or not it is the ideal service for you.
Besides the free version, in which you are restricted to using a sub-domain, there two version that you can opt for.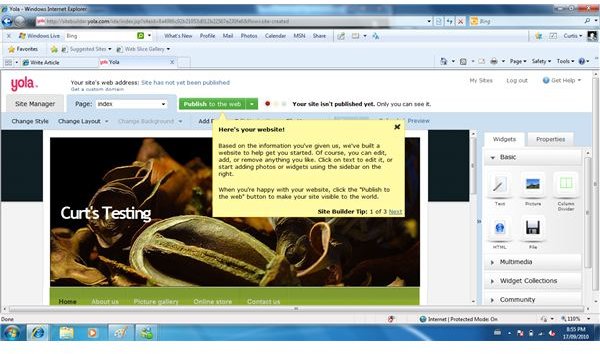 The first is the "Silver" version, which allows you to use your own domain name and provides you with Premium Templates to choose from. This version costs $49.95 each year, which is a considerably moderate price. The second version is the "Premier" version, and this is primarily meant for larger businesses.
It allows you to use your own domain, provides you with premium styles, and gives you design assistance; which can help you overcome the flaw found within the Design aspect of the service. This is a costly version though, costing $349 for the initial year followed by $49.95 each year after.
Pros, Cons, and Final Recommendations
Overall, Yola is a decent and easy platform to use to construct and maintain websites. Unfortunately, it does have some flaws. The designs that are offered are basic, and you are not given a lot of flexibility to replace them with your own. Furthermore, the service is provided via the web.
This is both a pro and con; pro because you do not have to download or install anything, con because you may lose your work if your internet crashes and you will need an internet connection to work on your website.
Basically, Yola is designed for the beginner. If you do not yet know the fundamentals about building a website, it is best to go with Yola. If you are a professional and understand the elements of HTML, you may want to opt for an advanced editor such as Expression Web.
Hopefully this Yola Review has provided you with insight, and helped you decide whether or not this service is ideal for your needs. Either way, it is imperative to research fully before signing up or purchasing any specific service.