Synfig Review: Features and Performance
Introduction
Synfig is a powerful vector-based open-source 2D animation software package developed primarily by Robert Quattlebaum and used at Voria Studios, which no longer exists. It was released back in 2005 as open source. The aim of Synfig's developers was to produce an application which was capable of creating feature-film quality animation with fewer people and resources.
Synfig which is developed in C++ is capable of running on cross platform mainly on Linux, Mac OS X and Windows.
Features (4 out of 5)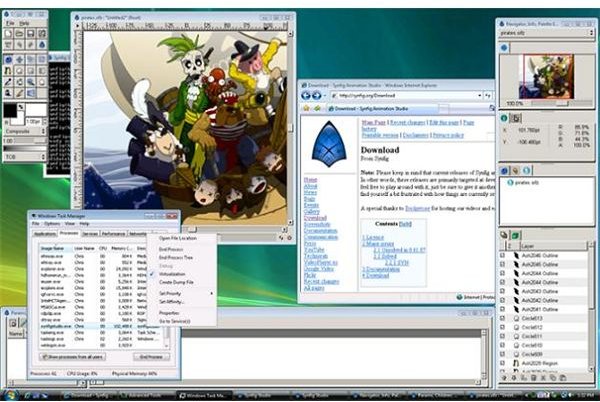 Synfig supports animating frames without having the artist draw each frame. It uses spatial and temporal resolution independence, which means that like other vector programs the images are always sharp even when resized and the the animations remain smooth at any framerate.
Synfig is capable of importing GIMP and SVG vector images. It has an arsenal of drawing tools including color editors, Bline tools, region layers, draw tools, gradient tools, masking and outline tools that give artist the best they can ever have in computer drawing.
Animation with Synfig uses keyframes, time track Panels and Waypoints. There is also reuse of animations, Bline following among other algorithms that facilitate the animation process.
You can also perform morphing and cut outs with Synfig. Render options with Synfig include BMP, MPG, DV, JPEG, OPEN-EXR, PNG, LIBAV and ImageMagick. Shading is simulated internally on a frame by frame basis in Synfig. Most of these features would normally be highly manual but Synfig automates them.
Performance (4 out of 5)
Synfig 2D animation application has a relatively small memory footprint and that is good news for any piece of hardware. It is quite stable and fast and easy to use. All the available tools respond quickly to inputs and events and that includes rendering and simulations, which may also slow down depending on the complexity of the artwork used in the frames. All in all Synfig is remarkably responsive to user actions.
Ease of Use (3 out of 5)
Depending on your background in the 2D graphics field, you will find that this application needs no real effort in getting to learn how to use the tools and keyboard short cuts. They have been kept pretty much to the standards compared to other similar applications out there. However, for those aspiring graphic artists that are new to this type of graphic software I would recommend a few hours reading through the documentation manuals and getting yourselves familiar with the relevant shortcuts and terminology.
Verdict (5 out of 5)
The Synfig vector-based open-source 2D animation software package is a must have for any graphic animation artists on a tight budget. It may not yet live up the other animation applications like Maya or 3D Studio Max but it sure is able to get the job done in a relatively short amount of time. Interesting enough is that the output is of the highest quality.
You can download Synfig using this link. Get to know more about the history of animation and the importance of digital technology in films and add onto the information you have gathered from this Synfig review.