Review of Serif WebPlus X5: How Does It Stack Up Against the Competition?
DIY Designs With Professional Quality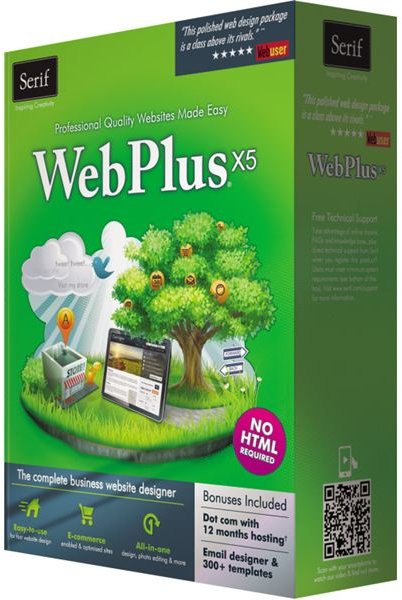 "Create great Web sites, no programming knowledge required!" How many times have you heard that line before? Nowadays, this seems to be the standard pitch everyone uses to describe Web site builders. Unfortunately though, it's rarely true.
Sure, some applications will let you create amazing sites – if you also have a decent working knowledge of HTML, CSS, JavaScript and Flash. Others don't require you to know a thing about programming, but your final design will look like – well, let's just say that no one is going to visit your finished site and be surprised to find out that you're not a coding genius.
WebPlus X5, on the other hand, is a site building tool that actually does a pretty good job of living up to these claims. In fact, the application actually reminds me more of advanced desktop publishing software that focuses on layout and design. But, underneath the intuitive interface, there are powerful tools that take care of all the "technical details" – such as setting up a navigational structure, incorporating e-commerce capabilities and integrating interactive elements. We'll take a closer look at those features in this review.
Installation and Setup (5 out of 5)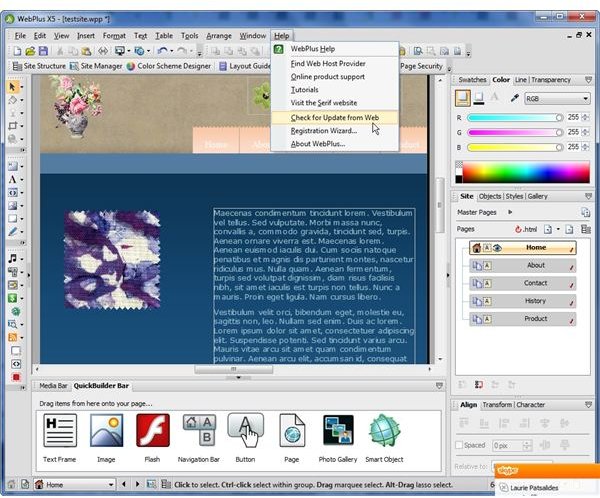 The installation process for WebPlus X5 is typical of any modern Windows application. An automated wizard walks you through all the steps – basically, most people will just have to click "Next" a bunch of times and be done. After that, you're ready to go. Even though the software recommended a system reboot after installation, I found it unnecessary.
The software also includes a built-in utility that automatically checks for any updates or patches on a regular basis. If you want to check more often, you can access this feature from the "Help" menu on the main toolbar of the application. This functionality makes it easy to ensure you're always using the latest version of the program. If the software does detect that an update is available, you'll be prompted to download and install the fix simply by clicking a single button. If you prefer not to update the program for some reason, you can make that choice as well.
Ease of Use (4 out of 5)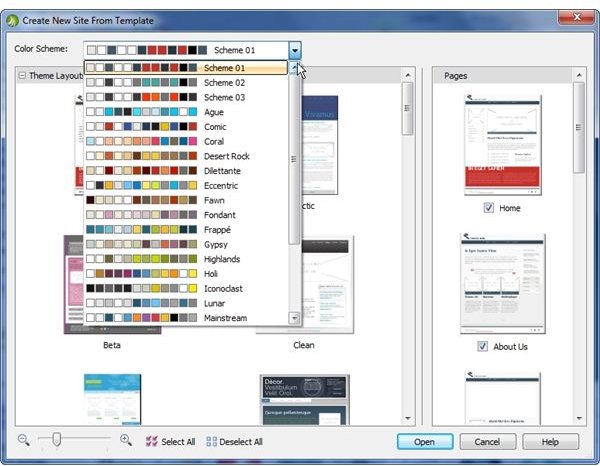 Even though you don't have to know a thing (or learn anything) about programming to use WebPlus X5, it will still take a little time to learn and understand the various tools and capabilities of the software. However, you can still get going pretty fast if you make use of one of the included templates, which are extremely customizable.
That's one of my favorite things about this software package – it really does grow with you. As you become more comfortable with site building, you can move completely beyond using any pre-designed templates and create your own layout from scratch. On the other hand, if you prefer templates, additional ones are available from Serif – some are free, some aren't.
To help guide you, WebPlus X5 has a very comprehensive library of tutorials – both text-based and video – that cover everything from just getting started to creating an online store. I was particularly impressed with the video tutorials, which are all short enough so that you can watch one or two when you have a few free minutes to spare but detailed enough to really explain the topic at hand.
Features and Performance (5 out of 5)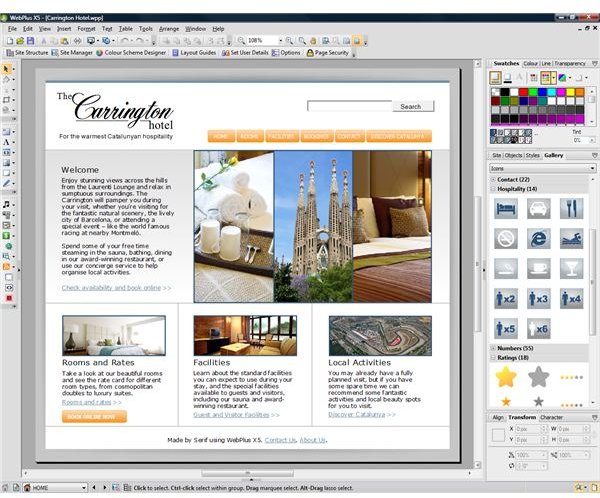 No matter what software tool you're using, it's always a good idea to make a rough plan of your site on paper first. The hard part, usually, is trying to figure out how to convert your "on paper" ideas to their digital counterparts. This is an area where WebPlus really shines. The drag-and drop functionality – complete with easy-to-use alignment, resizing and style tools – makes the design process incredibly intuitive. In addition, the built-in feature to preview in multiple browsers lets you check to make sure your site will look the same to viewers as it does to you.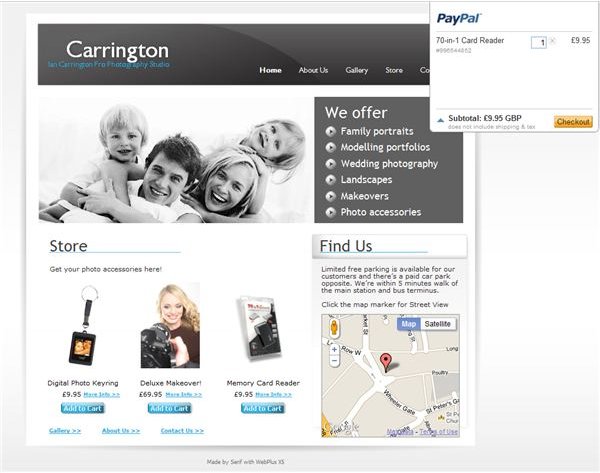 WebPlus also includes a variety of tools for those who want to incorporate e-commerce capabilities into their sites, whether the focus is creating an online store, selling an e-book or simply inserting Google Adsense advertising. After entering your PayPal or Google account information, there are tons of options for inserting various e-commerce objects that can be configured via easy wizards that walk you through all the steps of the process. The software also includes options for those who use RomanCart or Mal's E-Commerce.
Even experienced programmers should appreciate the variety of interactive tools found in WebPlus, and how easy they are to add to any site. In addition to doing basic things like including a blog or showing off a Twitter feed, you can implement more advanced functionalities like online booking systems, discussion forums and interactive Google Maps.
Web Publishing (5 out of 5)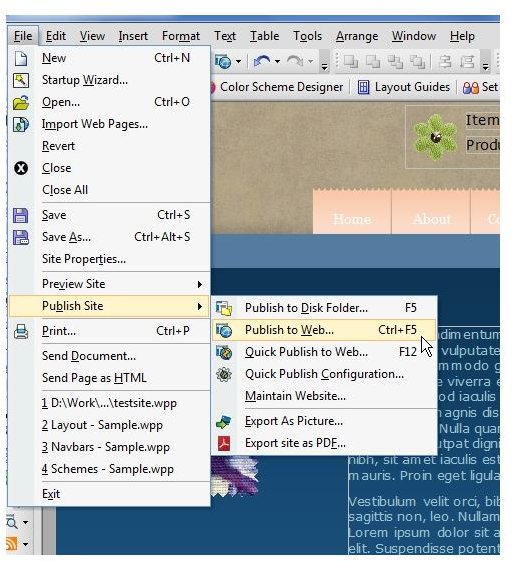 Of course, one of the most important functions of any site building tool is being able to move your final design from your computer desktop to a live hosted location – and to easily make edits to that live site when needed. WebPlus does an excellent job in this area as well.
If you choose to do so, you can host your site through Serif's Web hosting services – prices are dependent on the package you choose, but you do receive 6 months free of the Silver (most basic) hosting plan with the purchase of WebPlus. This isn't necessary, though, as WebPlus has a built-in FTP utility that allows you to easily publish to any hosting service as long as you have an FTP account. If you don't know your FTP account information, contact your service provider – often, it is the same username and password used to log in to the control panel of your account.
If you already have a live site, you can import the site (or individual pages of it) into WebPlus, edit and republish. For basic sites, this import tool works quite well, but you may have to do some heavy editing for complex sites created using other Web design tools.
Price to Value (5 out of 5)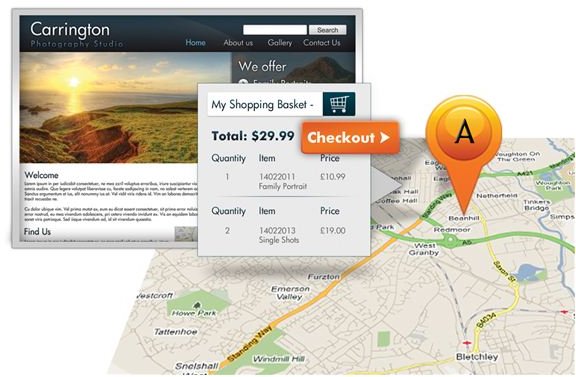 At $99.99, WebPlus X5 is an excellent value, considering the versatility of the software. To be honest, it's hard to compare the application to other tools on the market. Many comparisons tend to lump WebPlus in with pure template-driven applications, which are generally priced a bit lower. That type of evaluation really isn't fair, though, since WebPlus includes many other features you won't find in programs of that type. Even more, while WebPlus does come with a wide variety of pre-loaded templates, it still offers all the tools you need to build a site from scratch.
Even though the software itself is a great value, you're probably better off choosing a third-party hosting service. While the pricing for the Serif hosting packages doesn't look that bad on the surface, all place limitations on both Web space and monthly bandwidth. If you're only planning a small site, that's fine, but it's not too hard to find a scalable package with unlimited space and bandwidth at a reasonable price through other service providers.
Overall Rating (5 out of 5)
WebPlus X5 truly manages to bridge the gap between overly simplistic template-centric programs and hardcore "coding" applications by offering all the tools you need to build a completely professional customized site without knowing a thing about Web programming. It's an ideal solution for power personal users as well as for small and home businesses.
If you want to get an idea of the software's capabilities before making your final purchase decision, there is a free starter version of WebPlus available for download at Serif's Web site. This version doesn't have all the bells and whistles of X5, but it is more than just a trial version – it's actually completely free to use as long as you like. So, it's definitely worth checking out.
References and Additional Resources
Box shot and various screenshots, courtesy of Serif. Other screenshots taken by author.