Overview (4 out of 5)
If you resent the various HTML editors available in the market for whatever reasons, then KompoZer is the most likely web author tool to satisfy you. KompoZer may be described as an open-source authoring tool for Web development constructed on Nvu architecture that attempts to take care of the bugs associated with Nvu and carrying a host of features.
It may also be said that Nvu has not been updated for the last five years and more and thus KompoZer is the new version of Nvu, eliminating all the bugs and with a fresh set of many useful features.
In fact, KompoZer incorporates the updated HTML editor and the CSS editor. The basic feature, however, is that editing continues to happen in WYSIWYG mode thereby offering full control when you are doing the designing of the web.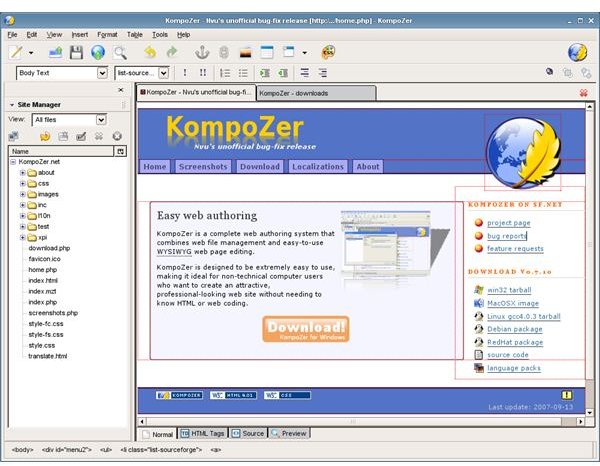 KompoZer technology (4 out of 5)
Interestingly, KompoZer is built on Gecko, the engine that drives Mozilla from within. This is a high-speed engine, that is standards-compliant and extremely reliable as it is scrupulously maintained by a large family of web developers. KompoZer can be described as a stand-alone authoring tool and that possibly is the reason for its compact size and high speed.
It can be said that all web designers who are conversant with Dreamweaver interface will find using KompoZer comfortable. The first attraction is you can do some easy page editing. You can do file management through FTP. All you need to do is to log in to the web site and comfortably navigate through all the files, edit the concerned web pages right from the site.
The creation of HTML code will be compatible with all the standard browsers. It is possible to keep alternating between WYSIWYG Mode and HTML by using the tabs. In fact, this is a simple-to-use and yet a strong Web Authoring tool for users of Desktop Linux, Apple Macintosh and Microsoft Windows.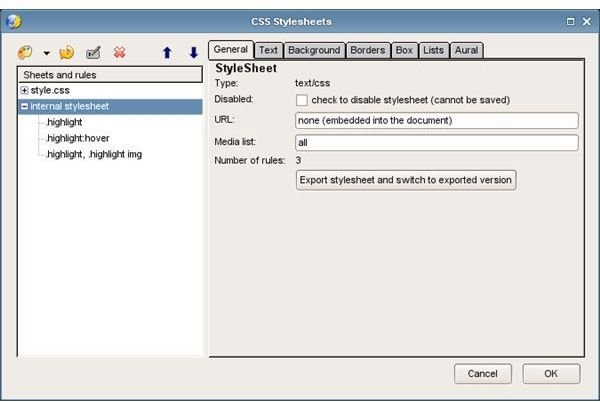 KompoZer Capabilities (4 out of 5)
A versatile file management system that lets you completely control your site. You can maintain a page loaded with e-commerce operations, publish regular updates with a click of the mouse, and shift files to and fro through file transfer protocol (FTP). This is a big advantage when you manage large websites or dynamic sites that require frequent updating.
It is a fact that Tabs revolutionized web browsers when they were first introduced. The Tabs in KompoZer tabs simplifies shifting of pages, producing PHP functions, external JavaScripts, as well as external CSS.
For those who are less experienced with XHTML, CSS or any other languages, KompoZer may be a veritable boon. The WYSIWYG editor functions just like Word Processor. Even a non-techie designer can type the text, paste it in images, color the text, and produce a web page without coding. It may not be an exaggeration to say thay you can even take advantage of KompoZer for learning XHTML.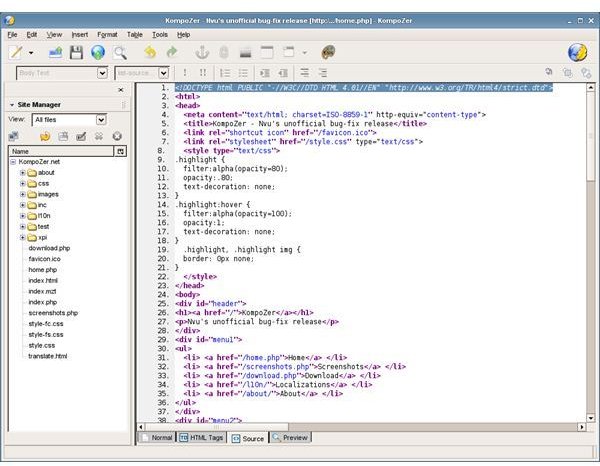 Features in a Nutshell (4 out of 5)
FTP site management - All the sites mentioned in Publishing Settings can be browsed in a sidebar. possible to filtering files and showing all files or selectively the HTML documents or the image files. The browsing area permits display of each file, its actual size and the date of its last modification.
Unique color picker – can set colors from the available blue, red and green elements or its color saturation. Alternately, pick the color of your choice using the mouse.
The big news is - one of Mozilla Firefox's much sought-after features is present in KompoZer. Open just a single window on your screen and edit multiple documents all at once, with Undo/Redo stack provided for in each document.
CSS editor – Possible to create stylesheets with ease and control the styles. In fact, you can observe the style settings applied to the document even as you are editing.
Customize toolbar to display only the buttons you would want.
KompoZer has built-in provision to eliminate all those irksome . Supported by the W3C's HTML validator from inside KompoZer, you can make absolutely clean and valid documents.
In a complicated page layout, you may have to see the carriage returns as also the block borders - KompoZer can perform that for you. Everything is controlled through a CSS stylesheet and as such, it is possible for you to customize the marks and substitute them with your own marks.
On the top left side of the tab, some convenient table/cell resizing rulers are present. This will facilitate easy adjusting of the size of rows as well as columns of tables on your web page.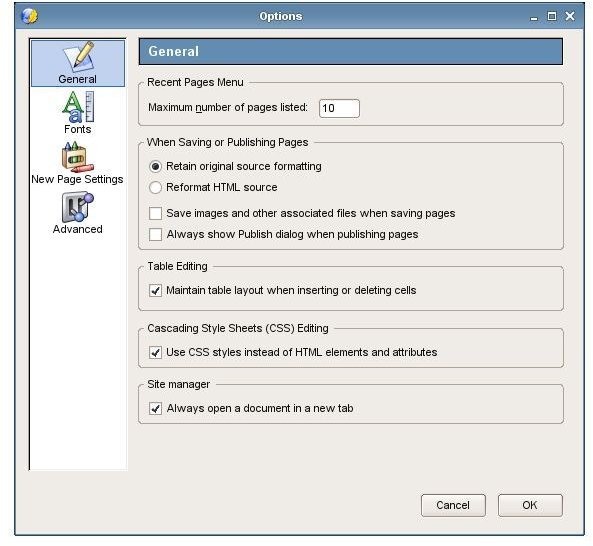 Verdict (4 out of 5)
KompoZer is a simple speedy authoring tool that mainly focuses on functionality and without too many add-on frills. The WYSIWYG feature, ability for design viewing, file management through FTP and such other operational conveniences makes KompoZer a worthy web authoring tool.
Visit Kompozer Website here.
Image Credits
Thanks to KompoZer for providing great screenshots of their product, which can be found here.