Review of Expression Web 4: Is EW4 Worth Your Money?
Installing Expression Web 4
Before getting into more advanced concepts within this Expression Web 4 review, the installation procedure is important to understand.
The product is available in the form of a digital download, directly from Microsoft's website. This is beneficial, as you do not need to wait for the product to arrive via regular shipping methods, which can sometimes drag on.
After purchasing the product, or selecting the free trial that is available, you will be presented with an option to save or open the download. Select save, and wait for it to download.
Once the file has finished downloading, go ahead and open the file. The Expression Web 4 Installation Wizard will pop-up, walking you through the rest of the installation process step-by-step.
Expression Web 4 Interface (4 out of 5)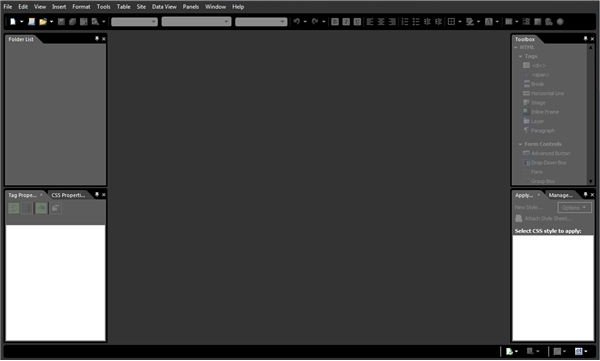 Upon launching the product, you will be presented with a clean and simple interface. By default, there are panels on both the left and right side of the interface.
These panels show the files and documents associated with your project, CSS elements in a visual representation for easy editing, drag and drop features, and style sheet elements.
Of course, these panels can be hidden or pinned to the sides of the interface,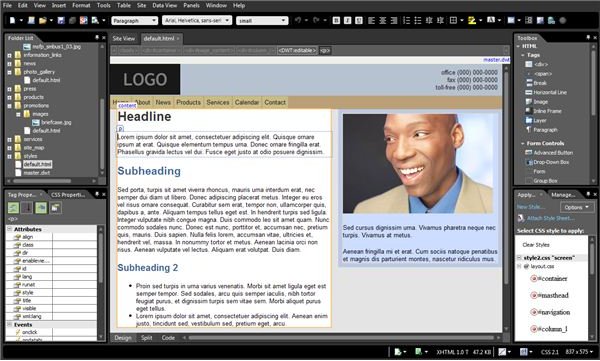 too; depending on your personal preference.
In addition to customizable panel display, you can adjust the width and height of each panel simply by pulling the edge in the direction you want it expanded.
If, at the end of customizations, you are not pleased with the way you have set it up; you can always reset the interface to the original way it looked. This is done by clicking "Reset Workspace Layout" in the Panels menu.
The best part about the interface is the fact that it is simple. Overcomplicated designs have a tendency to push newcomers away from the program, and even complicate those whom have been involved in web development for years.
The only negative part is the fact that some features are tucked away within menus; taking considerable time before finding specific features. A good example of this negative is the Frames feature, which is hidden within a menu.
Beginner Friendly (3 out of 5)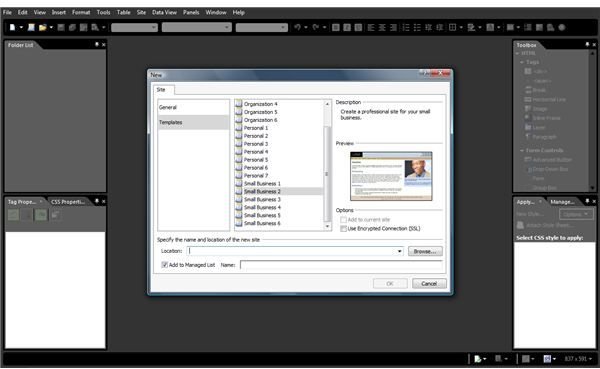 One of the most imperative aspects to look at in this Expression Web 4 review is whether or not the product is beginner friendly.
Many individuals think that making their own website and producing their own content would be enjoyable; however, it can be difficult if the software selected is meant for someone with more experience in the industry.
Unfortunately, Expression Web is not the most friendly product for newcomers to web design. While navigation is easy and the interface is clean, you will have difficulties figuring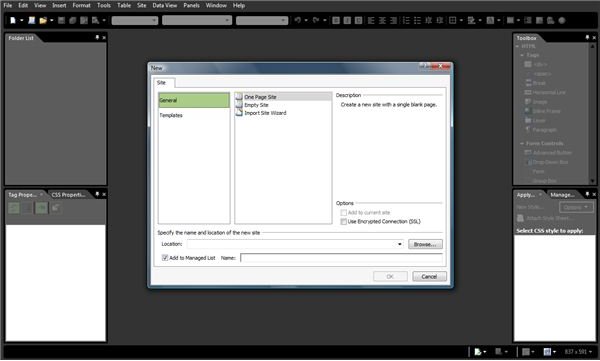 out how to create a truly aesthetically pleasing website.This is especially true for those whom do not have any experience with similar products, such as Dreamweaver.
To get the most out of this software, you must take the time to explore it. Forget about making a high-quality website for the time being, and just get used to the different tools and features available.
Practice dragging and dropping different features from the Toolbox to the webpage and customizing them.
If you do not yet know CSS, you may find the CSS templates useful; but hard to customize. CSS is a daunting task for many newcomers, and although Expression Web 4 tried to make the creation of such files easier; it is not.
The program does feature a panel in which different elements of the CSS are presented in a graphic way, meaning it is easier to make visual and coding connections.
Beginners may find the best success by using one of the pre-existing non-CSS Expression Web templates available, and customizing it his or her specifications.
Continue on to the next page for an evaluation of other features found in Expression Web 4.
Viewing Options (5 out of 5)
There are a variety of different options when it comes to viewing not only the webpage, but the entire website structure. In terms of viewing the webpage, you have the freedom to change between "Design" view or "Code" view. Another "Split" view is available that shows both coding and visual design. This is an excellent feature, as the Design option will help beginners excel. At the same time, the Code option allows for increased flexibility and lets more advanced users edit HTML elements.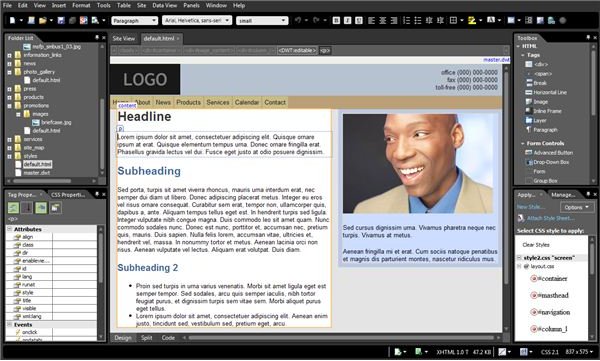 This is almost identical to Dreamweaver, but if you would like to see how each looks, you can click on the images to your left. Once you do, you will be redirected to a larger version of the screenshot.
In addition to these viewing options, you are given the functionality of viewing the entire structure of the website and its many components in different ways.
The most common viewing option is "Site View." This option provides you with a graphical list showing all folders, images, and HTML files; among others. You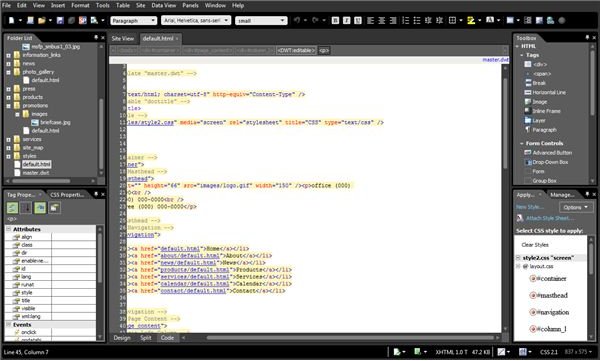 can use this list to edit each component with one simple click.
In addition to this common view, there are five additional views that the you can use.
Publishing View: This is only available after connecting the website's files to the server where they will be published. This view shows all files that have been published and are now live on your website.
Files View: Similar to the traditional Site View, but with further flexibility. The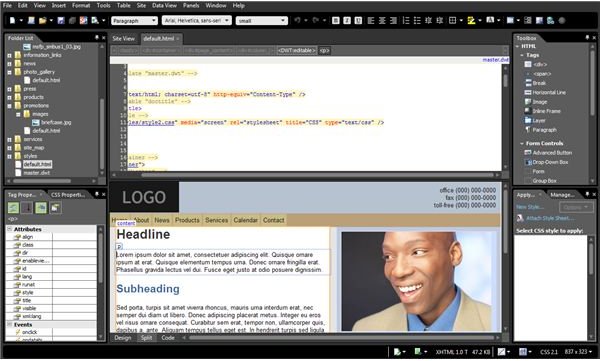 files are listed and organized as specified by you, and the organization options include All, Recently Added, Recently Changed, or Older Files.
Shared Content View: This view will display files that are "shared" on the website. For example, Dynamic Web Templates, Master Pages, and Style Sheet Links are all displayed to you through this view.
Problems View: This view will list any and all problems within your website. This includes Unlinked Files, Slow Loading Pages, and Hyperlinks. This option is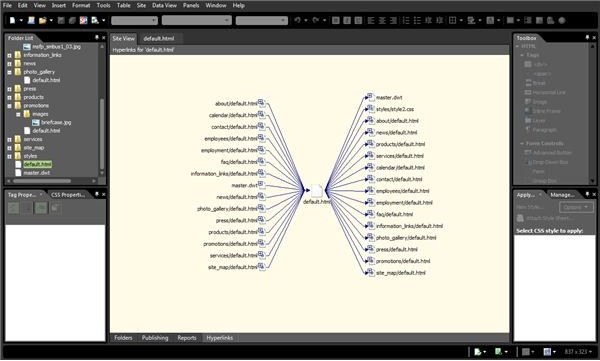 helpful in tracking down where certain errors are occurring.
Hyperlinks View: This is the last viewing option in Expression Web 4. The Hyperlinks View allows you to see - in a graphical representation - the number of links pointing to a particular webpage, and where they are coming from.
As you can clearly see, there are a lot of different views that you can utilize. Each of them have their own benefits and negatives; however, this is one of the stronger points in Expression Web 4.
The reason for this praise is because the views provide accurate data and do so in a simple-to-read way. These views are much easier to read than those found in the Reports feature.
Reports (4 out of 5)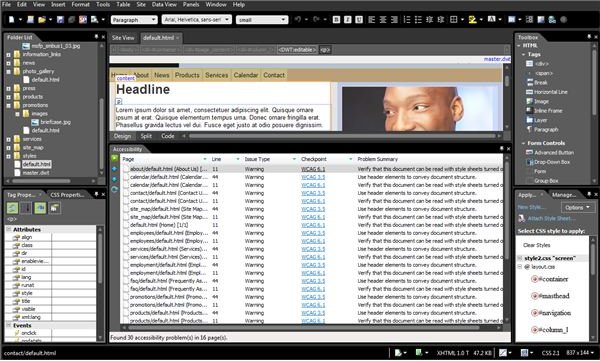 In order to help you keep a website running efficiently, Expression Web 4 provides you with a variety of different reporting features. These reports are created in just a few clicks, and list potential problems with the website created.
These report options are available under "Tools." Available reports include:
Accessibility Report: Displays information that will help you determine whether or not the website is optimized for those individuals whom have disabilities. This includes trouble seeing text and using the mouse.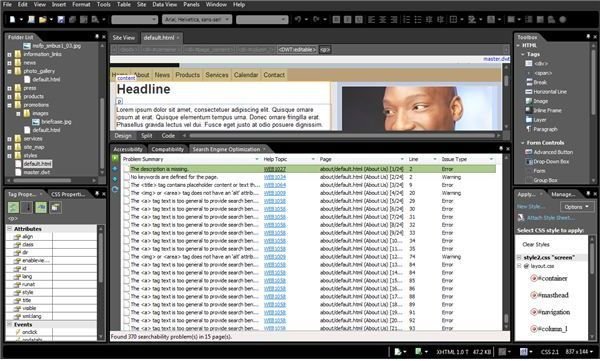 Compatibility Report: Reviews the pages of your website as well as the CSS. It will provided a detailed analysis of any errors in coding structure.
SEO Report: One of the more valuable report options, the Search Engine Optimization Report will provide you with information specific to SEO criteria. For example, missing keywords on certain pages or missing image tags.
CSS Report: Shows the errors within the CSS file you are using, and what type of style is being used on each page.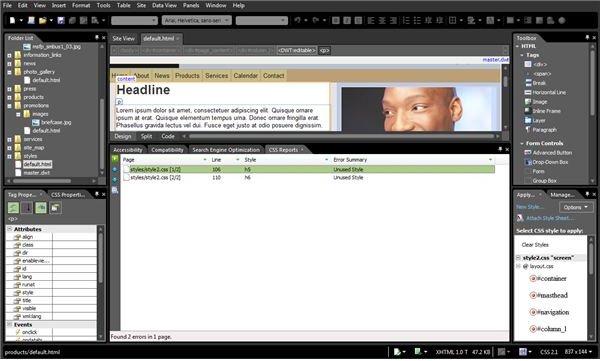 While the report feature does provide much needed information, it can be confusing to assess. The information is presented in a table outlining where errors are and the appropriate method to deal with each one.
The problem with these reports is that the information is not organized in a clear, visual representation. It can be quite difficult to read and figure out what should be done to correct the issue.
Read on to the next page for the conclusion of Bright Hub's review of Expression Web 4 along with final recommendations.
SuperPreview (5 out of 5)
This is one particular feature that is certainly worthy of a high rating. The SuperPreview tool allows you to view the webpage or website you created in different web browsers at the same time.
For example, you could specify Firefox against Internet Explorer 8. You could then use the previews generated to make alterations to the website, and enhance how it is seen before publishing.
There is no question that this feature is powerful.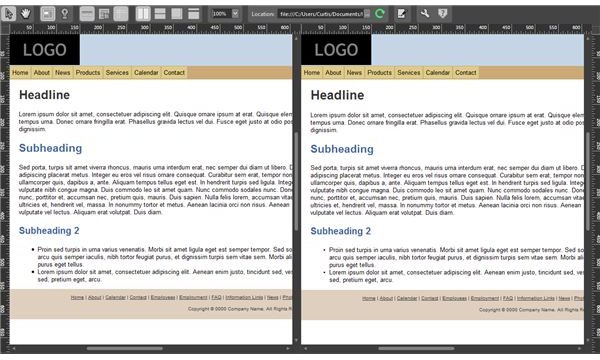 Many publishers have expressed their disappointment when trying to change a design, and constantly having to republish and preview. The SuperPreview takes away a lot of that frustration.
In terms of functionality, the preview tool is primarily used for just previewing. You are able to change the zoom level, hide or show margins, and view HTML blocks of the site individually.
Expression Web 4 Pricing (4 out of 5)
Expression Web 4 is moderately priced. There are two different options for you to consider, both of which offer the full version of the software.
Keep in mind that those with an older version of the product can purchase the upgrade for significantly less.
The first option you have is to purchase the Ultimate version. This comes with Expression Web 4, Encoder Pro, Expression Design, SketchFlow, and Expression Blend.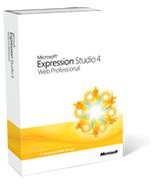 It is available at Microsoft's website, and currently costs $599 USD. The upgrade only costs $349 USD.
The second option is the Professional version. This again has Web 4, but only contains Expression Encoder and Expression Design within the package, too.
This is a much more affordable option to select, costing just $149 USD. An upgrade is also available for $79 USD.
This is a moderate price to pay considering all the features you are provided with.
Upgrade

One frequent concern many individuals face is whether or not they should opt for an upgrade of the current Expression Web version they have. While interface and general improvements have been made in this new version, there are two major elements that are not found in previous versions.
SEO Checker: This feature analyzes the website you have created, and produces a detailed report for your review. It helps you understand which search engine optimization tactics would serve your needs best, and what methods should be used to fulfill such tactics.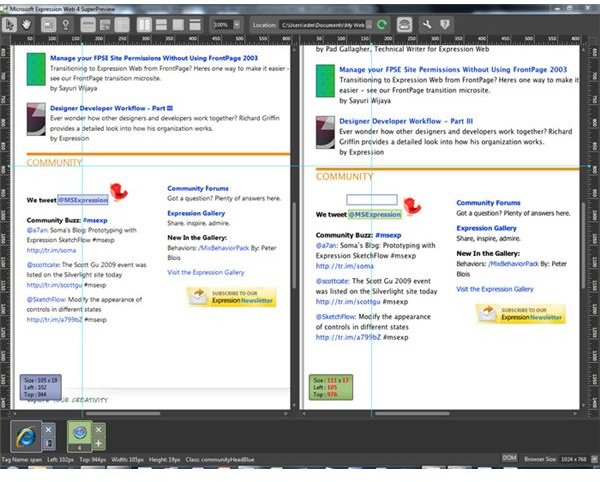 SuperPreview (Online): This extends the functions of SuperPreview to compare multiple browsers at once. Using this tool, you are able to fix certain aspects of your website prior to publishing it on the Internet.
To some, these new features are minimal; to others, they are needed. Whether you want to upgrade or not is ultimately your decision; however, it is recommended to do so whenever you have the funds.
As long as you upgrade, you will receive regular maintenance updates as well as avoid having to spend twice as much on an entirely new version down the road.
Final Thoughts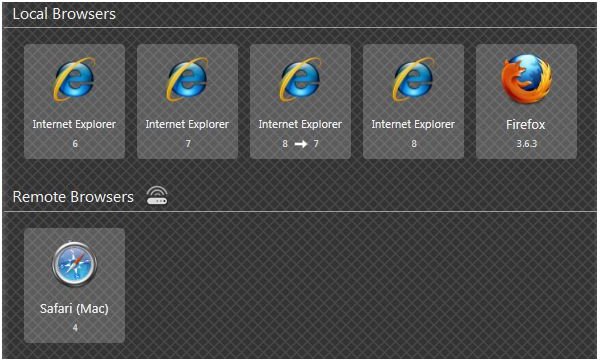 Throughout this Expression Web 4 review, most features and aspects have been explained while also featuring a personal criticism or praise toward the feature. The tools available are not limited to those discussed throughout this review, but these are by far the most noteworthy.
One thing is certain, Expression Web 4 is meant for individuals that are familiar with website construction. Those who have created websites with Dreamweaver or a similar program will be able to familiarize themselves with the product much quicker than those who have not.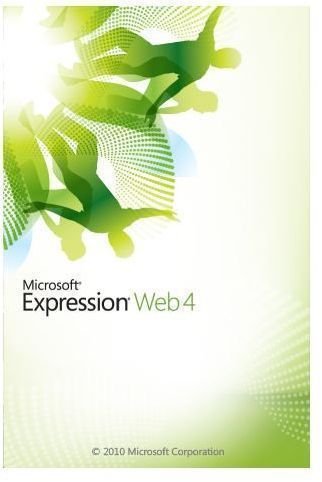 Beginners may take an attempt at using this software, but it would be simpler to opt for an online website editor. Such editors feature drag and drop capabilities and you will not need any HTML experience whatsoever.
Expression Web 4 is certainly a powerful piece of software, but for simplicity's sake, do not attempt to use it if you are not skilled in this field.
Ensure you test the product out, too, before making a final buying decision. A 60-day trial is available for you to determine whether or not Expression Web 4 is for you.
Images
*Screenshots Taken By Curtis Nash. Product Packaging Designs Produced By Microsoft Inc.*
This post is part of the series: Expression Web 4 Reviews & Tutorials
Expression Web 4 is certainly an effective program. It may just be better than Dreamweaver. If you're looking for an alternative with lots of functionality and easy previewing capabilities, Expression Web may be for you. Reviews, tutorials, and tips will help!