Lunarpages Web Hosting Review
Lunarpages Review of Plans and Pricing (4 out of 5)

Before we get started with the core Lunarpages review, check out this overview of Lunarpages plans and services. It should help you make a comparison between Lunarpages vs. other popular web hosts you may be considering.
Lunarpages Starter Hosting Plan
$2.95 hosting per month
$19.95 domain name per year
5GB of Storage
50GB of Bandwidth
1 MySQL Database included
No Add-on Domains
$4.95 hosting per month
Free domain name
Unlimited Storage
Unlimited Bandwidth
Unlimited MySQL Databases
Unlimited Add-on Domains
Lunarpages Business Hosting Plan
$18.95 hosting per month
3 Free domain names
Unlimited Storage
Unlimited Bandwidth
Unlimited MySQL Databases
Unlimited Add-on Domains
1 Dedicated IP (optional)
Instant SSL Certificate (optional)
Lunarpages Plans
The differences between the three core plans are quite clear. Aside from the three plans listed above, Lunarpages also offers Dedicated Hosting. However, the heavy majority of people have no need for dedicated hosting, and it costs $99 per month.
The Lunarpages Starter Hosting Plan is exceptionally cheap. In fact, it is one of the cheapest plans on the market, out of all web hosts. If you are running a basic website that only requires a couple of static pages, or even a WordPress blog that only gets updated occassionally, the Lunarpages Starter Plan may be the best choice. At $2.95 per month, it's half the price of some of the lowest plans out there, and sometimes even more. Although it is quite limited, for a basic website, there is no better choice. Keep under consideration, you don't have to purchase a $20.00 domain name from Lunarpages. You can get a domain name at another host such as Go Daddy, and simply redirect to Lunarpages nameservers.
The Lunarpages Basic Hosting Plan is also priced aggressively. At $5.95 per month, you get unlimited everything (for the most part). The Lunarpages Basic Hosting Plan should be suitable for sites that get decent traffic, but also have a lot of content, pages, or posts. The price of the Basic Plan is comparable to other unlimited plans from other web hosts.
The Lunarpages Business Hosting Plan is priced at $18.95 per month, which seems a bit high. However, the three free domain names, Dedicated IP and SSL Certificate make the plan worth the price. $18.95 per month is actually a bit cheaper than most business plans on the market, considering Media Temple's basic, lowest price plan starts at $20.00 a month.
That's all for part one of our Lunarpages web hosting review. Be sure to continue on to page two where we will cover additional review standards for Lunarpages, and conclude with an overall rating for the popular web host.
Lunarpages Coupon Codes (3 out of 5)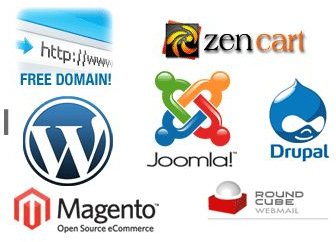 As mentioned on page one, Lunarpages offers competitive hosting prices throughout their three major plans. However, you can save even more money on hosting by using a Lunarpages coupon code. For the most part, coupon codes are easy to find, and doing a basic Google search is the best way to find up to date promo codes. If you want to check out some current Lunarpages coupon codes, the following websites are good places to start.
Normally, you may be able to save anywhere from 10% to 50% off of a Lunarpages hosting plan.
Lunarpages Support (3 out of 5)
Lunarpages support is about average compared to other web hosts on the market. The heavy majority of the time, Lunarpages support will be able to assist you with any problems that you have setting up your website, and answer any questions about web hosting services in general. One thing to note, the Luanrpages Starter Plan (reviewed on page 1) does not offer any type of phone support. Thus, you will need to use the Lunarpages Support Center for any troubleshooting problems. If you choose the basic plan or business plan, Lunarpages does offer phone support.
As far as knowledge of Lunarpages support staff, they might not always be able to help you with more detailed website troubleshooting issues. The majority of the time they will be able to assist you with basic website setup, but more complex problems may require talking to a manager via phone support.
Lunarpages Webmail (4 out of 5)
The majority of webhosts offer easy to use email services, and Lunarpages is much the same. Setting up webmail accounts is quick and easy, and a Lunarpages basic hosting plan will give you just about every email option you need. Lunarpages webmail accounts consist of two varieties, which you can learn more about here.
Lunarpages Review Conclusion (3 out of 5)
Being a traditional Cpanel web host, there is nothing really spectacular that stands out about Lunarpages. As far as being a quality web host, Lunarpages is good. Lunarpages has received countless positive reviews, with only some negatives (which is to be expected of any web host). As far as hosting plans, Lunarpages has a competitive structure, with the Starter Plan being among the most affordable web hosting plans out there. With a good Lunarpages promo code, you may even be able to get the Starter Plan for under $2.00 a month, which is incredibly cheap. Overall, Lunarpages is a good web host.